Are you pretty good on the chest rig?
2017-05-09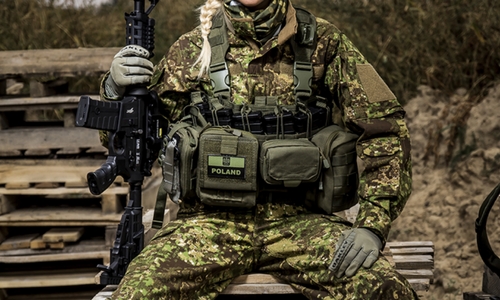 W strzelectwie sportowym popularne są pasy. W wojsku i airsofcie przez wiele lat prym wiodły kamizelki taktyczne. Chest rigi, czyli panele piersiowe zawsze pozostawały nieco w cieniu. Dopiero niedawno zyskały u nas na popularności, chociaż na świecie znane są i używane od bardzo dawna. Trudno znaleźć drugie oporządzenie, które byłoby tak uniwersalne.
Historycznie rzecz ujmując, chest rig to jeden z niewielu komunistycznych wynalazków, które przyjęły się w świecie szeroko rozumianego Zachodu. Początkowo proste oporządzenie tego typu (tzw. "chicom") trafiło do chińskich żołnierzy. Podczas wojny w Wietnamie korzystały z niego wszystkie strony konfliktu, z czego Amerykanie zdobycznymi chest rigami chętnie uzupełniali swoje przydziałowe oporządzenie. Chicom był lekki, nie ograniczał ruchów, pozwalał na zabranie dodatkowej amunicji i granatów, a przy okazji i można było nosić go wygodnie wraz z pasem oraz plecakiem.
Mil-Tec – Kamizelka Chest Rig AK Vietnam
Chest rigów już w latach 80. używał SAS i SBS na Falklandach, trafiły do Mudżahedinów, potem do Sowietów, a następnie bez przeszkód rozprzestrzeniały się po całym świecie. Dzisiejsze wersje komercyjne, korzystające z dobrodziejstw systemu MOLLE/PALS w niczym nie przypominają już swojego odległego, parcianego przodka zapinanego na "sznurek i pętelkę".
Chest rig to znakomita propozycja przede wszystkim dla żołnierzy, jak i graczy ASG. Można w nim wygodnie siedzieć w pojeździe, prowadzić samochód, a wszystko co potrzebne znajduje się dosłownie "pod ręką". Nie przeszkadza w ciasnych przejściach w budynkach, w terenie można się w nim w miarę wygodnie przespać bez potrzeby ściągania go z siebie, a co więcej – zapięcie pasa biodrowego w plecaku nie stanowi żadnego problemu. Jednak najważniejsze jest to, że zapewnia szybki dostęp do magazynków, za co polubią go także strzelcy sportowi.
Condor – OPS Chest Rig
Do wad tego oporządzenia można zaliczyć przede wszystkim ograniczoną powierzchnię montażową, przez co czasem konieczne jest uzupełnienie go pasem. Co więcej, oporządzenie to nie posiada miejsca na wkłady balistyczne. Dla żołnierzy działających w rozpoznaniu istotnym na pewno będzie fakt, że w chest rigu nie leży się tak wygodnie jak w pasoszelkach, a wypakowany magazynkami panel piersiowy niezrównoważony plecakiem może powodować bóle kręgosłupa przy dłuższych marszach.
Condor – Ronin Chest Rig
Condor – Recon Chest Rig
Tym niemniej – jeżeli planujesz wypad na strzelnicę, spotkanie ASG (zwłaszcza CQB), czy taktyczny wypad z plecakiem w góry to powinieneś zainteresować się tym rodzajem oporządzenia. Podobnie sprawa ma się z wojskowymi kierowcami, żołnierzami wojsk zmechanizowanych, czy też innymi specjalistami, którzy spędzają dużo czasu w pozycji siedzącej. Piechota górska też będzie zadowolona.
W chest rigu zmieści się bowiem to, co najpotrzebniejsze – magazynki, woda, nóż, radio, granaty i apteczka. Umiejętnie spakowany, pomieści wszystko co jest przydatne do spędzenia całego dnia na poligonie, strzelnicy czy podczas "strzelanki" ASG. Zwłaszcza, jeżeli uzupełni się go niewielkim plecakiem ucieczkowym, w którym zmieści się ocieplacz, racja żywnościowa, ponczo, czy dodatkowa amunicja.
JK