And the knife will be useful... part 2: What should I do to sharpen my knife?
2017-09-06
Temat
ostrzenia noży
zawsze wzbudzał pewne kontrowersje w środowisku nożowym. Szkół znajdzie się kilka, a niemal każdy bardziej doświadczony "nożownik" ma swoje własne "patenty", przyzwyczajenia i preferencje. Dlatego też prosimy bardziej doświadczonych użytkowników o podzielenie się swoimi informacjami i spostrzeżeniami, a tymczasem przechodzimy do tematu.
Wiele materiałów na temat samego procesu ostrzenia dostępnych jest już zarówno w wersji pisanej, obrazkowej oraz "oglądanej". Tak po polsku, jaki i po angielsku. Dlatego w sumie nie warto wyważać otwartych drzwi i po raz kolejny bawić się w powielanie tego samego. W tym tekście skupimy się na narzędziach, jakie można wykorzystać do ostrzenia krawędzi tnącej swojego noża. Oczywiście ze szczególnym naciskiem na początkujących i mniej doświadczonych posiadaczy.
Jednak zanim przejdziemy do clue tekstu – porada. Nóż w każdym wypadku lepiej jest ostrzyć doraźnie i interwencyjnie, kiedy jest tylko lekko stępiony. Nie należy doprowadzać go do stanu, gdy prościej jest przekroić coś młotkiem. Wtedy powrót do stanu wyjściowego będzie wymagać pewnych inwestycji w ostrzałki oraz własne umiejętności. Naostrzony nóż nie musi golić włosów niczym brzytwa. Ostrość "robocza" powinna pozwalać na wykonywanie prac bez szarpania krawędzi, "zacinania" się noża podczas cięcia i ślizgania się krawędzi tnącej po materiale.
Dla pierwszego, czy jednego z pierwszych noży, najlepiej dobrać ostrzałkę, która będzie cechować się przyzwoitym stosunkiem jakości do ceny, pozwoli na utrzymanie narzędzia w należytym stanie oraz pomoże niewprawnej ręce na utrzymanie stałego kąta "natarcia". W ten obraz idealnie wpisują się niemal wszystkie "kieszonkowe" produkty typu V oferowane przez różnych producentów. Z myślą o takich Klientach do oferty dodaliśmy ostrzałki marki Taidea. Pozwalają na utrzymanie może nie perfekcyjnej, ale za to działającej krawędzi tnącej. A co najważniejsze nie przekraczają ceny samego noża. Co prawda nie da się nim naostrzyć wielkiego noża surwiwalowego, ale to raczej pozycja dla bardziej zaawansowanego użytkownika o konkretnych potrzebach. Po nabyciu pierwszych "szlifów" i jako takiej wprawy można zastanowić się nad kieszonkową ostrzałką firmy Scharade Knives, Lansky czy Victorinox.



                                                           Taidea - Ostrzałki Kieszonkowe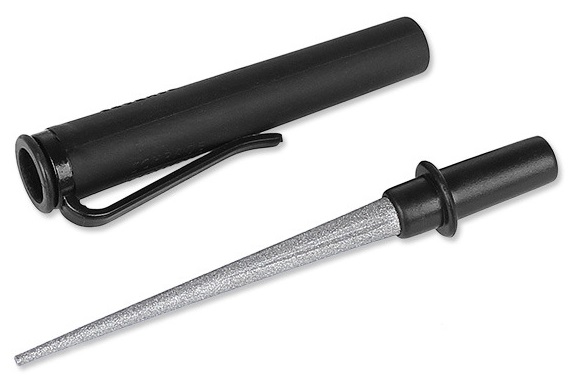 Schrade - Ostrzałka Diamentowa - SCHDDS


                                                          Lansky - Ostrzałka Baldemedic Knife Sharpener




                                                        Victroinox - Ostrzałka Podwójna Dual Knife Sharpener

Kolejną ciekawą propozycją są kamienie ceramiczne. Korzystając z nich trzeba już nieco się natrudzić przy zachowywaniu stałego kąta ostrzenia, ale za to nie ogranicza to użytkownika do stałego ustawienia zaproponowanego przez producenta. Kamieniami tego typu, idealnymi zarówno do nauki, jak i dla starych "wyjadaczy" są węgierskie kamienie ceramiczne marki Haidu. Można korzystać z nich na sucho, ale przed ostrzeniem najlepiej zamoczyć taki kamień w wodzie lub specjalnym oleju.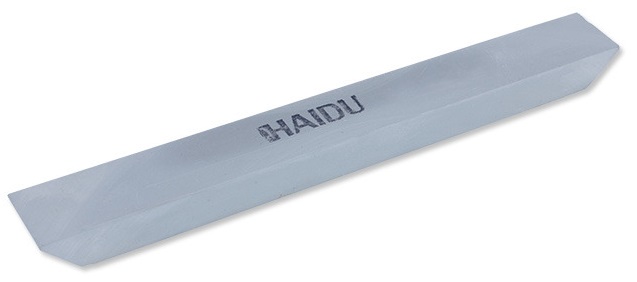 Haidu - Kamień Ceramiczny do systemów ostrzących

Wprawne oko zauważy, że poza różnymi kształtami i rozmiarami (w skrócie HCP – do noszenia w kieszeni, HCJ – kamienie uniwersalne do ostrzenia w domu, HCM – do systemów ostrzących, HCH – do siekier i toporków, HCA – do dużych noży i maczet) kamienie ceramiczne w opisie posiadają numer. Oznacza on tzw. gradację, czyli gładkość danego kamienia. Sprawa jest podobna jak z papierem ściernym – im gradacja wyższa, tym kamień gładszy. Z zasady, zaczyna się pracę kamieniami o niższej gradacji.
I tak – kamienie o gradacjach 180 i 280 można wykorzystać do wyprowadzenia krawędzi tnących bardzo zaniedbanych noży, ewentualnie do podostrzenia narzędzi wykorzystywanych do mało precyzyjnych prac – siekiery, sekatory, ostrza kosiarek i inne narzędzia ogrodowe lub bushcraftowe.
Kamienie o gradacjach 400 i 600 zazwyczaj wykorzystuje się do interwencyjnego utrzymywania wspomnianej "przyzwoitej" ostrości noża. W zupełności wystarczą większości użytkowników, którzy nóż traktują jako po prostu narzędzie do pracy w terenie lub EDC, chociaż perfekcjoniści nie będą całkowicie zadowoleni.
Kamienie 1000 i 1200 służą do doprowadzenia krawędzi tnącej do poziomu "lustra". Ta wykończony nóż bez problemu będzie golić włosy i ciąć kartki papieru. Te i specjalne kamienie o jeszcze wyższych gradacjach wykorzystuje się również do ostrzenia narzędzi do prac precyzyjnych – brzytew, nożyczek, skalpeli modelarskich i podobnych.
Wisienką na torcie ostrzałek są różnorakie systemy ostrzące takich firm jak Lansky czy Spyderco. Pozwalają na proste i pewne prowadzenie noża po płaszczyźnie, pod wybranym przez siebie kątem. Najczęściej mają kilka ustawień. Takie rozwiązania przeznaczone są już typowo dla kolekcjonerów ostrzy i dla "zwykłego", a zwłaszcza początkującego użytkownika mogą jawić się jako przerost formy nad treścią. Cóż, typowy posiadacz niemal na pewno nie wykorzysta pełni ich możliwości, ale wśród naszych Klientów istnieje całkiem liczna grupa dla których takie akcesoria zostały stworzone.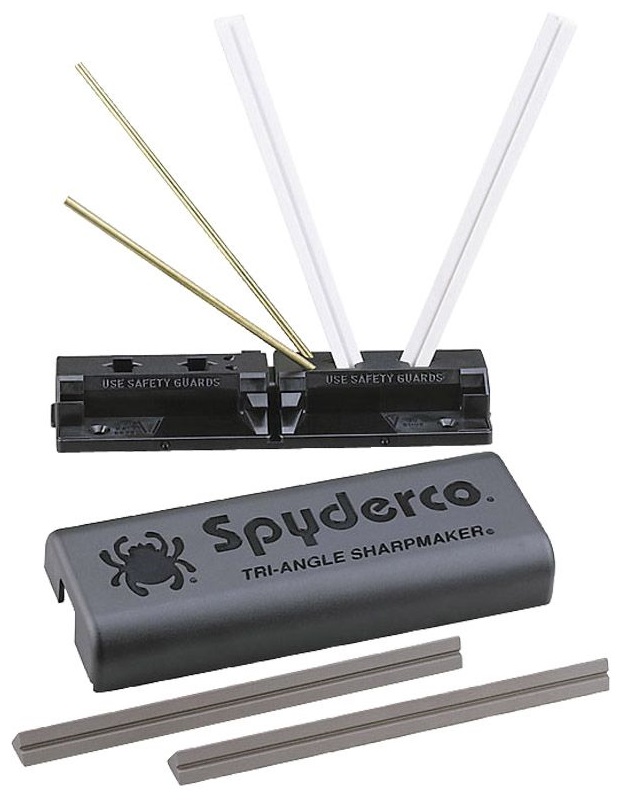 Spyderco - Triangle - Zestaw do ostrzenia
Zmierzając w stronę konkluzji – jeżeli jesteś początkującym użytkownikiem noża, ewentualnie jeśli zadowala Cię typowa ostrość robocza i nie oczekujesz "mocy tnącej" na poziomie miecza świetlnego, najlepiej jeżeli zaopatrzysz się w ostrzałkę kieszonkową oraz kamienie o gradacji 400 i/lub 600. To póki co powinno wystarczyć. Później zdecydujesz, czy satysfakcjonuje Cię taki poziom, cz też może oczekujesz czegoś więcej. Zachęcamy wówczas do kontaktu z nami, ale także do odwiedzenia forum knives.pl, gdzie znajduje się prawdziwe kompedium wiedzy na temat ostrzy wszelakich oraz bardzo prężna i pomocna społeczność "nożowników".

JK