What to wear under a helmet - caps and balaclavas for military personnel
2022-11-04
Suppose you ever had anything to do with helmets. In that case, you probably know that they can cause all sorts of troubles to your head: not only with their weight but also because they cause skin irritation by rubbing, or just not offering any insulation against cold or heat. Of course, they will not let rain through, but that's where their protection against the elements ends. The most important thing is that they do not offer any protection against losing heat from our head, through which, as we all know, we lose most of our body heat.
Through the ages to protect the head from getting cold under helmets, people used all sorts of caps and hoods. In this blog post, we are going to cover modern solutions. We will describe some of the products available in our internet shop that we would recommend wearing under a helmet, be it under-helmet caps or getting more and more popular thanks to special forces, under-helmet balaclavas.
Here is a list of headwear to wear under a helmet that we would like to recommend:
Range Beanie® - Grid Fleece winter cap from Helikon-Tex
Winter Merino Beanie cap from Helikon-Tex
Beanie Cap FR from Direct Action
Bundeswehr winter cap from Mil-Tec
Watch Cap Elite winter cap with velcro from Ukrainian company M-Tac
Watch Cap Light Polartec winter cap also from M-Tac
Thermoactive balaclava Razor from Rough Radical
Thermoactive balaclava Silver SL also from Rough Radical
Thermoactive balaclava Merino Wool from Brubeck
3-hole winter cotton balaclava from Mil-Tec
3-hole winter acrylic balaclava from Mil-Tec
Winter balaclava from Helikon-Tex
1-hole thermoactive balaclava from MFH
Fire retardant Nomex® balaclava Mil-Tec
Ninja Elite Premium Polartec balaclava from M-Tac
A cap dedicated to all shooting sports enthusiasts - Range Beanie from Helikon-Tex
If you are looking for a solution dedicated to shooting enthusiasts and people whose everyday work involves firearms, then you are in a good spot! Designed to meet all the needs of shooters, the under-helmet cap Range Beanie is a product whose sole purpose is to provide the highest level of comfort to its user, at the same time allowing for the free use of hearing protection or head protection.
The described under-helmet cap is made of fleece with a grid pattern, resembling a waffle grid, which provides excellent breathability while also keeping a comfortable temperature. It is possible thanks to that special pattern, in which standing out parts keep the temperature, while grooves ensure the breathability of this under-helmet cap.
The front and back of the described winter under-helmet cap are equipped with the soft part of the hook and loop panels, which allow users to personalize it with all kinds of patches, be it morale patches or national flags. There is also a small panel made of a soft part of the hook and loops panel located at the top of the cap, which allows for attaching of IFF marker or attaching the cap to the hook part of the hooks and loops panel inside the helmet.
An element worth noting is a small pocket created by the back panel of the described under-helmet cap. It allows storing small things inside, like ear plug type hearing protectors if we are not planning to use them in a while, but do not want to hide them yet. Right under it, there is a small loop, which allows for the convenient hanging of this under-helmet cap on a hanger or tactical belt.
Tactical under-helmet cap for fans of merino wool - Winter Merino Beanie from Helikon-Tex
The second described under-helmet cap from the Polish company, Helikon-Tex. This time, we would like to write about a cap made out of merino wool. This under-helmet cap has great insulation properties and design taken from models used in caps issued to United States Marine Corps soldiers.
Described under-helmet winter cap is made out of 100% merino wool which is a part of the Outback Line series, has great thermal properties, and is very good at moving moisture generated by our body to the outside, keeping our head dry and warm. Additionally, its low profile look will fit both everyday and outdoor looks.
A great under-helmet cap for the army - Beanie Cap FR from Direct Action
If you are looking for an under-helmet cap with a military look, then you should definitely look at a Beanie Cap FR from Direct Action. This lightweight under-helmet cap made out of fleece-like material with fire-retardant properties will be a great choice to take for the range, intensive workout, or just general outdoor use.
Its simple line and great compressibility are properties, which next to its resistance to short exposure to open flame, can describe this high-quality under-helmet winter cap. The aforementioned compressibility allows for convenient storing of the said cap in a pocket of a rain jacket, backpack, or pouch without losing much space.
Thanks to the thin material used in production, the under-helmet cap will not cause any pressure point to occur even when wearing tightly fit helmets. Its flat line makes it really hard to get caught in something. We would really recommend this under-helmet cap to all military service members and foresters, because of its good properties and low profile, which will not stand out in the eyes of your commander.
Acrylic under-helmet cap modeled after Bundeswehrs cap - Bundeswehr winter cap from Mil-Tec
Under-helmet winter cap produced by well-known Mil-Tec company. Thanks to utilizing 100% synthetic material, it doesn't hold moisture and offers good protection from the wind while offering very good breathability.
The inner fleece-like layer of the described under-helmet cap creates an additional layer of trapped air, increasing thermal insulation. The outer layer stays flat, thus allowing droplets to slide down the cap from its surface. Thanks to utilizing modern materials, the under-helmet cap stays thin, which allows for comfortable usage under the helmet even with active hearing protection without discomfort. Its elasticity makes it fit snugly to the wearer's head.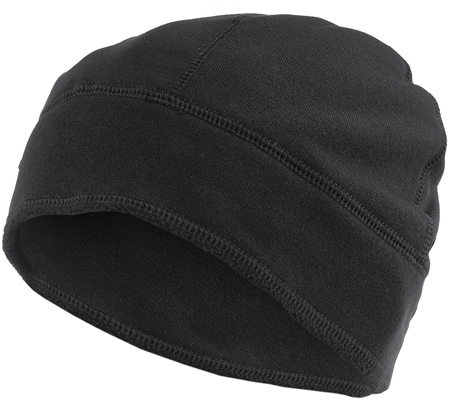 We would recommend this under-helmet cap to all fans of the military look, especially fans of modern Bundeswehr, and people looking for an under-helmet winter cap in a well-tested design.
A solid under-helmet cap made out of micro-fleece - Watch Cap Elite from M-Tac
Produced by a Ukrainian M-Tac company, this under-helmet winter cap will keep your head warm and comfortable even in temperatures below freezing thanks to its micro-fleece material. Thanks to its classic "watch cap" design, it will be great in the role of an under-helmet cap or as a designated headwear during cold, winter months.
Made out of soft and warm fleece material, this under-helmet cap is equipped with a soft velcro panel on its front side, thanks to which it is possible to personalize it using velcro patches like those presented in our units & functions or blood groups & medic categories.
Thanks to its low-profile design, said under-helmet winter cap will fit under all types of ballistic helmets and protective helmets, offering us not only the comfort of use but also standing on guard of our thermal comfort. Thanks to its low price and very good characteristics, we would greatly recommend the Watch Cap Elite under-helmet cap for everyone, and in particular service members and ASG fans.
Lightweight under-helmet cap made out of Polartec micro-fleece - Light Watch Cap Polartec from M-Tac
We would like to show you another under-helmet cap produced by M-Tac. This time it is a lightweight under-helmet cap made out of micro-fleece supplied by well known and renowned Polartec company, which offers great thermal comfort even in wind and temperatures below freezing.
The described under-helmet cap has the classical design of a "watch cap", and when compared to the previously described model, this one does not include a velcro panel allowing for attaching of morale patches or other velcro patches. Thanks to its low-profile cut, this under-helmet cap will work great with all kinds of ballistic helmets and active hearing protection without impact on users' comfort.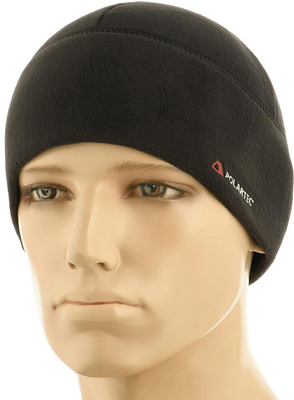 Thanks to its less tactical look, we would also recommend this under-helmet cap to be worn under protective helmets by winter sports enthusiasts.
And what if you need more all-around protection and breathability, while all the caps are too thick for you? It is time for balaclava! - Thermoactive under-helmet balaclava Razor from Rough Radical
If all under-helmet caps tend to be too thick for you and cause you more discomfort than you are willing to endure for that extra thermal insulation, or if you need protection on a bigger surface, then you should certainly take a look at our wide assortment of balaclavas available on site. And in the meantime, we shall continue with the description of the first model of balaclava that we would like to show you, which is made by the Polish company Rough Radical.
This thermoactive balaclava was produced from soft polyester material, which is characterized by its very good breathability and the fact that it does not absorb water. Thanks to this, all moisture that has contact with the balaclava is immediately moved to the outside part of it, from which it can safely evaporate without causing cold to our skin, which is very important in winter conditions.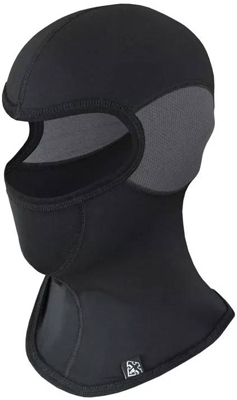 Thanks to the good elasticity of materials used when producing the described thermoactive winter balaclava, it snugly fits the user's head, while panels with a honeycomb-like pattern placed in the nose, mouth, and ears areas increase its breathability and moisture retention in those critical areas. The material used dries very quickly, and thus described thermoactive balaclava will make for a great under-helmet balaclava both for motorbikers and soldiers alike.
Classical, black, thermoactive under-helmet balaclava with silver ions - Silver SL thermoactive balaclava from Rough Radical
Made from a material which is a mix of cotton and polyester, this black thermoactive under-helmet balaclava from the Rough Radical company known for producing sports clothes was enhanced with silver ions, creating another product we would like to show you.
This elastic thermoactive balaclava very snugly fits the user's head, and that is thanks to adding a bit of elastane to the material mix. Thanks to its 1-hole design and elongated neck, this balaclava offers very good protection from elements covering not only the whole head and neck but also a part of the user's chest, which is an area that is most often missed by other products even in dedicated winter balaclavas.
The described black thermoactive balaclava incorporates Autolap seams, which ensure that the seams are flat, and do not induce any discomfort to the user's head. The material was enhanced with silver ions, thanks to which said thermoactive balaclava has antibacterial properties and supports the healing process of small injuries on the surface of the skin, which tend to happen on skiing or mountain trails as well as in tactical operations.
Thanks to its character, the black thermoactive balaclava Silver SL will be a perfect choice for enthusiasts of winter sports like snowboarding or skiing, as well as bike riding enthusiasts, especially the fans of extreme variants of that sport. They will quickly notice how the elongated neck keeps the wind from entering under their shirts, cooling their chest way too much.
Thermoactive balaclava for fans of merino wool - Merino Wool balaclava from Brubeck
One-hole thermoactive balaclava made from a mixture of merino wool and synthetic materials to achieve the best levels of thermal comfort and breathability on freezing cold and windy days, manufactured by the Brubeck company utilizing seamless technology. Thanks to those attributes, said thermoactive winter balaclava makes an ideal choice for people preparing to conquer winter trekking or skiing trails. Very good parameters render described thermoactive balaclava as an awesome standalone headwear, or as an additional insulation layer protecting from wind and cold, for example as an under-helmet balaclava.
This thermoactive winter balaclava was made out of 41 percent wool from merino sheep, which are well known for great resistance to both very low and high temperatures. Said resistance is achieved thanks to the very good thermal insulation properties of their wool, which is getting more and more known around the world and is more visible in dedicated winter clothing each year. Thanks to the aforementioned properties of merino wool and a mix of synthetic materials, the described thermoactive balaclava has antiallergic properties and keeps your skin's microclimate untouched. This mix of materials has very good breathability and dries quickly, which are also very important attributes during wintertime.
The merino wool used during the production of thermoactive winter balaclava from Brubeck also has health-promoting properties, because its microfibers enhance blood supply to the cells, thus supporting blood circulation. Thanks to its flat seams, the risk of uncomfortable abrasions happening is marginalized. Because of its resistance to bad smells, the thermoactive, merino wool balaclava will make a very good choice for fans of intensive outdoor sports.
The one-hole construction of the described thermoactive balaclava can be worn in many ways, rendering it a very good choice for people looking for universal equipment who are looking to improve their set of winter military clothing.
White balaclava ideal under the helmet of a winter soldier - 3-hole cotton winter balaclava from Mil-Tec
If you are planning to operate in snowy terrain, or just prefer to wear a white balaclava in your winter set, then you should certainly take a look at this product! Mil-Tec presents a white winter balaclava with a 3-hole design, which will be a great choice to wear as an under-helmet balaclava.
This winter balaclava is made out of 100% cotton with flat seams, thanks to which the risk of irritations or abrasions is minimized. Additionally, thanks to its thin construction, the described under-helmet balaclava is characterized by very good breathability, which is a very important thing for people who tend to increase body temperature during physically intensive sports activities quickly.
The three-hole design of this thermoactive winter balaclava snugly covers the whole head leaving openings only for eyes and mouth, thanks to which we do not need to worry about skin contact with cold snow or ice, while still leaving free access to the user's mouth. The holes are positioned in such a way that a rolled-up balaclava can be used as a cap.
Awesome white under-helmet balaclava - 3-hole acrylic balaclava from Mil-Tec
The next described winter balaclava also comes from a well-known Mil-Tec company. This time, the presented thermoactive balaclava is made of acrylic material, which is a type of synthetic material, thanks to which it does not absorb moisture leaving our skin safe from freezing sweat. Such protection is very important in temperatures well below freezing.
The aforementioned factor is very important when planning to use such type of equipment as described winter under-helmet balaclava in freezing temperatures because all the sweat and moisture escaping from our skin during periods of intensive physical activity gets quickly moved from the inside of the balaclava to the outside, where it can safely evaporate away from our skin, eliminating the risk of it freezing on our skin thus leading to potential hypothermia. The three-hole design of this white winter balaclava allows for the effective cover of most of the user's head.
Another important element in the design of the described white under-helmet balaclava is a welt around the neck area, which allows for a better fit of this thermoactive balaclava and thus better moisture management around the user's neck. This white winter under-helmet balaclava will be a great addition for all fans of long, winter marches through snowy trails thanks to its synthetic materials and very good moisture management.
Under-helmet balaclava to complement level 2 underwear - Helikon-Tex winter balaclava
This winter under-helmet balaclava will be a great addition to the US - Level 2 underwear described in our previous blog post about thermoactive underwear. Similarly to the mentioned underwear, this thermoactive balaclava is also manufactured by the Polish company Helikon-Tex.
The described under-helmet thermoactive balaclava is made out of soft-to-touch synthetic material, and its inner layer resembles the grid structure we see in waffles. This so-called waffle grid makes an additional insulation layer out of air particles trapped not only in its fleece texture but also in the grooves, thus offering increased thermal insulation when compared to standard fleece balaclavas.
At the same time, the grooves between fields allow for great breathability, rendering the described thermoactive balaclava with very good moisture management and allowing for its quick movement away from the user's head, where it can safely evaporate without risk of freezing near the user's body.
Anatomically correct design and material used in the material mix allow this thermoactive balaclava to snugly fit the user's head, and thanks to its elasticity it also allows for quick, drastic movements without discomfort. Its seamless construction protects the user's skin from uncomfortable abrasions caused by standing-out seams or threads.
We would certainly recommend this winter balaclava as an addition to all users of the level 2 underwear set, no matter if they will use it as an under-helmet balaclava or a standalone insulation layer.
One-hole thermoactive under-helmet balaclava for intensive physical activities - MFH thermoactive balaclava
This time we would like to present you with another product made by a German company, this time we will talk about MFH company and their thermoactive balaclava. Said balaclava incorporates a mesh located in the mouth and nose area, which allows for way easier breathing than classical designs without it, while also reducing the amount of moisture that builds up under the material.
Such an innovation will surely find fans amongst people doing high-activity winter sports, as all the moisture that leaves our body with breath normally gathers under the thermoactive balaclava leading to discomfort and very irritating abrasions around the mouth and nose areas. In some cases of loose balaclavas, all that built-up moisture can start running down the user's body, causing further discomfort and abrasions.
The main part of the described winter thermoactive balaclava was made out of mesh-like thermoactive material, which offers great breathability and elasticity. Thanks to those properties, said winter balaclava quickly adapts to the user's head, fits it snugly, and does not restrain even the most intense movement.
We would recommend this under-helmet winter balaclava to everyone doing high-intensity winter sports, who likes to breathe freely or does not like moisture building up in the mouth or nose area.
When you need to fight great heat in cold times - Fire-retardant under-helmet Nomex® balaclava from Mil-Tec
For most of us, when we say winter we automatically forget about the heat, but there are people that always need to think about it, even in the middle of the winter wonderland. For all those people, we would like to present a fire-retardant thermoactive balaclava made out of DuPont™ Nomex® fabric by the German company Mil-Tec.
This one-hole under-helmet balaclava is made out of material that is known for its high resistance to both high and low temperatures, as well as mechanical damage or chemical substances. Those factors are very important if you might need to fight a fire in your house, car, or workplace. Thanks to the highest quality Nomex® material from DuPont™, this thermoactive fire-retardant balaclava keeps its resistance for a long time even after intensive use and many laundries.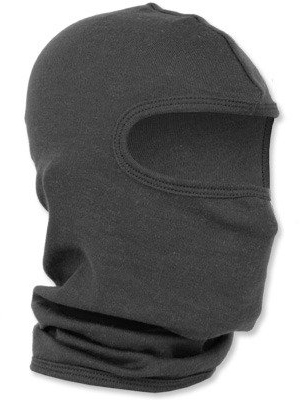 Thanks to its long neck part and welt placed in it, this fire retardant balaclava protects not only the head but also the neck against both high and low temperatures. We would gladly recommend this product to everyone working in jobs that involve high temperatures or sources of open flame, but also to people who like to have equipment that protects them from many different dangers at once.
An under-helmet balaclava for true shadow warrior - Ninja Elite Premium Polartec balaclava from M-Tac
And last but not least place in our list belongs to the thermoactive under-helmet balaclava produced by the Ukrainian company M-Tac. This well-designed balaclava which would amaze all true ninjas is made out of warm and light Polartec POWER DRY fleece and for sure is worth taking a look at!
This thermoactive balaclava is equipped with a sort of face cover, which can be freely moved up and down, allowing the user to quickly change how big part of his or her face is covered at any given time, while also giving options to utilize said thermoactive balaclava as scarf, or cap with a scarf.
Thanks to this thermoactive balaclava being made out of quick-drying fleece material, it keeps the user's thermal comfort on high levels while still taking care of moisture that builds up between its inner part and the user's skin during physical activity or stays in warm places.
We would recommend this under-helmet balaclava, especially to people that need to often uncover their faces or do not like when it is covered, while also looking for means to cover the rest of the head with a simple solution. Of course, we could not forget about shadow warriors and fans of outdoor games, who may see it as a good way to enhance their looks!