What gloves to choose for army training - quick look through military gloves
2022-09-20
With pushing to increase levels of safety during military training for both contract soldiers and territorial ones, came the change in favor of non-issued safety equipment. Some units still prohibit non-issued equipment, but more and more look at it with a more favorable eye, seeing its increased levels of protection.
In this blog post, we will take a deeper look into some chosen models of military gloves, which could be used during your service and offer higher levels of comfort and protection than general issue ones.
Olive tactical gloves for field uniform - Mechanix M-Pact
Amazing tactical gloves manufactured by well-known and renowned company Mechanix Wear, which took its place in equipment of many top-tier special forces soldiers around the world. The M-Pact model comes with TPR, or Thermal Plastic Rubber, inserts protecting fingers against hits.
The inner part of safety gloves is made of synthetic Clarino skin, while the outer from Trek Dry Spandex textile. Thanks to that fact, the outer part of described tactical gloves easily fits the user's hand, still offering high levels of comfort to the user. Areas prone to damage are reinforced with additional textile, while areas between fingers are made from Lycra material, offering freedom of movement.
The tactical origin of Mechanix gloves is visible not only because of TPR inserts but also because of two cushions on the inside of the gloves and grip-enhancing inserts on the thumb and trigger finger.
Fire-resistant gloves for field training - Crocodile gloves from Direct Action
The next described military gloves are dedicated to people working with hot parts of weapons and guns. Black military gloves are made from goat skin with elements made of meta and para aramids, with the addition of carbon fiber, thus offering a sure grip, good humidity control, and increased protection against hot elements.
Such tactical gloves will come in handy for crew members in tactical and fighting vehicles, where it is easy to come into contact with hot parts of machinery, and a sure grip may be crucial for the success of the task ahead. This model comes with a long collar, to extend protection from debris.
An additional element worth mentioning are loops, allowing the user to attach his gloves to tactical equipment using a carabiner.
Military gloves for MOUT training - Oakley SI Factory Pilot Gloves 2.0
Factory Pilot Gloves 2.0 are a result of continuous improvements of the Oakley Standard Issue series of equipment fulfilling the requirements of the United States DoD. This exact model of tactical gloves is very popular with special forces operators around the world, thanks to its high levels of protection and great breathability.
Thanks to the inner part of these military gloves being made of goat skin with micro ventilation ports, these gloves offer a sure grip still allowing for great moisture management and breathability. Panels made of nylon mesh and rubber openings on fingers also help with increasing breathability, especially in warmer climates.
Their great protection against mechanical injuries comes from hard inserts made of carbon fiber and neoprene covers of knuckles. Thanks to those elements, these tactical gloves come in very handy when fighting in urban environments or close-quarters combat scenarios.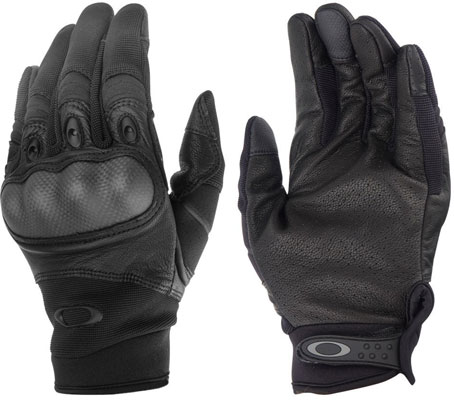 Another element worth mentioning are inserts on the fingertips of those high-tech military gloves, allowing the user to utilize touch screens, rendering them useful also for team leaders or fighting vehicle crew members, as well as Joint Terminal Attack Controllers, widely utilizing touch screen devices.
With knee and elbow protectors, these military gloves will be a great addition to your MOUT, CQC, or maritime security kits, offering amazing protection in those highly risky and specific environments.
Straightforward gloves for Territorial guard - USM gloves from Helikon-Tex
Tactical gloves designed by Polish company Helikon-Tex offering Impact Gel inserts on knuckles and textile reinforcements on the inner part of the hand.
These military gloves are made from breathable fabric and fashioned with vents on the sides of the glove, resulting in very good breathability and moisture management even in hot environments, while anti-slip reinforcements on the thumb and trigger finger offer a sure grip on the weapon.
These tactical gloves should come in handy in less demanding tactical situations, where hard protection caps could give us more trouble than help, and we shouldn't have a contact with hot machinery.
Thanks to them being made purely from soft elements, these military gloves can be easily compressed and should not take up much space worn in a pocket or military backpack.
High-tech military gloves from Direct Action - Hard Gloves
Those military gloves were designed by Direct Action especially for people working with firearms every day. Synthetic skin used to produce the inner part of the gloves has anti-slip properties and offers great grip in all weather conditions, while specially designed areas between the fingers offer great flexibility and comfort even when working with the firearm for prolonged periods of time.
Because of increasing demands for military gloves to work with touch screens, these lightweight tactical gloves come equipped with inserts allowing for their use located on thumb and trigger fingers. The high breathability of used textiles allows for long and comfortable wearing of gloves even in hot weather.
These tactical gloves come equipped with loops made of Hypalon®, a strong material used for example by Crye Precision in their vests, allowing users to attach the gloves to the tactical belt without the need to worry about losing them.
Last thoughts about using non-issued tactical and military gloves
As stated in the beginning, the push for more safety during training allowed more liberal use of non-issued safety equipment. Still, some units or leaders may forbid the usage of those, as they aren't issued by the army.
To be on the safe side, always contact your leader or person responsible for clothing regulations on your base or training area.
For territorial guards and not only, what other equipment should I take for training?
Some time ago, we have made a blog post to support fresh territorial guard soldiers in choosing non-issued equipment to supplement what the army gives them. This post is one of the many to come, serving as an extension to the aforementioned one, with the intent to support service members in expanding their equipment in a thoughtful way.
We greatly encourage taking a look at the first post from the series:
What should you take to Territorial Defence Forces training