Leatherman multitools - which one to buy?
2021-11-19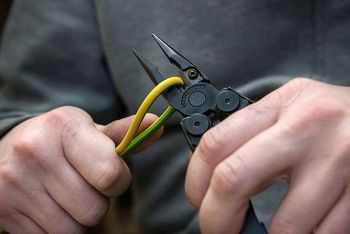 For some people, when they think about a multitool, they also somehow connect it with MacGyver from the 80s TV series - the guy who was able to get away with his life even from the most dangerous situations, building a helicopter from a piece of bubblegum and two matches or something similar. Therefore: Is it possible to build a battery from a cactus? Can you build a rocket launcher with a couple of pipes, a battery and a balloon? Did Angus MacGyver know about Leatherman products, but still found a pocket knife more useful?
In this text, we will not answer any of those questions, but we, with use of our Leatherman products, will try to showcase why a multitool is a great companion for everyday use, or during summer trips. Leatherman is one of the best known and renowned multitool manufacturers. Their products are present on the markets all over the world and are loved because of their functionality, unbelievable durability and high quality, combined with worldwide, 25 years of warranty.
As previously mentioned, we decided to briefly describe five Leatherman products we sell, to give You some hints which one to choose and which one would suit you the best. For today's breakdown, our top picks are:
Leatherman Wave Plus
Leatherman Supertool 300
Leatherman Rebar
Leatherman Sidekick
Leatherman Rev
Leatherman Wave Plus - Wave after wave
The first multitool on our list is Leatherman Wave Plus - According to its manufacturer, Wave plus is their most popular, and one of the best-selling products also among the soldiers and law enforcement officers. In our opinion, one of the reasons for the popularity in those two groups may be the fact that 4 basic and most important tools are accessible without a need to open the whole multitool. This feature surely extends Wave's applicability, especially in dynamic, tactical situations when speed of action is of the essence.
The multitool itself has 18 different tools - among the others:traditional pliers, a saw, small and big bit drivers, wire crimpers, replaceable wire cutters, plain edge knife, serrated knife, small scissors and two files, The whole multitool gives its user an impression of sturdiness and reliability, The body is made of stainless steel and tools security is ensured by the back lock and liner lock mechanisms which prevents them from accidentally closing and causing injuries.
Leatherman Supertool 300
Another Leatherman product is Leatherman Supertool 300 - in terms of size and weight, the biggest on our list. A bit bigger overall sizes result also in bigger tool sizes, which are visibly larger. That in turn creates an impression of rigidity and durability, and ability to withstand whatever its user would throw at it.
In terms of tool numbers you also cannot be dissapointed - Supertool 300 features 19 different tools, including pliers, four different screwdrivers, metal and wood file, saw or plain edge and serrated blades.
Thanks to can and bottle opener, Supertool 300 also can become handy during food preparation, and due to its electrical crimpers, also during some minor electrical works. Still, we need to warn you that it is not equipped with electric insulation of any sorts, so you need to be aware of possible electrocution if misused.
Leatherman Rebar
Talking about Leatherman Supertool 300 we also have to mention Leatherman Rebar - which is effectively its smaller version. Despite the smaller sizes, Rebar maintained all the key features of its bigger brother - durability and strong pliers with replaceable wire cutters. Different from Supertool 300, Rebar is equipped with 17 tools - apart from the aforementioned pliers, we can also find plain edge blade, serrated blade (both made of 420 HC steel), two files, awl, saw or can and bottle opener.
What is interesting, Leatherman introduced Rebar's tacticool version in Coyote Brown colour. Therefore, it can make it even more appealing to soldiers, law enforcement officers or bushcraft enthusiasts.
To sum up, Rebar offers great quality for a reasonable price. For your money, You get a very flexible tool with outstanding durability, which because of its Coyote version may become an irreplaceable part of any tactical vest or duty belt.
Leatherman Sidekick - will always got your back
Leatherman Sidekick is a bit different - what you can notice at a firs glance. Sharp body angles and a bit of the savage character of its brothers were replaced by curves and overall toned down impression. But don't get tricked - this is still a full-blooded Leatherman product, with legendary toughness and durability included.
What is interesting, Similar to Wave Plus, you can access some of the tools like a blade or saw without having to open the whole. You can easily flip them out with your thumb. As in the other models, wire cutters are replaceable, but the pliers were equipped with a tiny spring, which makes operating it a bit easier.
Sidekick offers 14 tools, what, given its sizes, may be considered a pretty big number. Apart from the tools mentioned before, we can find wood and metal files, can and bottle opener or wire crimper. The distinctive feature of the Sidekick is a pocket clip attached to its body which makes it possible to carry it around without a sheath.
What is also worth mentioning, with your multitool You get a special Leatherman keychain/carabiner with bottle opener and flat wrench. Definitely a nice touch from the Leatherman.
Leatherman Rev - Solid basics
The last product we've decided to pick is the Leatherman Rev, which in our opinion is one of the most interesting products from the whole multitool branch. It is a great pick for all the people who are afraid of losing their multitools and don't want to spend a lot of money for it but still want to get the top quality product. It may also be taken into consideration by all the people who plan to use their multitool occasionally.
Rev is made mainly from well known and proven 420 HC stainless steel. As all of the models mentioned before, it is equipped with pliers (which are not replaceable), plain edge blade. It is worth mentioning that the blade is also easily accessible, as in Wave Plus and Sidekick models.
The tools we can find in rev may seem a bit scarce, but will surely handle some very basic tasks. In Rev, we can find: two screwdrivers, a box opening blade, a file or a bottle opener.
To sum up, due to its legendary quality, Leatherman products are the ones we can recommend without any hesitation whatsoever. They are manufactured from the best possible materials, and their tools hardly ever yield to their full-size counterparts.