Which tourniquet to choose - uses, how-to, and differences between models
2022-06-27
Which tourniquet to choose - uses, how-to, and differences between models
With increasing world tensions, more people have started looking for life-saving equipment, including tactical tourniquets. Because of their use being somewhat allowed only in the tactical world, many people still lack basic knowledge, allowing them to choose and apply tourniquet effectively and quickly enough.
In this blog post, we will try to showcase the differences between some more popular models of tourniquets, the basics of how to apply them, and explain why you shouldn't buy one from an unknown company.
Tactical tourniquet - what is it and why not everything can be used as one
A tactical tourniquet is a first aid utensil, that allows one to quickly close arteries by putting pressure on them. The first usage of tourniquets in such a manner is dated to 1674 when French army surgeon Etienne Morel described the usage of tourniquets to control massive hemorrhages on the battlefield.
In the current development of modern tactical tourniquets, the ways, and rules of their usage is controlled by the Tactical Combat Casualty Care committee established in 2002. Their responsibility is to develop and modernize techniques and equipment for life-saving on the modern battlefield.
Okay, but why not everything looking like a tourniquet can be used as one? Well, the biggest difference is the reason they were made. As long as you can use a tourniquet that you see when drawing blood for tests for it, it doesn't offer the capability to close the artery or proper ways to secure it when enough pressure is applied. A proper tactical tourniquet has a windlass system and some way to secure it when tightened enough.
If one would try to utilize an improper tourniquet in such a manner, it could pose a serious threat to the life of the wounded and might result in death. The same applies to tactical tourniquets from unknown sources. As long as they might stop the bleeding, their quality might vary and not last long enough for life-savers to arrive.
What is the purpose of tactical tourniquets - a way to stop massive bleeding from extremities
Citing from International Trauma Life Support and European Resuscitation Committee, tactical tourniquets are to be used for stopping massive bleeding from extremities by closing arteries when other methods (like raising extremity, pressure, pressure bandage) are not enough, during mass casualty situations, amputations, and crushes.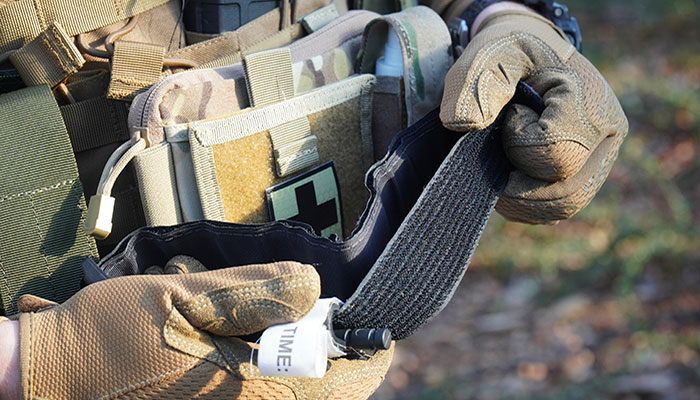 On the other hand, military TCCC states that tactical tourniquets should be used as a first way to stop the bleeding in combat situations if the zone isn't fully secured, giving medics time to properly secure it and go to other casualties without risking their lives.
How to properly apply a tactical tourniquet - quick reaction or by-the-book behavior
The sources state, that a tourniquet should be applied 5 cm above the injury, never under the elbow, knee, or on the joint. In situations when massive bleeding occurs, the time is of the essence and because of that, there is a slight twist of rules in some situations.
In tactical situations and when the source of bleeding cannot be quickly located, one should apply a tactical tourniquet as high on the extremity as possible, giving time to properly search for the wound and bandage it.
After applying a tactical tourniquet, one should put the time when it was applied in a designated spot on the tourniquet or in a visible spot on the injured person's body in 24 hours format and write the letter T on his forehead or cheek. This gives the lifesavers basic information about the patient's state with the first look on him
Which tactical tourniquet will be the best for me - a quick comparison
There are many tactical tourniquets available on the market, yet their quality, speed, and ways of application may highly differ. That's why we would like to show you and describe the tourniquets approved by TCCC (Tactical Casualty Combat Care) committee, as well as speak a word or two about interesting models.
The first model of tactical tourniquet we would like to talk about is Combat Application Tourniquet, or CAT for short, manufactured by North American Rescue company. It is a well-known and renowned tactical tourniquet used in lots of combat scenarios. It seems only logical, that the main issue tactical tourniquet of the US Army already reached its seventh generation!
This tourniquet consists of a hook and loop strap which is tightened around the injured extremity and a windlass system that allows generating circumferential pressure to the extremity, closing the artery and thus stopping the bleeding. Then the windlass should be secured using a hook and loop windlass retention strap and the time of application should be written on it.
The second model we would like to tell you about is a Special Operation Forces Tourniquet, or SOFTT which on the contrary stands for Special Operation Forces Tactical Tourniquet. Don't ask us, we don't know why. What we know though is that it is said to be the favorite tactical tourniquet for Special Forces around the world. There isn't anything strange in that, as it was developed by a Special Forces medic while he was deployed to Afghanistan in 2003. While older versions of this tourniquet posed a problem to be applied using only one hand, more recent fourth and fifth-generation tourniquets got rid of the problem, making them a preferred tourniquet for 7 out of 10 top American police departments.
The difference between CAT tourniquet and now described SOFTT tourniquet lies mainly in windlass and the way to secure it. SOF tourniquet has aluminum windlass and securing system made of triangle locking windlass in place and added CAT tourniquet like securing system, to temporarily hold windlass in place. SOFTT tourniquet has a built-in slack indicator, informing us when all the excess slack has been pulled. They also come with a designated place to put the time when the tourniquet was applied on.
The third product we would like to mention is a SAM XT tactical tourniquet, which is probably the most technologically advanced tourniquet in the world as of now. This tactical tourniquet utilizes a patented TRUFORCE™ system, which locks the tape in place when all the excess slack is pulled, announcing it by a loud click. After that, the pressure is applied by using a metal windlass, which is secured in the same way as in the CAT tourniquets. As with all models above, this one is also allowed for use by TCCC committee.
As for the mentions, now we would like to present you with the RATS tourniquet. This very interesting design doesn't have any similar parts to the previously described tactical tourniquets and isn't approved by TCCC. It consists of a nylon band with a galvanized rubber core and a metal plate, working as a lock. The application process consists of putting the injured extremity through the loop, pulling excess slack, and tightly turning the band around the extremity until the bleeding stops, after which the band should be put through the cut in the metal plate which will secure it in place.
Another honorable mention is the esmarch, being a Russian version of a tactical tourniquet. It is very popular in Russian films and pop culture, including video games. Its design resembles more of a blood drawing tourniquet than a fully pledged tactical tourniquet, yet we can still see it on Russian-type weapons butt stocks and equipment. It consists of a rubber band with holes in it and two buttons, working as a locking mechanism. Its effectiveness is highly susceptible, and thus we only mention its existence.
Why you shouldn't save on life-saving equipment
With prices of tactical tourniquets rising in the recent times due to their shortages and unstable situation, you should remember that only by buying original products from confirmed sources you can be sure that your tactical tourniquet will do its job in times of need and not break in the worst moment, posing a risk of quick blood loss and possible death of a theoretically stabilized person.
By buying copies from unknown companies, we only make an illusion of an effectively secured wound. Such products are of unknown quality and should only be used as a training aid with safety measures at hand.