Tuning of Airsoft AEG replicas
2018-03-13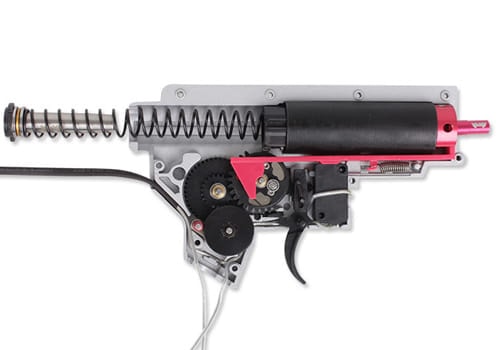 Tuning – czyli poprawa osiągów replik – od zawsze wzbudzał skrajne emocje w środowisku ASG. Według jednych, jest to normalna forma osiągania przewagi na "polu walki" na równi z taktyką, zgraniem ekipy, łącznością i indywidualnymi umiejętnościami, a według drugich – czynnik zmieniający radosną zabawę w krwawą jatkę.
Nie chcemy rozstrzygać, kto ma rację, gdyż prawdopodobnie i tak leży ona gdzieś po środku. Z jednej strony osoby poprawiające osiągi swoich zabawek muszą pamiętać o ustalonych przez organizatorów imprez limitach prędkości wylotowej oraz wykazać się odpowiedzialnością. Z drugiej zaś strony – gracze krytykujący przeciwną stronę barykady, powinni mieć świadomość, że to w interesie każdego uczestnika rozgrywki jest zabezpieczenie swojego ciała – w sprzedaży dostępna jest atestowana ochrona oczu, która wytrzymuje ostrzał z każdej repliki ASG oraz maski na twarz chroniące ją przed uszkodzeniami. Podczas gry nie zawsze jest czas na wyciągnięcie repliki bocznej podczas niespodziewanego starcia na bliskim dystansie.
okulary ESS Crossbow Suppressor / maska Strike Systems
Zanim przejdziemy do omawiania, co i jak wymienić w swojej replice, trzeba powiedzieć dla kogo tuning NIE JEST dobrym rozwiązaniem. W tej grupie znajdą się przede wszystkim gracze początkujący, którzy nie znają praktycznych osiągów i możliwości swoich replik. Naszym zdaniem nowi w środowisku powinni poprzestać co najwyżej na wymianie gumki HU oraz stockowej lufy na precyzyjną. W chwili, kiedy taki gracz pozna swoje potrzeby, oczekiwania i nauczy się efektywnie wykorzystywać swoją zabawkę – może zdecydować się na bardziej rozbudowany tuning.
gumka Hop-Up firmy Arma-Tech / lufa precyzyjna firmy Guarder
Zasadniczo istnieją dwa rodzaje tuningu – High Torque oraz High Speed. Pierwszy pozwala na podniesienie prędkości wylotowej i stosowany jest głównie w replikach przeznaczonych na tereny zielone. Drugi ma na celu obniżenie prędkości wylotowej i podwyższenie szybkostrzelności. Stosowany jest w replikach do CQB.


silnik High-Torque M140 firmy G&P / silnik Infinity U-40000 CNC firmy Ultimate
Ze względu na to, że to właśnie tuning Hi-Torque spotyka się z o wiele większym zainteresowaniem naszych Klientów, dzisiaj omówimy jak poprawnie się za niego zabrać. Uprzedzamy jednak, że poradnik powstał z myślą o ludziach, dla których rozkręcenie repliki ASG to nie "czarna magia". Jeżeli nie czujesz się na siłach, lub Twoje replika znajduje się cały czas na gwarancji – skontaktuj się z
naszym serwisem
.
Zanim przystąpi się do wymiany jakichkolwiek części mechanicznych, należy upewnić się, że układ pneumatyczny repliki jest szczelny. Ewentualne straty ciśnienia należy sprawdzać na łączeniu poszczególnych elementów, tj. głowicy tłoka z głowicą cylindra, prowadnicy dyszy z dyszą, dyszy z kołnierzem gumki HU. W sytuacji idealnej pomiędzy tłokiem a końcem lufy powinien zachodzić tzw. "efekt strzykawki", co oznacza brak jakichkolwiek strat ciśnienia w układzie. Jeżeli na którymś z etapów pojawia się strata – element należy wymienić. Szczelny układ i objętość cylindra dobrana odpowiednio do długości lufy pozwalają na znaczne wydłużenie zasięgu repliki przy niezmienionej prędkości wylotowej.

głowica tłoka Single Oring firmy Arma-Tech / wzmocniona głowica cylindra firmy JBU
Decydując się na tuning typu Hi-Torque od sprężyny M130 wzwyż należy pamiętać o wymianie kluczowych komponentów – zębatek, silnika, baterii na 11,1 V, tłoka, okablowania oraz rzecz jasna sprężyny. Warto też rozważyć montaż układu MOSFET. Jeżeli posiadamy replikę z gearboxem V2, należy gruntownie przemyśleć zamontowanie elementu wzmacniającego przednią ścianą szkieletu. Montowane fabrycznie części pozwalają na wymianę sprężyny w zakresie do M120 (nominalnie ~396 FPS, przy uszczelnionym układzie da się z niej "wycisnąć" 420 FPS, a w skrajnych przypadkach nawet 450 FPS).
Zębatki stalowe Smooth Gear firmy Arma-Tech / Bateria AEG LiPo 11,1V-1100 mAh
Od M130 w górę wymiana wyżej wspomnianych części staje się koniecznością. Zaniechanie tej inwestycji na pewno spowoduje awarię którejś z nich. Obciążenia przenoszone przez sprężynę są już po prostu za duże.
Należy przy tym pamiętać, że podniesienie liczby FPS nie przekłada się bezpośrednio na zasięg. Co więcej – wzrost jest degresywny. Oznacza to, że im wyższa prędkość wylotowa, tym zasięg wzrasta w coraz mniejszym stopniu. Kulka jednak pokonuje dystans szybciej, co utrudnia jej uniknięcie na granicy zasięgu.
To w zasadzie tyle, jeżeli chodzi o postawy tego, jak wygląda tuning tego typu. Wbrew obiegowej opinii – sama wymiana sprężyny i baterii nie wystarczy. Oczywiście należałoby jeszcze omówić kwestię smarowania układu, podkładkowania zębatek i lutowania kabli, jednak sprawy te są już szeroko opisane w innych poradnikach w sieci (także w wersji wideo).
Jeżeli potrzebujecie dodatkowych informacji na temat tuningu mocowego, zapraszamy do kontaktu z naszym serwisem – jego obsługa chętnie doradzi wybór odpowiednich komponentów w zależności od oczekiwań i zasobności portfela.