Tactical sunglasses - which to choose?
2022-03-23
Tactical sunglasses - which to choose?
In this blog post, we are going to present you with a few popular models of sunglasses made by well-known producers from around the tactical branch and try to find the best sunglasses for every pocket and for all-around use.
In the light of the popular trend, of carrying only things that have more than one use, we will take a deeper look into tactical sunglasses for the coming spring season.
Today, we are not gonna look at them only as sunglasses, but also as sight protection from impact of debris and other objects which might hurt our sight otherwise.
Safety glasses with the look of classic sunglasses
First on the line are Bolle Safety Contour Metal sunglasses. This product is made with the typical design of sports sunglasses, which makes it low profile in use, still offering protection from any kinds of debris you might encounter in everyday life or work.
This model of sunglasses could be effectively worn in civilian activities or when doing sports. Thanks to their low price, we would also recommend them to the builders, which thanks to the work they are doing, are more prone to encounter sight-threatening debris.
The frame of this model of tactical sunglasses from Bolle Safety was made using metal without the addition of nickel, and the TIPGRIP 160% Flex earpieces were covered in a layer of elastic TPE polymer. Visor on the other hand was manufactured from strengthened polycarbonate, covered with anti-scratch and anti fog layers. The nose of those protective sunglasses was made from silicone.
We should also mention, that in pair with the sunglasses you also get a practical ETUIFS case made out of microfiber material, which allows for storing your glasses with other things without the risk of scratching them.
When you are working with the magnets - lightweight and stylish sunglasses made from polymers
The next model of protective sunglasses that we would like to show you is the NESS model, also from Bolle Safety company. These sunglasses are characterized by their very low weight, being only 28 grams!
That model of protective sunglasses also has one very important trait: they are fully made out of polymers, which makes them totally non-magnetic. Such a feat may come as a very significant factor to people working with the magnets or airport gates, as they won't get caught by them.
Additionally, to make it harder to lose them, they come with included nylon head strap, that further secures these lightweight sunglasses on your head and allows the user to hang them on his neck. It is also worth noticing, that the visor of the glasses was covered in anti fog and anti-scratch layers, which has a great impact on their lifetime and wearing comfort.
The described model of lightweight sunglasses will be the best choice for people working in areas with strong magnetic fields or as an element of an everyday look.
Ballistic sunglasses complying with Mil-Spec regulations - something for service and range workers
The third model on our list is a product from well known and renowned ESS, or Eye Safety Systems company, which is specialized in the production of the best tactical eye safety products. If you are working with firearms, or in an otherwise dangerous environment, you should consider taking a deeper look at their products.
The Crossbow One Smoke Gray model of their ballistic sunglasses complies with the Mil-Spec, ANSI, and European CE regulations, to give us a product for the harshest of tactical environments. That fact earned them their spot on U.S. Army Approved Protective Eyewear List.
Said ballistic sunglasses from Crossbow line offer full protection against UV A and UV B radiation, which is extremely important when looking for good sunglasses. At the same time, they are offering very good protection against debris, ricochets, or other harmful objects which may try to hurt our sight in the tactical environment.
The protection described above is provided by a visor made from high endurance polycarbonate, which can withstand harsh punishment and is known for its resistance to mechanical damage. The outer part of the visor of those ballistic sunglasses is covered with anti-scratch technology ClearZone™ FlowCoat while the inner part received its anti fog layer.
Ballistic glasses from the Crossbow line from ESS offer a quick visor change technology compatible with all the Cross line frames. Thanks to utilizing this system in those durable tactical sunglasses, the user can fit the visor to the tasks ahead of him on the go, without the help of any tools. The safe fit of the visor is ensured by the DedBolt™ latch, which guarantees that the visor will not fall off even in the harshest situations.
An additional feat of these sunglasses is the fact, that the frame was made utilizing the Z-Bend™ technology, which makes them compatible with most of the hearing protection and communication devices on the market while the Tri-Tech Fit™ technology makes sure there are no pressure zones taking care of the users' comfort.
It is also worth noting, that said sunglasses are compatible with offered by the same manufacturer U-RX™, P-2B™, and Vice™ corrective inserts, which may make an extreme difference for people wearing corrective glasses or contact lenses.
The described above model of protective sunglasses can be wholeheartedly recommended for everyone that works with firearms, service members, or people looking for very good protection and good looks.
Classical look of sport sunglasses with extreme durability - the best sunglasses for beach
The ESS 5B sunglasses are the next product which we would like to showcase. These protective sunglasses take their design from sport sunglasses, making them the perfect choice to complement beach or fishing outfits, as well as fully usable as protective glasses on the range.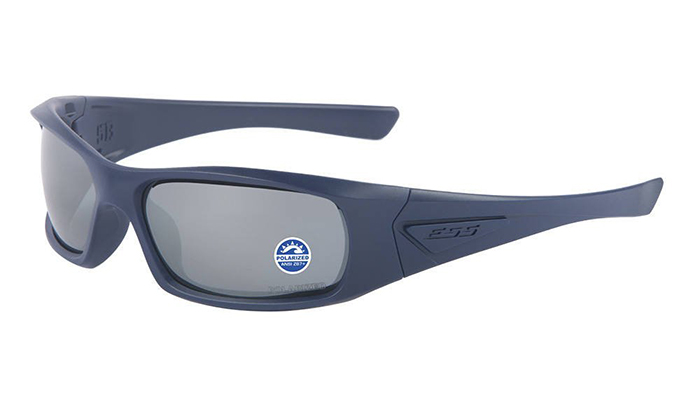 The frames of said high-quality sunglasses are made according to feedback from users around the world, and thus offer comfort and lack of pressure points. This allows for prolonged periods of use without the feeling of tiredness or discomfort caused by the earpieces digging into the head, even when wearing hearing protection.
Ballistic sunglasses from ESS company are characterized by thick visors of the highest quality polycarbonate, offering clear vision and full protection against UV A and UV B radiation. Polarized visors used in those sunglasses are covered in ESS ToughZone™ Anti-scratch Lens Coating, offering very good resistance to scratches.
These sunglasses can be a very good addition to everyday look and thanks to their sport design, will surely fit any sport or beach-related activities as well as everyday outfits. We would also recommend them for fishing enthusiasts.
Sight protection without compromises - when your life depends on your sight
If you are looking for sunglasses that will offer you the highest possible level of protection even in the toughest situations, not only from the sun but also any other danger lurking around every corner of your service, look no more! The Oakley company produced a true Ferrari among the ballistic sunglasses, offering the highest levels of protection and comfort.
These technologically advanced ballistic sunglasses produced by the renowned Oakley company are true miracles in the eye safety category. They do not only 100% protect from UV A and UV B radiation but also block all waves with lengths up to 400 nm. On top of that, the Oakley M Frame 3.0 Strike Black Prizm Grey also have many other aces up their sleeves.
Thanks to utilizing the most advanced technologies and materials during the production of said sunglasses, the manufacturer made it possible to not only make the product comply with ANSI Z87.1, and MIL-SPEC MIL-PRF 31013 norms, being one of the hardest norms for eye safety products, but also going way past them!
It was all possible thanks to utilizing the Plutonite™, being a special variant of polycarbonate with exceptional resistance properties even as for ballistic glasses during the production process. Talking about the visor, we should also mention the Oakley High Definition Optics (HDO®) technology, which was also used during the production, and which offers amazing picture transmission without warps on the whole surface of the visor.
If you thought that this is enough technology one could put in one such a small product, then you were wrong! Let's talk a bit about the Prizm™ technology, which is the name for the entire series of visors. Visors made in this technology block certain wavelengths increasing the adaptive capabilities of the human eye and the sharpness of the picture. Thanks to which, it is easier to acquire the target and aim, while reducing the tiredness of the human eye - a very distinct characteristic of sunglasses utilizing Prizm™ technology.
The frame of those ultralight ballistic sunglasses was made from O Matter® material and its shape allows for comfortable use with all popular helmet models including MICH, ACH, or Crye™ products. Well, thought frame design allowed for the nearly total elimination of negative effects for users' field of view. Used visor mounting system allows for quick visor change without the use of any tools if conditions change, rendering described sunglasses usable in all kinds of conditions.
Said sunglasses will be the best choice for people looking for exceptional levels of eye protection like range workers, service members, and soldiers, which are at risk of high-velocity debris and other objects and need the highest levels of protection.
Stylish sunglasses for camouflage fans - what to buy if everything needs to be tacticool
The next model of sunglasses we would like to show you also come from Oakley company. It is SI Drop Point Multicam® Prizm Grey. These exceptionally well-made sunglasses utilize the newest technologies to offer the highest levels of protection and sight enhancement.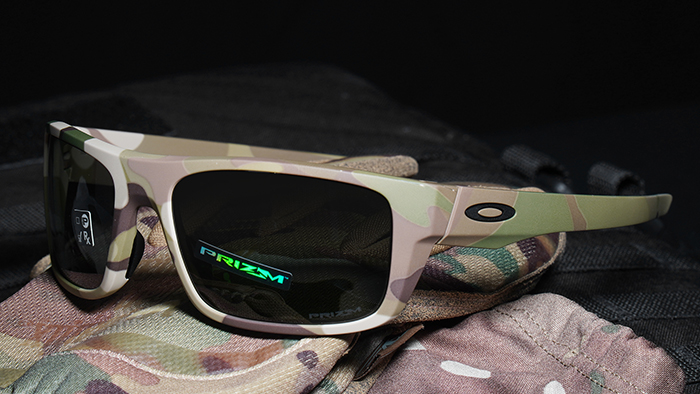 They also utilize the Prizm™ technology, which not only protects the users' eyes from UV A and UV B radiation, waves with length up to 400 nm, but also other chosen wavelengths - thus improving target acquisition and reducing eye tiredness.
The frame of Oakley sunglasses was produced using the technologically advanced O Matter® material, offering the highest comfort and quality. The visor mounting system, Oakley Three-Point Fit, guarantees stability and precise mount to further enhance the safety of the users' sight then utilizing these tactical sunglasses. Similar to the last described model, also there the nose part is made from the material called Unobtainium®, guaranteeing comfort and stability on your nose.
The Drop Point sunglasses will fit all military-oriented stylizations, range users, during tactical training, or as a contrasting element for an everyday look. They should also interest everyone that is at risk of contact with debris for prolonged periods of time.
Classy sunglasses from well-known brands cooperation - if you need exceptional protection in a bow and tie situation
If you work as a VIP security officer, spend your whole days in a suit, work in places demanding that elegant look and still need trustworthy sunglasses offering something more than only sun protection - we have something for you!
These awesome-looking ballistic sunglasses were made by the cooperation of two, well-known and renowned brands from the tactical sector: Oakley and Daniel Defense, and designed by professional US snowboarder, Olympian Shaun White. The result is these stylish sunglasses, which comply with the extreme protection norms and offer exceptional picture quality.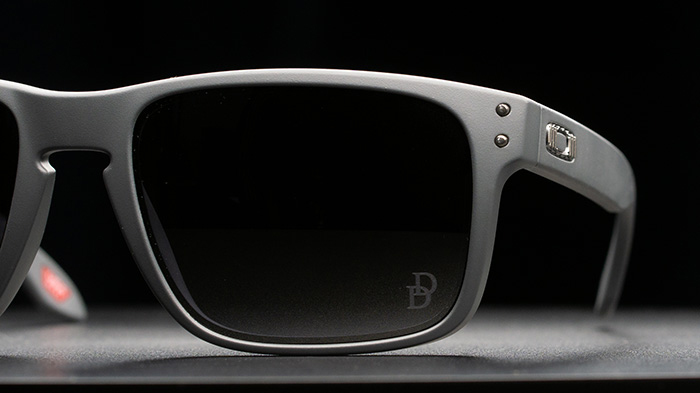 Visor of these elegant looking sunglasses was made from the highest quality Plutonite™ polycarbonate in Black Iridium® color, which offers increased contrast and reduced afterglow. Thanks to utilizing XYZ Optics® during the production process, the sight sharpness stays the same no matter at what angle we are looking through the visor. There is also a subtle Daniel Defense Inc. logo located by the lower corner of one of the visors.
Light and super durable frame of SI DD Holbrok glasses was made from durable O Matter® material, covered with a layer of Cerakote™ Tornado. The frame also received a metal Oakley Square O Icon as a company logo. This model of sunglasses received very durable and precise Dual Action CAM hinges.
To complete the set, user also receives a microfiber pouch with Daniel Defense Inc. logo on it, which can also be used to clean those awesome sunglasses. They will for sure fit elegant look of VIP security, bank or jewelry shops workers or anyone else, looking for extreme protection of sight not only from sun.