M-Tac tactical clothing - quick look
2021-11-17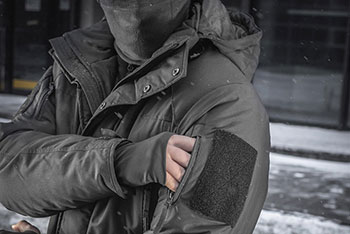 M-Tac is a relatively new brand in the clothing, outdoor and tactical accessories market, which started quickly cutting its piece of sales cake. All products offered by this company are made with the experience of people, whose lives often depend on how they can trust even the smallest piece of their gear. Thanks to that, in the M-Tac's offer we can find everything, starting from camping equipment including gas stoves, cutlery, and sleeping mats, ending with highly tactical gear like weapon slings, tactical vests, or clothing.
As the weather outside is getting colder and colder, we would like to take a look at their clothing offer and focus on a set of interesting clothes, which could make a set one could wear for the incoming winter season.
In our quick look, we're gonna go from top to bottom through clothing. The products we're gonna cover are:
Watch Cap Polartec
Alpha Extreme Gen. III Winter Jacket
Fleece Delta Polartec
Tactical Pants Conquistador Gen. I Flex
Patrol R Vent Tactical Sneakers
Winter hat made of fleece: warm and comfy
Starting with our quick look through M-Tac's products with incoming winter, we couldn't start with any other product than a warm and comfy winter hat, which Watch Cap Polartec for sure is!
The product was made from Polartec's high-quality Series 200 fleece which has really good breathability to thermal insulation ratio. Thanks to using good quality material, Watch Cap is very comfortable to wear, feels very nice in touch, and is as low profile as it can get.
That last thing is very important in cases one needs to wear it under any kind of helmet or hood as other types of hats might induce the feeling of discomfort or pressure when worn for prolonged periods of time under head protection.
Stylish and warm. Alpha Extreme Gen. III Winter Jacket
When we think about tactical or military jackets, the first image that comes to our minds is big and bulky jackets that yell "I'm military!" from far away. Yet, here comes this product.
Alpha Extreme Gen. III Winter Jacket definitely doesn't look this way, we would even say that it looks stylish. But don't let the looks fool you, this product was made with the help of veterans and operators with many years of experience! First and foremost, we should say a few words about insulation.
The insulation used in this jacket is G-Loft which is a technologically advanced material used by known brands around the world which connects benefits of both natural and synthetic dawn adding more breathability to the mix! That said, the jacket will work both in cases of minimal and moderate physical activity, providing us with very good protection against cold.
Taking care of our neck and head thermal comfort will be a high collar and a detachable hood. The hood can be regulated to better fit our posture. A nice addition in keeping us warm and comfy are thumbholes, located in the inner sleeves which let us use the sleeve as a half glove.
What would a tactical jacket be without reinforcements in sensitive places like elbows, shoulders, or lower back? We're not gonna think about it right now, as Alpha Extreme has that covered. Reinforced patches are made in such order, to make sure we won't have to think about getting our jacket torn during activities like shooting or marching with a rucksack. They also look really stylish as in some variants they are made in a bit different color.
The time has come to talk about all pockets and zippers. M-Tac gave us a jacket with a wide variety of pockets to use. Going from top to bottom, we've got two shoulder pockets that can fit a wallet, a phone, or other small accessories, two, big pockets localized in the central part of the jacket which can be used to store bigger items like maps and one small pocket on the left sleeve to store our ID or keys. All pockets are closed using zippers, which, like all other zippers in this product, are provided by renowned brand YKK®.
Hook and loop panels on shoulders, two flaps for easy access to pouches or vest located under the jacket, or snow belt are also very nice additions to this stylish, yet definitely tactical jacket.
Everyone should have a good, warm fleece
As the weather is getting colder and colder we are looking for warmer clothes, yet not everyone needs a winter jacket right away. With help come the fleece jackets which make a very good medium between light jackets and full-on winter clothes.
Nord Polartec is a low-profile, civilian-style fleece jacket made from Polartec's Series 200 fleece material, which strikes a good balance between thermal insulation and breathability. Due to its look, the fleece can be used both as a top layer in everyday situations and as well as under softshell jackets during colder days or nights.
The regulated cuffs of this product have thumb holes in them, so we can use them as half gloves if the temperature goes down and we don't have any gloves. The other regulated part is the bottom of the fleece, which lets us make sure the wind doesn't get behind the jacket.
As for the pouches, this time we've got two, zipper closed pouches on the sides of the jacket. They are big enough to hide our hands inside or carry things like a phone or wallet. All the zippers used in this product are provided by well known YKK® company.
Conquistador Gen. I Flex tactical pants
Tactical pants made with the material being the mix of polyester and cotton with a bit of elastane using the Ripstop grid. Thanks to that mix, the material of the pants is somewhat elastic and more resistant to rips which with the addition of water-repellant Teflon coating makes these pants ready for everything you can throw on them.
These pants were designed to fit every operator's tactical needs without looking too military. With that said, we can find that there are lots of pouches localized in well-thought places giving us all the cargo capacity we may ever need, pouches for soft, low profile, knee protection inserts, or Cordura reinforcements in sensitive places.
Another thing worth mentioning are the 55 mm belt loops that will fit most tactical belts on the market. The front two of those loops have integrated D-ring that could be used to attach things like lightsticks, keys, or gloves.
M-Tac gave us many points in which we can adjust said pants. The waist length can be adjusted by using hook and loop tape located on both sides of the belt area. People liking their pants sticking closer to their legs will also like the fact that thanks to the tapes and hook and loop, it is possible to adjust them at two heights on both legs.
Patrol R Vent Tactical Sneakers, light and functional shoes
Because, who doesn't like a light shoe, with water repellant coating which could be a combination of what's best in trekking shoes and sports shoes? Patrol R Vent sneakers are made using dense leather with 3D mesh inserts that allow moisture to drain from the inside with every step. That, with the addition of breathable fabric reinforced with a waterproof, breathable membrane on the inside, make sure your feet will stay dry during periods of increased activity. The TUFF STUFF™ insole is made of nylon and fits nicely to the foot.
Outside of the shoes is reinforced with rubber, making sure that the leather parts are protected while traversing forests or rocky areas. Soles are also made of aging-resistant, durable rubber. A specially formed tread of the sole keeps our steps firm on every trail, be it rocky mountains path or city jungle.
MK