Footwear's anatomy
2019-09-11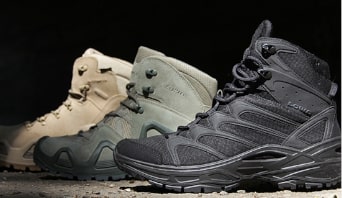 Dobór odpowiedniego obuwia jest jednym z najważniejszych aspektów przy kompletowaniu naszego wyposażenia. Przy ogromnym wyborze produktów niekiedy trudno zorientować się, na które właściwości zwrócić uwagę oraz czym tak naprawdę charakteryzują się wykorzystywanych technologie ukryte pod nazwami handlowymi. Na podstawie produktów ze sklepu Specshop.pl postaramy się wyjaśnić rozwiązania wykorzystywanych w butach taktycznych.
Zaczynając od dolnej części buta - jednej z najbardziej istotnych i wymagających - podeszwy, powinniśmy skupić się na kilku aspektach. Pierwszą warstwą odpowiadającą za właściwości antypoślizgowe jest podeszwa zewnętrzna, niekiedy nazwana po prostu bieżnikiem, przez fakt, że to właśnie na niej występuje ów bieżnik. Element ten powinien charakteryzować się odpowiednio dobraną mieszanką dostosowaną zarówno do temperatury, jak i do twardości powierzchni.
W kontekście butów taktycznych i wojskowych, wykorzystywanych w umiarkowanej strefie klimatycznej dobrym wyborem są podeszwy uniwersalne takie jak Vibram TC5+ stosowane w butach Merrell MOAB. Renomowany włoski producent, który od wielu lat dominuje na rynku jest swoistą gwarancją jakości zastosowanych materiałów jak i nowatorskiego podejścia oraz zaawansowania technologicznego. Model TC5+ doskonale spełnia wymagania dla butów taktycznych dzięki zastosowaniu specyficznego, rozlokowanego w newralgicznych punktach bieżnika. Dzięki takiemu rozwiązaniu podeszwa charakteryzuje się mniejszą wysokością, co z kolei umożliwia lepsze czucie podłoża oraz stabilność. Zastosowana w niej mieszanka zapewnia przyczepność na mokrej nawierzchni.
Przykładem modelu również wyposażonego w podeszwę marki Vibram są Bates Delta-9. Użyty tu model Mutant już na pierwszy rzut oka różni się od wspominanego wyżej. Szerzej rozstawiony, grubszy i wyprofilowany w kształt zwężających się ku dołowi kołków bieżnik dużo lepiej sprawdzi się na sypkim podłożu: piasku czy żwirze. Hybrydą obu profili jest rozwiązanie widoczne w ultralekkich butach Velocitor V-Frame Athletic. Wewnętrzny panel wykonany z okrągłych, dobrze wbijających się w miękką nawierzchnię kołków został otoczony płaskim, szerokim bieżnikiem stanowiącym dobre podparcie podczas biegu na twardych powierzchniach. W przypadku butów dostosowanych do ciepłych pustynnych warunków należy pamiętać, że nie tylko ich wentylacja oraz właściwości izolujące dostosowane są do wysokiej temperatury. Podeszwy dostosowane do tego typu środowisk, podczas wykorzystania ich przy niskich temperaturach mogą wykazywać się znacznie gorszą przyczepnością podobnie jak ma to miejsce przy letnich oponach samochodowych.
Zróżnicowanie profili bierznika: Merrell MOAB 2, Bates Delta-9 i Velocitor V-Frame
Podeszwa środkowa spaja bieżnik z cholewką i jej głównym zadaniem jest amortyzacja, dlatego też wykonana jest zazwyczaj z materiałów dobrze tłumiących drgania jak np. kopolimer EVA. Jednakże bardziej zaawansowane technologicznie obuwie wykorzystuje do celów amortyzacji systemy pneumatyczne. Systemy takie jak Merrell Air Cushion oprócz lepszego tłumienia charakteryzują się również dłuższym czasem zachowania swoich właściwości. W przeciwieństwie do pianki EVA nie kompresują się one pod wpływem ucisku. Lepszą odpornością na kompresję wykazuje się również poliuretan, stosowany na przykład w butach LOWA, występujący pod handlową nazwą DuraPU. W przypadku tego producenta zastosowanie poliuretanowej podeszwy środkowej ma jeszcze jedno znaczenie. Sposób zespojenia z cholewką w technologii Double Injection polega na umieszczeniu górnej partii buta w formie z wstępnie odlaną podeszwą a następnie wprowadzenie dodatkowej warstwy poliuretanu. Dzięki temu cholewka jest dosłownie zatopiona w środkowej podeszwie, przez co miejsce jej połączenia jest dużo bardziej wytrzymałe niż w przypadku klejenia.
Wykres przedstawiający procentową deformacje materiału podczas sztucznego starzenia
W przypadku niektórych modeli system podeszwy wyposażony zostaje w dodatkowe funkcje czy usprawnienia. Zaawansowana technologicznie linia Bates zawierająca m.in. modele Delta-8 czy Delta-9 została wyposażona w umieszczony w obcasie system iCS®, umożliwiający na dostosowanie amortyzacji do potrzeb użytkownika. Dzięki zastosowaniu asymetrycznego, obrotowego pierścienia możliwy jest wybór jednego z czterech układów: Maksymalna amortyzacja, większa energia powrotna, podparcie strony wewnętrznej lub zewnętrznej. W połączeniu z wyposażoną w żelowe strefy amortyzujące wkładką system gwarantuje idealnie dopasowany do użytkownika komfort. W innym kierunku poszedł niemiecki producent LOWA skupiając się na jednym z najważniejszych dla bezpieczeństwa aspektów mianowicie podparciu stopy z tyłu i boków w obuwiu. Zintegrowana z podeszwą zewnętrzna rama stabilizująca LOWA-MONOWRAP® Stability Frame okala but dookoła łącząc solidny zapiętek z polimerowym szkieletem po bokach. Rozwiązanie tego typu dodatkowo zabezpiecza staw przed skręceniem.
Obrotowy pierścień systemu iCS pozwalający na dostosowanie pozycji pięty
Niewątpliwie istotnym aspektem jest również rodzaj zastosowanego w konstrukcji cholewki materiału. W przypadku obuwia taktycznego rzadko mamy do czynienia z modelami wykonanymi w całości wyłącznie z jednego materiału, tak jak to niekiedy bywa w przypadku kompletnie skórzanych butów trekkingowych. Zazwyczaj spotkać możemy się z dolnymi partiami wykonanymi ze skóry oraz syntetycznymi partiami górnymi. Takie rozwiązania najczęściej pozwalają na połączenie oddychalności i wodoodporności z relatywnie niską wagą i elastycznością buta. Wartym zwrócenia uwagi jest stosowanie przez firmę Bates skóry Wolverine Warrior. Jest to zamsz uzyskany z skór świńskich, które charakteryzują się aż o 40% niższą wagą od bydlęcych jednocześnie zachowując ich odporność. Skóra tego typu łączy w sobie świetne odprowadzanie wilgoci, komfort oraz lekkość dlatego też doskonale sprawdza się w obuwiu przeznaczonym do działania w terenach pustynnych. Dodatkowo producent Wolverine Worldwide do impregnacji swoich wyrobów używa sprawdzonego preparatu 3M Scotchgard, który zabezpiecza materiał przed wpływem negatywnych czynników.
Drugim ważnym materiałem wykorzystywanym przy produkcji obuwia taktycznego jest tkanina Gore-Tex. Materiał, który swojego czasu zrewolucjonizował rynek pozwala na zachowanie wodoodporności przy jednoczesnym odprowadzaniu wilgoci z wnętrza buta. Dzięki zastosowaniu wprasowanej w tkaninę membrany woda w postaci gazowej jest przepuszczana przez pory dzięki czemu zachowany zostaje wewnętrzny komfort. Woda w stanie ciekłym natomiast przez fakt, że poszczególne jej cząsteczki połączone są ze sobą dodatkowo wiązaniami wodorowymi, nie jest w stanie przeniknąć przez membranę do wnętrza. Przez fakt, że Gore-Tex jest materiałem dość delikatnym zawsze pokryty zostaje wytrzymalszym materiałem jak Nylon czy skóra. Często spotykanym zabiegiem jest produkcja tego samego modelu w wersji z membraną oraz bez membrany tak jak robi to LOWA ze swoją wodoodporną serią GTX opartą właśnie na Gore-Texie. Wersje pozbawione membrany z kolei oprócz niższej ceny lepiej sprawdzają się przy wyższych temperaturach i w suchych środowiskach gdzie dodatkowa syntetyczna warstwa nie jest potrzebna.
Wyposażone w Gore-Tex buty Zephyr GTX z widoczną z boku ramą MONOWRAP®
Dedykowane do określonych warunków rozwiązania są niewątpliwie cennymi usprawnieniami w tak ważnym elemencie naszego ubioru. Należy jednakże dobierać je rozsądnie zważając na ich funkcjonalność a nie determinować wybór ilością cech opisanych nazwami z dużą ilością ® i ™. Niekiedy ich użyteczność akurat przy naszym zastosowaniu i w naszym środowisku może być znikoma, a zazwyczaj podnoszą ode cenę produktu. Wygoda i jakość wykonania produktu powinny pozostawać głównym wyznacznikiem podczas naszych zakupów.
AP