Flashlight - Your handy photon thrower
2017-02-06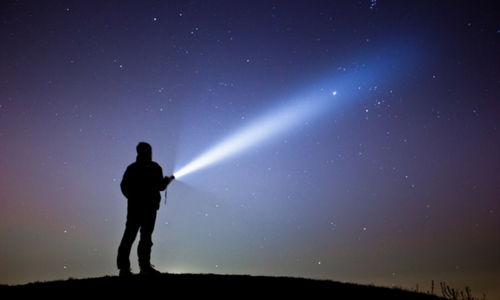 Na klatce schodowej znowu padło światło, a trzeba znaleźć swoje drzwi, klucze i trafić nimi po omacku do zamka. Pod biurko, na ciemną wykładzinę spadł ten bardzo mały i ważny element. Mieszkasz przy nieoświetlonej, niewybrukowanej ulicy i bardzo chcesz dojść do swojego domu nie wdeptując przy okazji w żadną kałużę albo coś jeszcze gorszego.
Konia z rzędem temu, kto nigdy nie spotkał się z tą lub podobną sytuacją. Ciemność generuje wiele problemów. Idąc na wypad do lasu lub w góry każdy ma przy sobie czołówkę, latarkę, a czasami nawet światła chemiczne lub podobny wynalazek. Tymczasem na co dzień, mieszkając w mniejszej lub większej miejscowości stykamy się z niedogodnościami wynikającymi z braku podręcznego oświetlenia. A przecież życie można ułatwić sobie niewielkim kosztem – dodając do swojego zestawu EDC niewielką latarkę.
Mając na uwadze nasze doświadczenia z tego rodzaju sprzętem, przygotowaliśmy dla Was kilka propozycji małych latarek EDC, które przydadzą się Wam zarówno w codziennych sytuacjach, jak i mniej przyjemnych przygodach "awaryjnych":
INOVA XS – bardzo poręczny model, w sam raz dla ludzi ceniących sobie minimalizm. Jest na tyle mała, że nie zawadza przytroczona do kluczy i nie trzeba dodatkowo o niej pamiętać. Do tego łatwo można używać jej w rękawiczkach, dzięki "przekręcanemu" włącznikowi. 80 lumenów i 2 tryby pracy pozwalają na wygodną pracę w zasięgu rąk oraz na w miarę wygodne taksowanie otoczenia. Jeżeli korzystasz z latarki sporadycznie i nie masz co do niej specjalnych wymagań – naprawdę rozważ ten model.
INOVA XP LED Pen Light – "starszy brat" modelu XS. Kształtem przypomina długopis lub prezentacyjny pointer. Naszym zdaniem spodoba się ludziom, którzy na co dzień chcą (lub muszą) ubierać się oficjalnie, ale jednocześnie pragną pozostać przygotowani na różne trudności. 144 lumeny i aż 4 tryby działania sprawiają, ze jest to sprzęt bardzo wszechstronny i wygodny w użytku dla pracowników biurowych, inspektorów i specjalistów, czyli ludzi, którzy muszą łączyć elegancję z praktycznością.
iPROTEC PRO 180 LIGHT Tactical – produkt dedykowany wszystkim tym, dla których liczy się wytrzymałość i zdolności adaptacyjne sprzętu. Polecamy go głównie policjantom, strażnikom więziennym, pracownikom ochrony i innym profesjonalistom. Obrotowa głowica z czterokrotnym zoomem, 180 lumenów, 2 tryby pracy i korona. Dzięki temu latarka jest idealna do przeszukiwania pomieszczeń lub chwilowego oślepienia i dezorientacji napastnika. Magnetyczna podstawa pozwala na szybki montaż do metalowych powierzchni.
NEBO Micro REDLINE OC – jeżeli korzystasz z latarki dość często, a jednocześnie Twój zestaw EDC musi być bardzo uniwersalny, to właśnie znalazłeś coś dla siebie. Potężna bateria CR123 zapewni działanie nawet w bardzo niekorzystnych warunkach, a przyzwoita optyka umożliwiła osiągnięcie przyzwoitego zasięgu wiązki światła, przy stosunkowo niewielkiej liczbie lumenów (62 lm). Ten model świetnie uzupełni zawartość torby biodrowej o lekkie, poręczne i wydajne źródło światła, które poradzi sobie z codziennymi problemami, a w terenie może służyć za oświetlenie zapasowe. Nie obyło się też bez znaku firmowego NEBO, czyli magnetycznej podstawy.
Nebo Latarka / Lampa warsztatowa LarryC – wymarzona latarka dla każdego mechanika, technika i serwisanta. Lampa oferuje 170 lumenów rozproszonego światła, co umożliwia już naprawdę przyzwoity ogląd otoczenia lub naprawianego urządzenia. W montażu pomaga magnetyczny klips. Jeżeli zdarza się Wam pracować z maszynami lub wykonywać naprawy innych skomplikowanych urządzeń, zwłaszcza w słabych warunkach oświetlenia, to LarryC, może znacząco uprościć życie.
Zawsze byliśmy wierni zasadzie, że lepiej, łatwiej i szybciej jest dostosować sprzęt pod siebie, a nie siebie pod sprzęt. Dlatego też polecamy Wam różne rozwiązania, zależnie od tego czym się zajmujecie i jaki macie preferencje. Latarkę akurat warto przy sobie mieć zawsze. W skrajnych sytuacjach możne ona nawet uratować życie, służąc do wzywania pomocy. A chyba trudno o lepszą inwestycję. To oczywiście nie wszystkie latarki, którymi dysponujemy. Chcecie wiedzieć więcej na temat innych modeli? Nie wahajcie się nas zapytać!
JK