Eye protection
2017-01-13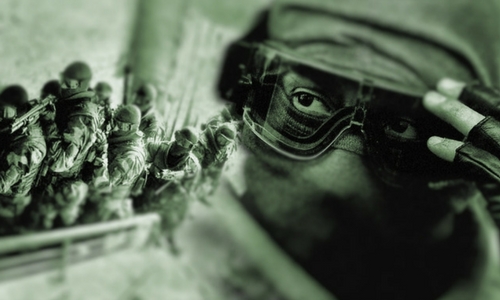 11 czerwca 2010 – tego dnia Karol Bielecki na pewno nie zapomni do końca życia. Wówczas podczas towarzyskiego meczu Polska – Chorwacja doznał ciężkiej kontuzji, w wyniku której stracił lewe oko. Karol dzięki swojej niezłomności stał się symbolem tego, jak pomimo przeciwności losu piąć się na szczyt. Jego nieodłączny atrybut stanowią teraz okulary ochronne zakładane podczas gry.
O ile w przypadku piłki ręcznej takie sytuacje nie zdarzają się zbyt często i trudno obwiniać Karola o brak roztropności przez niestosowanie okularów przed wypadkiem, o tyle odwiedzanie strzelnicy bez odpowiedniej ochrony wzroku to proszenie się o tragedię. Rykoszety, rutyna, pojawienie się w nieodpowiednim miejscu o nieodpowiednim czasie, awaria broni czy po prostu zwykły pech. O tym, jak ważna jest ochrona wzroku na strzelnicy przypomniała chociażby niedawna "czarna seria" wypadków z udziałem służbowych pistoletów Walther P99.
Nawet jeżeli pojawiasz się na strzelnicy w roli kibica, obsługi obiektu, czy fotografa – ochrona wzroku powinna być Twoim najwyższym priorytetem. Jakiś czas temu w okolicach Poznania zrobiło się głośno o strzelcu, który oberwał odłamkiem pocisku kilkadziesiąt metrów poza terenem toru strzeleckiego.
Przygotowaliśmy dla Was cztery propozycje środków ochrony wzroku. Rzecz jasna mamy ich w ofercie o wiele więcej, jednak to zestawienie powinno Wam rozjaśnić sprawę, na co zwracać uwagę przy doborze okularów w zależności od swoich potrzeb.
Okulary balistyczne ESS Crossbow: Marka ESS to już praktycznie synonim wysokiej jakości dostępnej w przyzwoitej cenie. Okulary zostały zakontraktowane przez amerykańskie Siły Zbrojne i używane są przez liczne jednostki specjalne. Spełniają rygorystyczne, wojskowe normy bezpieczeństwa (MIL SPEC MIL-PRF-31013).
W Sieci znajdziecie mnóstwo relacji żołnierzy, którym uratowały one wzrok zatrzymując rykoszety, odłamki i gruz podczas walki i po wybuchu min-pułapek. Rozwiązania konstrukcyjne zapewniają pełną kompatybilność z modelami Crosshair oraz Crossbow Suppressor. Wymiana szyb jest prosta i intuicyjna. Posiadamy w ofercie szerokie spektrum dodatków – np. noski, oprawki, szyby i wkładki korekcyjne. Okulary można wykorzystywać także podczas biegania, jazdy na rowerze albo po prostu jako okulary przeciwsłoneczne, gdyż można wyposażyć je w szybę polaryzacyjną lub fotochromową.
Okulary balistyczne ESS ICE: Zanim firma ESS opracowała serię CROSS, rola flagowych okularów przypadła modelowi ICE (również na kontrakcie Sił Zbrojnych USA). Spełniają identyczne normy, co okulary Crossbow. Ich charakterystyczna, bezoprawkowa budowa stała się znana w Polsce dzięki "misjonarzom", którzy zaopatrywali się w nie prywatnie podczas pobytu na Bliskim Wschodzie. Pomimo obecności na rynku nowszych rozwiązań, okulary te wciąż mają liczne grono zwolenników. Nie są kompatybilne z serią CROSS, jednak część akcesoriów (noski, wkładki korekcyjne) można stosować wymiennie. Mniejsza liczba dodatków znajduje odzwierciedlenie w niższej cenie. Jeżeli chodzi o bezpieczeństwo – nie ma kompromisu. Także wytrzymują ostrzał ze śrutu i rykoszety. Dla osób o węższej twarzy opracowano wersję ICE Naro.
Okulary balistyczne Bolle Tactical Sentinel ESP: Produkty firmy Bolle Tactical znalazły uznanie wśród europejskich armii – chociażby francuskiej czy holenderskiej, a ich gogle – z nieśmiertelnym modelem X800 na czele – używane są prze najlepsze jednostki antyterrorystyczne. Okulary Sentinel ESP dzięki lekko "przydymionym" szybom sprawdzą się zarówno w słoneczny, jak i pochmurny dzień. Nadają się także do pomieszczeń. Spełniają balistyczną normę NATO STANAG 2920. Dzięki niezwykle niskiej wadze (15 g) nie czuć ich na twarzy, a regulowany nosek pozwala na dopasowanie ich do fizjonomii większości użytkowników. Okulary zabezpieczono warstwą anti-fog oraz anti-scratch. Sprawdzą się nie tylko na strzelnicy, ale również podczas prowadzenia samochodu, jazdy rowerem albo joggingu.
Okulary ochronne Bolle Safety Silium+: Następca znanego i lubianego modelu Silium. Rodzina Bolle Safety jest ceniona na świecie z uwagi na swoje walory ochronne. Okulary zapewniają podstawowy poziom bezpieczeństwa, połączony z wygodą noszenia, ze względu na obniżenie wagi w stosunku do poprzednika. Są odporne na zarysowanie i zaparowanie. Dzięki nowoczesnym liniom mogą służyć także jako okulary ochronne podczas uprawiania sportów. Dostępne także w wersji przyciemnianej.
Mamy nadzieję, że powyższe zestawienie okaże się dla Was pomocne. Liczymy na to, że na następnym treningu strzeleckim pojawicie się w nowych okularach. Widzenie stereoskopowe bywa przydatne, a z jednym okiem wygląda się co najmniej niesymetrycznie. Pamiętajcie również, że na strzelnicy obowiązkowo należy posiadać również ochronniki słuchu. W razie jakichkolwiek pytań zapraszamy do kontaktu.
JK