Direct Action dump bag - SGO Poznań review
2022-05-16
We present a guest review of the Direct Action bag provided by SGO Poznań.
The tactical equipment market is developing year by year, presenting consumers with more and more interesting solutions. Some of them are innovative, and others are so simple that we catch ourselves thinking "how could we not have figured it out earlier".
Each of these pockets is designed for specific, more or less complex tasks. Following the idea of "adapt the equipment to the task", each shooter can freely configure his equipment according to his preferences. Where in all of this is the place for the dump bag and what is it for? We will try to present it in this blog.
Direct Action dump bag - a modern approach to traditional solutions
Everyone can see what the dump bag is. It is quite a simple structure attached to the equipment, usually with molle straps. We can find a version with various capacities, with a stiffened inlet, mesh on the bottom and other amenities. It has been established that it is a piece of equipment for empty magazines. But is it only?
In many cases, the dump bag serves completely different purposes. During training, TC3 can be used to store smaller equipment of the injured, such as radio, documents or handguns. Practice at the shooting range has also shown that it is a great carrier of taker and target stickers. In fact, we are only limited by the capacity of the bag and the way it is assembled. However, it is worth remembering not to overload it if it is not necessary. While running, it may turn out to be, to put it mildly, not very comfortable.
Generally speaking, it's just a bag for whatever you want to put in it - apart from the tactical assumptions. Is it then an essential piece of equipment? It depends. Certainly, the big disadvantage of most of the dump bags on the market is that it takes away the assembly place on the belt, where a pouch with a magazine could be located.
And here comes the Direct Action Drop Pouch either in white or in any available camouflage. The manufacturer was aware of this simple flaw and decided to fix it. The bag we tested, made available to us by the SpecShop.pl store, made of durable Cordura and Hypalon, gives us the option of mounting with two Malice clips or with a different pouch. This way, we do not lose the possibility of carrying an additional pouch and a dump bag. Brilliant in its simplicity.
In many cases you may find that this is not a necessary feature of the product, but it is better to have more mounting options than fewer. As mentioned above: always adapt the equipment to the task. You never know when you will have to strap more pouches to your belt, whether for sports competitions or in the case of uniformed services, before performing a specific task. In our case, this solution works perfectly.
In addition to the great mounting system, it is also worth noting that the bag itself is not large, but it cannot be said that it is not roomy. It can easily accommodate 5 Magpul AR15 magazines or an Avon S10 gas mask. In the case of a mask, the filter will stick out from the top, but it is possible. Hopefully this will give you a rough idea of its capacity.
If we do not decide to install an additional pouch inside the bag, it is possible to fold it into a very compact package, which practically disappears on the belt. This is an important feature if you know that you will have to drive most of the day with the seat belt on in a car or other vehicle. Then the flat equipment on the belt will be extremely important to you.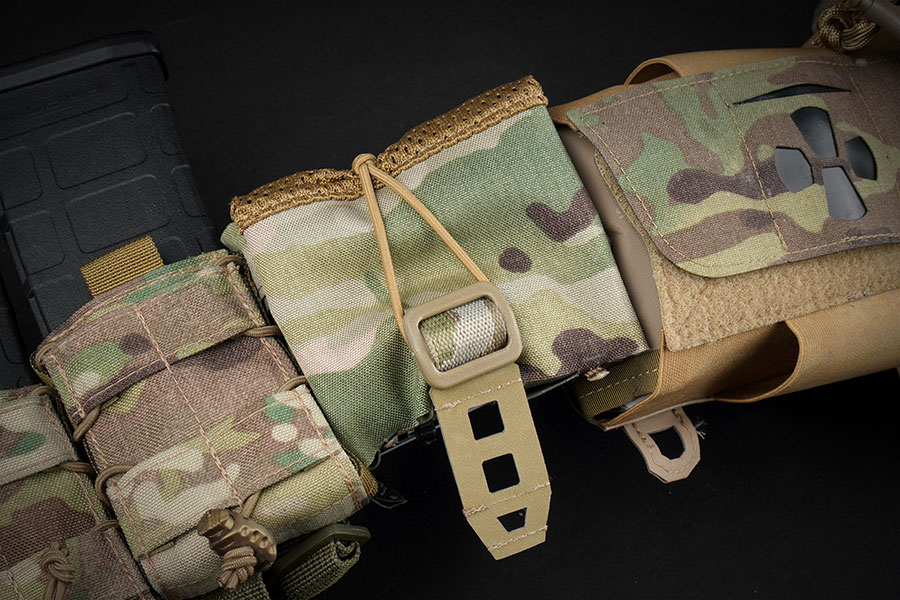 Of the less revolutionary, but also important features, we can mention the mesh bottom, which reduces the accumulation of sand and smaller impurities that we do not want in this place, and a welt, thanks to which we can reduce the inlet opening of the bag and reduce the possibility of loss of the carried equipment. It doesn't seem to be a big deal, but it makes me happy.
To sum up: for us it is a solution that exhausts our needs. The bag does not take up mounting space, is of optimal size, made of very good, durable materials and does not look bad as a bag for loose lumber carrying. With a clear conscience, we can recommend it to anyone who needs this type of solution on their shooting belt.
Szuwar SGO Poznań