Defensive gases: how to screw up the life of the thugs
2017-06-26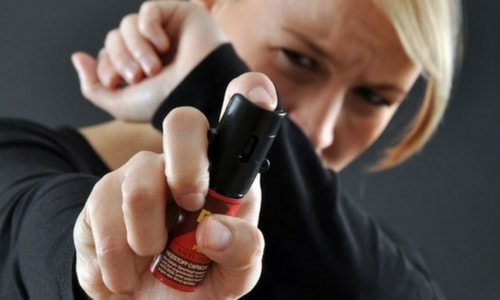 Wielu napadów i pobić można by uniknąć, gdyby ofiara mogła skutecznie się bronić. Istnieje całe spektrum "wyrównywaczy szans", jednak niewiele jest takich, z których korzystać może słabo przeszkolony i niezbyt wysportowany użytkownik. Najtańszym, najpewniejszym – i co za tym idzie – najbardziej popularnym rozwiązaniem jest gaz pieprzowy.
Gaz pieprzowy w Polsce jest całkowicie legalny. Obezwładnia napastnika, dając ofierze czas na ucieczkę oraz powiadomienie odpowiednich służb o zajściu. Jedyne o czym należy pamiętać, to skierowanie dyszy w stronę zagrożenia (najlepiej twarz napastnika) i mocne wciśnięcie przycisku wyzwalającego substancję. Skuteczny dystans działania dla większości gazów to nawet 5 metrów, przy czym wiadomo – im bliżej tym lepiej.
Gaz należy przenosić w miejscu, z którego dobycie go w sytuacji zagrożenia będzie szybkie i intuicyjne. Zwracamy na to uwagę szczególnie Paniom, które przechowują go w torebce. Kiedy przyjdzie co do czego, to nie będzie czasu na szukanie gazu pomiędzy szpargałami zalegającymi na dnie torby lub plecaka.
Trochę teorii – głównym składnikiem bazowym gazu jest kapsaicyna – organiczny związek chemiczny zaliczany do grupy alkaloidów. Przemysłowo pozyskiwany jest z papryczek chili lub papryki rocznej (czyli popularnej papryki czerwonej). Bezpośredni kontakt z kapsaicyną powoduje podrażnienie i opuchliznę błon śluzowych (mocny, mimowolny kaszel, obfity wyciek z nosa, silne łzawienie, opuchnięcie powiek, odruchowe zaciskanie oczu, utrudnione oddychanie) oraz silne pieczenie skóry.
Z tego powodu gaz pieprzowy jest równie skuteczny przeciwko napastnikom trzeźwym, jak i tym znajdującym się pod wpływem różnych substancji psychoaktywnych. Co ciekawe – zwiększoną odporność na potraktowanie kapsaicyną wykazują zwolennicy pikantnej kuchni. Nie zmienia to jednak faktu, że działanie gazu eliminuje zagrożenie na około 30 minut, czyli o wiele więcej niż potrzeba na szybkie oddalenie się z miejsca zdarzenia.
Istnieją dwa podstawowe typy gazów pieprzowych – chmura oraz żel. Gaz w chmurze cechuje się mniejszym zasięgiem i większą podatnością na warunki atmosferyczne, ale za to nie wymaga takiej precyzji, jak gaz żelowy. Z drugiej strony, żel przywierający do twarzy i odzieży paruje, również dekoncentrując napastnika. Ma to znaczenie zwłaszcza w pomieszczeniach zamkniętych, ograniczając oddziaływanie palących oparów wyłącznie do atakującego.
Wiele gazów, jak chociażby gazy serii Policyjne, czy Sabre Red lub Walther mają w swoim składzie trudny do zmycia czynnik barwiący, co umożliwia identyfikację przestępcy przez funkcjonariuszy (barwnik pomarańczowy lub widoczny w świetle UV).
Biorąc pod uwagę fakt, że gaz pieprzowy nie zajmuje wiele miejsca, a poza tym jest to rzecz z gatunku "lepiej mieć i nie potrzebować niż nie mieć i żałować" zdecydowanie warto się w niego zaopatrzyć. Szczególnie mając w perspektywie zbliżający się sezon urlopowy i ryzyko napotkania w polskich i europejskich miastach oraz kurortach nudzących się ludzi poszukujących "wakacyjnej przygody". Na co uczulamy szczególnie dziewczyny.
Według naszej wiedzy, w grudniu 2016 gaz pieprzowy można było posiadać legalnie i bez ograniczeń w następujących krajach europejskich: Polska, Francja, Łotwa, Austria, Czechy, Słowacja, Rosja, Szwajcaria oraz Słowenia.
W tym samym czasie gaz pieprzowy nielegalny był w następujących krajach kontynentu: Norwegia, Dania, Wielka Brytania, Irlandia, Islandia, Chorwacja, Belgia, Holandia i Grecja.
Przed podróżą radzimy sprawdzić obowiązujący w danym państwie stan prawny, aby uniknąć nieprzyjemnych sytuacji ze służbami porządkowymi.
JK