Choosing the knife... part 1 - what to start with?
2017-06-19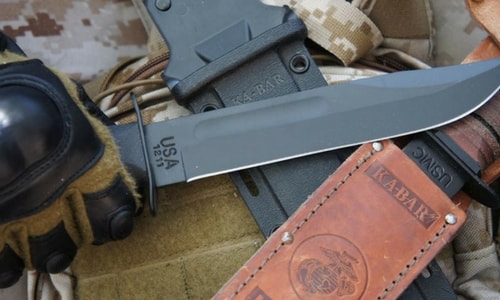 Nadszedł ten czas. Stwierdziłeś, że musisz zaopatrzyć się w nóż. Nie jest to prosta sprawa… Innego typu noża będzie potrzebować student, innego pracownik biurowy, a jeszcze innego inżynier, policjant, żołnierz czy miłośnik bushcraftu/survivalu.
Na początku chcemy wyjaśnić jedno – jeżeli uznałeś, że potrzebujesz noża jako środka do samoobrony na "ulicy", to wyświadcz sobie przysługę i zapomnij o tym jak najszybciej. Oczywiście w ostateczności MOŻNA wykorzystać nóż do obrony zdrowia lub życia (podobnie jak dowolne inne przedmioty znajdujące się pod ręką), ale walka na noże to fatalny pomysł z wielu powodów. Ryzykujesz poważnymi obrażeniami ciała, zawarcia zażyłej znajomości z prokuratorem i trafieniem na okładki żądnych z sensacji gazet jako wróg publiczny nr 1. Jeżeli nie szukasz guza, to lepiej sięgnij po gaz pieprzowy czy dobre buty.
Nóż należy traktować jako narzędzie ułatwiające życie tak samo jak śrubokręt czy młotek, ale o wiele wygodniejsze w przenoszeniu i praktyczniejsze w codziennych pracach.
Wybierając pierwszy nóż należy odpowiedzieć sobie na kilka pytań:
– Czym zajmujesz się na co dzień? (praca za biurkiem, praca w terenie, praca fizyczna…)
– Do czego ostrze ma Tobie służyć? (robienie kanapek, otwieranie paczek, batonowanie drewna na ognisko…)
– W jaki sposób i gdzie chciałbyś przenosić nóż? (na klipsie w kieszeni, na oporządzeniu, na pasku, na szyi…)
– Czy Twoja organizacja (firma, szkoła i tak dalej) posiada jakieś regulacje w stosunku do noży?
– Jaki budżet chciałbyś przeznaczyć na Twój pierwszy nóż?
Wyjaśniając sobie te kwestie już w miarę będziesz wiedzieć, jakie są Twoje potrzeby, oczekiwania i możliwości.
Zasadniczo istnieją dwa podstawowe rodzaje noży – z ostrzem składanym (tzw. foldery) oraz z ostrzem stałym. Jeżeli nóż nie jest Twoim stałym narzędziem pracy i służy jedynie okazjonalnemu ułatwianiu życia (otwarcie listu, zrobienie kanapki, przecięcie sznurka), to zdecyduj się na nóż składany, ewentualnie na mniejszy nóż z ostrzem stałym, czyli tzw. "neck". Jeżeli zaś nożem pracujesz często i w trudnych terenowych warunkach (plac budowy, bytowanie w lesie, budowanie schronienia, przyrządzanie posiłku na poligonie) – wybierz nóż o stałym ostrzu.
Smith & Wesson – Liner Lock Tanto Folding Knife – SW603
Morakniv – Eldris – Zielony – 12651
Jeżeli nie poszukujesz noża do specjalistycznych zadań, zdecyduj się na uniwersalny kształt głowni – Drop Point, Normal (Straight) lub w ostateczności Clip Point (typ ostrza znajdziesz w opisach naszych produktów). Na pierwszy nóż najlepiej wybrać taki o gładkim ostrzu na całej długości głowni – bez ząbkowania (można się też spotkać z określeniem serracja). Pozostałe, typy głowni lepiej odpuścić, dopóki nie nabierzesz doświadczenia, a Twoje oczekiwania się nie wyklarują.u
W przypadku, kiedy Twój wybór odnośnie noża jest ograniczony ze względu na wewnętrzne regulacje Twojej szkoły lub firmy dobrze jest wybrać niewielki składany nóż o wąskim ostrzu, który całkowicie zmieści się w kieszeni lub zastąpić go scyzorykiem (klasycznym, jak np. Opinel czy Uncle Henry lub szwajcarskim jak legendarny już, elegancki Victorinox). Taki nóż nie powinien bulwersować nawet najbardziej zagorzałych zwolenników politycznej poprawności. Szeroki wybór wymienionych noży znajduje się w podlinkowanych działach naszego sklepu.
Opinel – Nóż N°7 VRI – Inox
Victorinox – Scyzoryk Classic SD – Czerwony – 0.6223
Co do budżetu – celowo nie podajemy tutaj przedziału cenowego – dla jednego 100 PLN będzie graniczną kwotą, na jaką może sobie pozwolić, a dla innego noże warte uwagi będą zaczynać się od 300-400 PLN. Jeżeli chodzi o przykłady – z noży "składaków" bardzo dużą popularnością cieszą się noże Schrade Knives oraz KA-BAR, a w szczególności model Dozier Folding Hunter. W przypadku noży KA-BAR, niebagatelne znaczenie ma dożywotnia gwarancja producenta.
Schrade – Liner Lock Drop Point Folding Knife – SCH109
Ka-Bar 4062 – Dozier Folding Hunter
Z noży o stałej głowni wielu z naszych klientów decyduje się na początek wybrać noże firmy MoraKniv, jako towar naprawdę wysokiej klasy w bardzo przystępnej cenie, przez co jest całkiem niezły dla początkujących, uczących się "obsługi". Następnie ponownie największym zainteresowaniem cieszą się noże firm Schrade Knives oraz KA-BAR, a w szczególności noże wywodzące się z opracowanego oryginalnie dla Korpusu Piechoty Morskiej Stanów Zjednoczonych noża 1217 oraz seria noży survivalowych typu BK (ale to już dla bardziej zaawansowanych). Tuż za nimi plasują się renomowane noże firmy Eickhorn Solingen.
Ka-Bar 1217 – USMC The Legend
Eickhorn Solingen – KM 2000 BW – 825101A
Nie ma znaczenia, czy Twoim wyborem będzie Mora za 40 PLN, czy KA-BAR za 400. Wiemy, że wybór zarówno pierwszych, jak i kolejnych noży to poważna decyzja i codziennie pomagamy wielu "nożownikom" dobrać narzędzia pod ich rzeczywiste potrzeby. W naszej ofercie znajduje się cała plejada noży – zarówno uniwersalnych, jak i specjalistycznych konstrukcji, takich jak np. noże ratunkowe (i tutaj link do tych ratowniczych (ze specjalistycznych). Chętnie podzielimy się naszym doświadczeniem. Zapraszamy do kontaktu!
JK