Best military boots for winter - quick look
2022-09-29
Warm summer, unfortunately, goes away and hot nights with mosquitoes need to wait another year. We are all starting to sink into rainy days and scarce sun shining through the clouds, preparing us for winter colds to come. We are also beginning to look through our wardrobes for winter clothing, to help us preserve just a little more warmth on long patrols on cold nights, quick actions during snowstorms, and other situations in charming, white, scenery.
This series of blog posts will help us in choosing the best clothing for winter chills, covering both urban jungle and the aforementioned charming, white, mountain trails, hiding freezing danger.
In the first post, we are gonna look at military winter boots, because as we all know, safe and healthy feet is the basis of our safety on the trail. The boots we have chosen for this post are:
Commodore S3 from Bennon
Panther Stron OB from Bennon
Cobra 8.0 from Magnum
MOAB 2 8" Tactical Response from Merrell
Delta 8 from Bates
Z-8N from LOWA
Commodore S3 from Bennon company - firm boots for winter conditions
The described model of military winter boots comes from Bennon company, and was produced from high quality durable materials such as hydrophobic, full-grain cowhide, Kevlar, or Regi-Tex® membrane.
The aforementioned full-grain cowhide leather creating most of those winter boots is resistant to mud and moisture, and with proper treatment also water, still retaining its good breathability cutting on the additional weight of military boots.
Usage of the membrane inside of military winter boots further enhances their breathability and moisture resistance, additionally increasing water resistance. It is a very important factor when searching for military boots for winter because of the ever-present water in the form of snow or snow mud. The Regi-Tex® membrane used in this model is supplemented by DuPont® mesh, which has antibacterial and antiperspirant properties.
Specially designed for those winter boots, the Warrior insole is made of three-part construction and heel supporting element. On the sides, the insole is covered by EVA foam, which reduces shocks and vibrations appearing when walking on hard surfaces like asphalt roads or frozen ground, which may appear on our ways pretty often during winter time.
The Spartacus sole used in this model of tactical winter boots was made of polyurethane rubber, which has big anti-slip and oil resistance properties and thanks to deep grooves it retains very good traction properties both on iced stones and walkways. Additionally, the rubber utilized in those soles is not only freeze-resistant, but also withstands temperatures up to 300 °C.
We would recommend those winter boots to security workers which work with metal detectors, as those boots do not have any metal elements included, thanks to what they will not trigger airport gates or metal detectors, as well as won't be attracted by strong magnets.
Which trekking boots for winter? - Panther Strong OB from Bennon
Yes, we are going to include the second pair of winter boots from Bennon. Why? Because they are made from sturdy, high-quality materials utilizing very good design and still being offered at a low-mid price range.
Similarly to the previously described military winter boots, the described model is made mostly from cowhide, which is characterized by its good water resistance and breathability properties. What makes a difference from previous boots is integrating a very sturdy design covering both foot and ankle, protecting user from injuries and from water or mud making its way inside.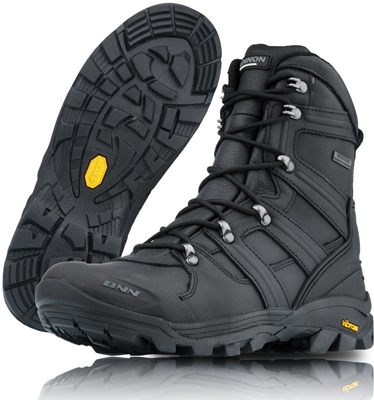 These winter trekking boots include a rubber layer in the finger area and a stiffening layer in the heel area, protecting users' feet from "incidental" kicks and spraining ankles. The outsole is also worth mentioning, and that is because it is made from Vibram®, and a very distinct, deep protector, that gives it very good traction, and allows for a solid walk even on wet or frozen surfaces.
The waterproof, breathing membrane utilized in this model of military winter boots is the same as in the previously described model. On the other hand, this time insole is made from Absorba material, which snugly fits the foot and ensures comfort even during prolonged treks.
Thanks to making most of the outer parts of said winter boots out of natural leather, they can be safely treated with standard proofing agents, which makes it easier to take proper care of them and ensures their longevity. Thanks to their design and aggressive protector, we would certainly recommend those boots for fans of winter outdoor walks.
Which boots for military class students? Look at Magnum Cobra 8.0!
Those military winter boots were tested by many generations of military class students. Cobra 8.0 Waterproof boots made by Magnum company have everything one might need in tactical training! Their lightweight design and sturdy materials allow their wearer to fully focus on the task ahead!
The described model of tactical winter boots was made from water-resistant Magnashield leather and ballistic nylon 900D, which thanks to proper treatment are highly water-resistant and don't lose anything from their breathability.
Similarly to the first described military winter boots also this model does not have any metal elements in them, rendering them safe to use with metal detectors. The lacing system was based on holes made of reinforced synthetic material. Finger and heel areas were also reinforced with synthetic material, ensuring longevity and resistance to the most common damages.
Sturdy military winter boots from Merrell - MOAB 2 8" Tactical Response
We are starting our higher-price models with excellent military winter boots produced by the Merrell company. MOAB, or Mother of All Boots, are highly technologically advanced boots based on many years of experience in shoemaking and suggestions from end users, being both active duty soldiers and Tier 1 operators as well as hikers, security officers, and mountain climbers.
Most of those winter boots was made of water-resistant leather which, in connection with M-Select™ DRY membrane and light and very sturdy nylon covered in polyurethane, ensures not only great water resistance but also very good breathability and doesn't weight feet down during long marches.
On guard of feet safety, these boots have heel and feet stabilization systems reinforced by Vibram® TC5+ outsole. Highly aggressive protectors and technologically advanced mixtures of polymers ensure great traction properties, making those winter boots stick to both wet and frozen surfaces with ease. Shock absorption falls on Kinetic Fit™ Advanced insole equipped with reinforcements in heel and arch areas and Merrell AIR CUSHION ensuring great shock absorption even while running on hard surfaces.
Zipper located on the sides of Merrell winter boots and lack of metal elements renders them a perfect choice for security officers, which require from their boots excellent protection and traction, with an option to quickly put them on.
Professional tactical winter boots - Bates Delta-8
When we hear about Bates the first thing that comes to our mind is United States Army boots, and that is a good guess! The aforementioned company produces boots for them since the 60s of the XX century and doesn't plan on stopping. So many years of work resulted in lots of experience being put into their designs and a lot of trust amongst thousands of service members and services.
Delta-8 are one of the most modern military winter boots from their stable. Thanks to utilizing a highly technologically advanced iCS® insole, said boots are very comfortable to wear while natural leather and ballistic nylon provide great resistance to wear and tear and water resistance.
Going back to the insole, it is made of slightly elastic polymer with shock-absorbing gel inserts under fingers and heels. There is also a special disc located under heel area, which allows user to better fit support to him. Such thing is very rare in military boots and any kind of boots at all. The disc has four main, and four intermediate positions:
(F)irm: more resilience
(C)ushion: more shock absorption
(I)nward: greater support for feet with a tendency to wear down more on the inner part of the sole
(O)utward: offering more support for feet with a tendency to wear down the outer part more
The outer part of those military winter boots is made of natural leather and ballistic nylon, while the inner layer was made from a mesh material. Thanks to that, described tactical boots retain very good water resistance and breathability. Similarly to the previously described boots, also those feature a zipper on the side, produced by the renowned YKK company, which greatly shortens the time needed to put them on.
Water resistance is greatly supported by the original Gore-Tex® membrane, which is characterized by its awesome water resistance and breathability properties. Thanks to this, those military boots will be a very good choice for long walks through frozen fields, as well as through melting snow.
The outsole was made from antislip, oil, and acid-resistant rubber with an aggressive, self-cleaning protector and ladder grip, ensuring very good traction in all environments and weather. There is one more fact worth mentioning. These boots do not incorporate any metal elements, rendering them safe not only for work near strong magnetic fields but also with metal detectors and at airports.
And which military winter boots to choose for mountaineering? Only the best! - LOWA Z-8N GTX®
The LOWA company is very well known in the world of Tier 1 special forces operators, as well as many other services around the globe, for not leaving anything to chance. Their Task Force series of military boots carved its place in the equipment of many top-tier operators from all around the world.
The described model of military winter boots is known for its very good traction and durability, while still leaning to the lightweight side of extremely durable boots. Thanks to that, while wearing these military boots, you still have a feeling as if you were wearing light trekking boots, still retaining the durability of the most durable military boots. That being said, they are an ideal choice when facing extremely harsh conditions, which bought them their place and favor of special forces.
The outer part was made of natural leather and original Cordura®, while the inner lining was made out of the original GORE-TEX® MS Light Rock membrane, known for its great breathability and water resistance. To further enhance the protection these military boots offer, LOWA designers put a PU MONOWRAP® frame construction. Thanks to that, the user's feet are more stable and the frame itself protects them from abrasions, additionally protecting them during fast-roping, which is really important for mountaineering and special operations.
The Climate Control insert protects wearers' feet from imprints, additionally ensuring proper air circulation and moisture retention, which are very important when choosing winter boots. LOWA Tactical Z TRAC® outsole was designed specifically with a multitude of different extreme terrains in mind, including extreme weather conditions, thanks to which it strongly grips all types of surfaces, leaving nothing to chance.
An element worth mentioning are low-profile loops of the lacing system, which fulfill safety requirements for parachuting. Another fact worth mentioning is a protected process of production of seamless GORE-TEX® lining utilized in military boots produced by LOWA, thanks to which their boots have better fit, breathability, and water resistance. These properties make their boots the most durable military winter boots in our quick look and show us that they will last their user for a very long time, no matter what environment he will face in them.