Beginning an adventure with ASG
2017-06-05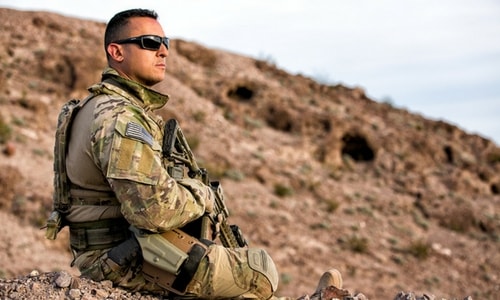 Chcesz rozpocząć przygodę z airsoftem? No to dobrze trafiłeś. Ten tekst powstał właśnie dla Ciebie. W sieci natrafisz pewnie na setki gigabajtów materiałów, ale trudno znaleźć poradnik, który krótko przejrzyście pokazał Ci listę zakupów. I dlatego bez zbędnego przedłużania przejdźmy do sedna.
Pokrótce wyjaśnimy, w co koniecznie, a w co opcjonalnie należy się zaopatrzyć, aby rozpocząć swoją przygodę z ASG. Postaraliśmy się je uszeregować od rzeczy najważniejszej do najmniej ważnej.
Ochrona wzroku: niezbędny element ekwipunku każdego gracza. Kulka trafiająca w nieosłonięte oko na pewno wyrządzi nieodwracalne szkody. Dla własnego bezpieczeństwa zalecamy zakup ochrony wzroku zgodnej z normami wojskowymi lub z normą cywilną CE EN 166BT. Dają one największą pewność, że takich gogli lub okularów nie spenetruje kulka wystrzelona nawet z najmocniejszej dostępnej na rynku repliki. Do tego sugerujemy zakup preparatu ograniczającego parowanie szkieł. Wydatnie poprawia komfort oraz skuteczność podczas rozgrywki.
Okulary balistyczne
Replika: podstawowe narzędzie każdego gracza ASG. Początkującym radzimy zakup elektrycznej repliki karabinka automatycznego lub pistoletu maszynowego napędzanej silnikiem elektrycznym (replika typu AEG). To najbardziej uniwersalny i popularny rodzaj replik na rynku. Repliki karabinów snajperskich i wyborowych – owszem działają na wyobraźnię – ale w przeciwieństwie do replik elektrycznych, nie nadają się do gry zaraz po wyjęciu z pudełka i wymagają znaczących inwestycji w dodatkowe akcesoria i podzespoły. Dodatkowo trzeba uzupełnić je repliką boczną do walki na bliskich dystansach.
ASG – CZ 805 BREN A2
ASG – Armalite Light Tactical Carbine
Wybór konkretnego modelu to kwestia budżetu i preferencji. Graczy dysponujących mniejszym kapitałem zachęcamy do zakupu replik firmy ASG DK serii SportLine. Przyzwoite osiągi i podzespoły umożliwiają skuteczną grę przeciwko posiadaczom dużo droższych modeli. Jeżeli na początek zabawy chcesz przeznaczyć wyższą kwotę – powinny zainteresować Ciebie repliki ASG DK ProLine, G&P czy Tokyo Marui znane z legendarnej niezawodności.
ASG – Armalite M15 Ranger
ASG – Armalite M15A4 Carbine
Kulki: Przytłaczająca większość replik przystosowana jest do działania z kulkami o wadze 0,25 g. Kulki 0,20 g przeznaczone są do wykorzystania w replikach ASG serii DiscoveryLine lub w replikach pistoletów. Na początek zabawy polecamy kulki marek MadBull Airsoft, Arma Tech, Guarder lub ewentualnie G&G.
Arma Tech – Kulki BB Match Grade
Bateria i ładowarka: Nie każda replika wyposażona jest w te akcesoria. Nawet jeżeli znajdują się one w pudełku, to pełnią jedynie funkcje testowe. Do satysfakcjonującego udziału w rozgrywkach ASG zalecamy dokupienie profesjonalnego źródła zasilania. Jednym z liderów rynku są baterie litowo-polimerowe (LiPo) marki Arma Tech. Na początek wystarczą ogniwa 7,4V. Dobra cena idzie tu w parze z wysoką wydajnością i niezawodnością. Baterie LiPo należy ładować za pomocą dedykowanej temu typowi ładowarki. Niezwykle popularne są modele marki iMax RC.
iMaxRC – Ładowarka A3 – NiMh – Tamiya Large
Arma Tech – LiPo – 7,4V / 11,1V
To podstawy. Poza tym warto zaopatrzyć się w sprzęt zmniejszający ryzyko bolesnej kontuzji i wyposażenie podnoszące jej realizm.
Nakolanniki: Wiele rozgrywek odbywa się w przygodnym terenie, gdzie nietrudno o urazy kolan. Uszkodzenia tego stawu są niezwykle bolesne, czasochłonne w leczeniu, a do tego często wymagają operacji i kosztownej rehabilitacji. Czasem powrót do pełnej sprawności nie jest możliwy. Dlatego polecamy zaopatrzenie się w ochraniacze, np. marki Alta Industries, używanej przez siły zbrojne wielu krajów, w tym i Polski. Wytrzymają tak wiele, że jest to zakup na długie lata. Więcej o ochronie kolan TUTAJ.
ALTA – Ochraniacze Kolan CONTOUR LC Long Cap
Ochrona twarzy: siatkowa maska na twarzy chroni zęby, nos i policzki przed postrzałem. O ile w przypadku skóry zakończy się to w najgorszym razie opuchlizną lub blizną, o tyle w przypadku zębów może zaprowadzić gracza na fotel dentysty w celu dosztukowania złamanego zęba. Kilkadziesiąt złotych zainwestowanych w maskę pomoże uniknąć kilkutysięcznego wydatku i sporej dawki bólu.
Rękawiczki: przydatne również latem. Chronią dłonie przed otarciami, przecięciami i skaleczeniami. Przydatne szczególnie podczas walk w budynkach (CQB), ale w lesie też są nieodzowne. Poza tym zapewniają maskowanie dłoni. Szczególnie popularne są rękawiczki marki Mechanix Wear oraz oraz Oakley.
Mechanix Wear – Rękawice
Oakley – Rękawice
Buty: Właściwie dobrane obuwie z wysoką cholewą chroni kostkę przed skręceniem, zapobiega poślizgnięciom i ułatwia poruszanie się w trudnym terenie. Szczególnie polecamy buty marek Protektor, Bates oraz Lowa.
Mundur i nakrycie głowy: Potyczki w ASG zwykle wygrywa ten, kto pierwszy zauważy przeciwnika. Nasi Klienci najczęściej wybierają umundurowanie firmy Helikon-Tex. Do tego warto zaopatrzyć się też w nakrycie głowy – jeżeli zabawa ma miejsce w lesie – z powodzeniem wystarczy miękka czapka lub kapelusz. Do gier w budynkach najbezpieczniej jest zaopatrzyć się w kask lub replikę hełmu.
Dodatkowe magazynki: Z czasem magazynek dodawany do repliki przestaje wystarczać. Wtedy warto dokupić kolejne. Magazynki dzieli się na te o realnej pojemności (real-cap, ok. 30 sztuk kulek), niskiej pojemności (low-cap, ok. 50-60 sztuk kulek), średniej pojemności (mid-cap, ok. 100-150 sztuk kulek) i wysokiej pojemności (hi-cap, od ok. 300 sztuk kulek w górę). Rodzaj i liczbę magazynków każdy z graczy dobiera do swojego typu gry.
Replika boczna: Po nabyciu pierwszych doświadczeń warto przeanalizować swój styl gry i zastanowić się, czy replika boczna będzie przydatna. Wielu graczy używa replik pistoletów do walki na bliskim dystansie, w przypadku zużycia amunicji w replice głównej, czy w przypadku awarii tejże. Większość decyduje się na repliki o napędzie gazowym z odrzutem zamka (gas blow-back – GBB). Chociaż wielu jest też zwolenników replik elektrycznych, sprężynowych lub dwutlenek węgla (CO2).
Pistolety na GreenGas
Oporządzenie: Z czasem na wyposażeniu gracza pojawia się coraz więcej wyposażenia, które nie mieści się w kieszeniach spodni i bluzy. Wtedy czas zakupić oporządzenie, gdzie można przenosić dodatkowe magazynki, wodę, replikę boczną, apteczkę, czy granaty. Jest to kwestia indywidualna, której poświeciliśmy już trochę miejsca na blogu i na pewno jeszcze będziemy o tym pisać.
Condor – Recon Chest Rig – Coyote Tan
Oczywiście nie jest to kompletna lista, bo brakuje na niej chociażby dodatkowych akcesoriów do replik, jednak gracz, który potrzebuje tego rodzaju wyposażenia raczej nie ma już nic wspólnego z początkującym. W razie wątpliwości prosimy o kontakt. Chętnie pomożemy!
JK