Sunglasses - look good as always
2017-07-17
Podobno ilu ludzi, tyle gustów, ale w zasadzie wszyscy co do jednego są zaskakująco zgodni – w okularach przeciwsłonecznych wygląda się o wiele lepiej niż bez nich. Złośliwi twierdzą, że to przez to, iż okulary takie zasłaniają wcale niemałą część twarzy. Po przemyśleniu, trudno odmówić im racji.
Poza walorami estetycznymi, okulary przeciwsłoneczne mają też jeszcze jedną, o wiele ważniejszą zaletę – chronią wzrok użytkownika przed oddziaływaniem szkodliwego promieniowania UV. Zbyt długie przebywanie na słońcu bez odpowiedniej ochrony oczu w przyszłości może spowodować rozwój całej litanii nieprzyjemnie brzmiących powikłań.
Oakley – SI Ballistic M Frame Alpha Matte Black / Bolle Safety – Okulary Ochronne – CONTOUR – Polarized / Oakley – SI Gascan Matte Black
Do tego dochodzi też czynnik związany z bezpieczeństwem – zwłaszcza w przypadku kierowców i rowerzystów, ale też biegaczy. Chyba nie trzeba tłumaczyć dlaczego.
Każdy musi zdecydować, czy woli wydać pieniądze w bazarze lub markecie na okulary importowane z Dalekiego Wschodu, co do których jakości i powtarzalności wykonania można mieć pewne obiekcje, czy też lepiej zainwestować w markowy sprzęt produkowany w USA lub Europie, który można nabyć w cenie bardzo podobnej lub nawet niższej niż produkty montowane przez pracowitych Azjatów.
My osobiście jesteśmy zdania, że produkt taki nie tylko powinien dobrze wyglądać, ale też posiadać jak najwyższe walory użytkowe. Dzięki temu jedne okulary spiszą się zarówno na wakacjach, na rowerze, jakiejś uroczystości, strzelance ASG, na strzelnicy czy podczas pracy.
Zwłaszcza, że w cenie okularów prosto z modnych salonów (a często sporo niższej), da się kupić okulary spełniające takie same normy jakościowe, posiadające równie elegancki design, a co więcej – skutecznie chroniące oczy nie tylko przed słońcem, ale też przed urazami mechanicznymi. Nie wspominając o tak użytecznych "gadżetach" jak polaryzacja czy fotochrom.
ESS – Crowbar Polarized Mirrored Gray Lenses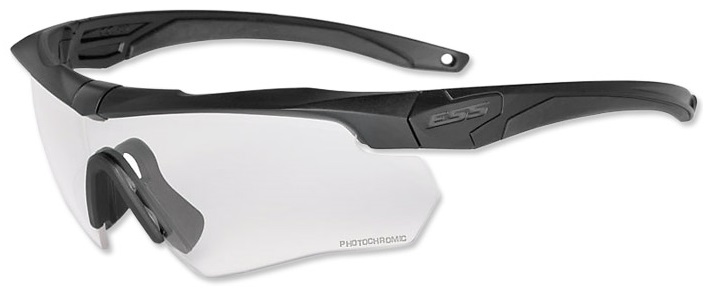 ESS – Crossbow One Photochromic
Od lat bestsellerem są okulary balistyczne firmy ESS – poza tym, że są wyborem tysięcy żołnierzy i funkcjonariuszy na całym świecie, stosujących je jako okulary balistyczne, w wersji przyciemnianej znakomicie chronią też wzrok przed mocnym słońcem. Dzięki wymiennym wizjerom w modelach serii Cross, można zaopatrzyć je w szybę z filtrem polaryzacyjnym (mocno niwelujący refleksy świetlne – znakomita sprawa dla kierowców, żeglarzy, wędkarzy, narciarzy i tym podobnych) czy też o właściwościach fotochromowych (dostosowującą samodzielnie poziom przyciemnienia do natężenia światła).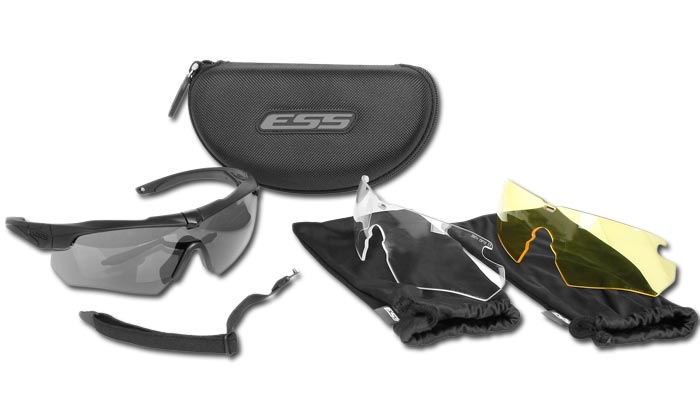 ESS – Crossbow 3LS
Z uwagi na to, że design klasycznych okularów balistycznych ESS nie każdemu pasuje, firma ma w swojej ofercie również okulary low-profile serii 5B, CDI/CDI MAX, Credence oraz Rollbar/Crowbar. Zapewniają identyczną ochronę przed promieniowaniem UV oraz urazami, co bardziej "militarne" modele, ale dzięki cywilnej stylizacji są po prostu uniwersalne. Pasują zarówno do garnituru, munduru i szortów. Egzemplarze z wymiennymi szkłami da się też wyposażyć w całą serię różnokolorowych szkieł, zależnie od potrzeb i okoliczności.
Kolejne na liście to okulary marki Oakley – cieszący się estymą wśród żołnierzy sił specjalnych. Każda para wykonana jest z dbałością o detale, przez co cena również jest odpowiednio wyższa w porównaniu z innymi modelami, ale to już faktycznie klasa premium, jeżeli chodzi o jakość obrazu widzianego przez szkła i co do tego nie ma wątpliwości. Podobnie, jak w przypadku ESS, Oakley ma w swojej ofercie okulary balistyczne oraz te stworzone bardziej pod cywilnego użytkownika lub żołnierza po służbie.
Oakley – SI Ballistic M Frame 2.0 Strike Black – Grey – 11-140
Na uwagę zasługuję również okulary balistyczne marki Bolle Tactical oraz ochronne od Bolle Safety. Od lat te francuskie okulary łączą ze sobą naprawdę przyzwoite właściwości balistyczne (seria Tactical) lub ochronne (seria Safety) z lekkim, sportowym designem. W przypadku okularów linii Safety – cena jest bardzo zbliżona do "marketowych" okularów przeciwsłonecznych. Z tym, że Bolle "przy okazji" dają gwarancję pierwszej klasy optycznej i wytrzymałości mechanicznej potwierdzone normą CE EN 166.
Bolle Tactical – Okulary Balistyczne – SWAT – Silver – SWATFLASH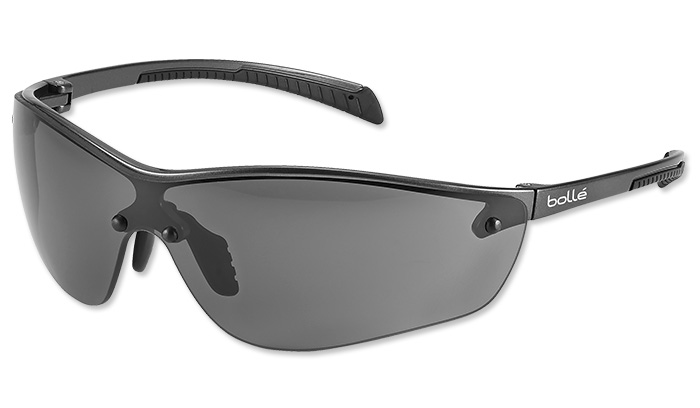 Bolle Safety – Okulary Ochronne – SILIUM+ – Smoke – SILPPSF
Wiemy jakie są realia – nie każdy chce i nie każdy potrzebuje rozbudowanego zestawu okularów balistycznych za kilkaset złotych. Dlatego warto zainteresować się nawet tańszymi modelami, które również bardzo dobrze chronią oczy przed promieniowaniem i dadzą podstawową ochronę mechaniczną. Zwłaszcza, że anonimowe okulary prosto z dalekowschodniej linii montażowej kosztują w markecie czy u handlarza bardzo podobne pieniądze.
JK