Paracord
2017-01-31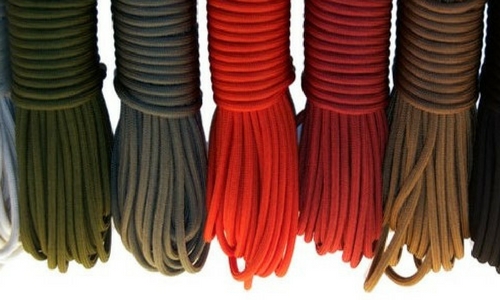 Czasem tak w życiu bywa, że wynalazek stworzony w jednym celu znajduje zastosowanie gdzie indziej. Materiałowa taśma klejąca (duct tape) została stworzona do zabezpieczania skrzynek z amunicją przed wilgocią. Medycy polowi używali kleju Super Glue do prowizorycznego łatania ran. Nawilżane chusteczki do niemowlęcych tyłków znakomicie ścierają z twarzy farbę do kamuflażu. A linka spadochronowa podobno służyła kiedyś do wykorzystania w spadochronach.
Linka spadochronowa (ang. parachute cord), znana także jako 550 cord lub popularny paracord. Ubóstwiany za swoją wytrzymałość, wszechstronność i niską cenę. Najprościej rzecz ujmując – nadaje się do wszystkiego. Nie uda się nim chyba tylko okopać. Bodaj najbardziej spektakularnym i powtarzanym do znudzenia przykładem zastosowania jest naprawa teleskopu Hubble'a w 1997 roku.
Dostępna w niezliczonych wariantach kolorystycznych. Każdy szanujący się miłośnik survivalu, bushcraftu, czy militariów – że o preppersach nie wspominając – jest w stanie podać ad hoc przynajmniej 5 sposobów na jego wykorzystanie w sytuacjach mniej lub bardziej ekstremalnych.
Tutaj uwaga – pomimo tego, że wytrzymałość statyczna nowej linki wynosi aż 249 kg nie należy używać jej we wspinaczce. Przy dynamicznych naprężeniach może dojść do jej zerwania pod o wiele niższym ciężarem.
Poza standardowym, siedmiordzeniowym paracordem, który przez lata służył do wyplatania bransoletek survivalowych, oplotów rękojeści noży, zawieszeń taktycznych, zastępowania sznurowadeł w butach, zabezpieczania ładunku i wyposażenia, prowizorycznych napraw oporządzenia, czy rozstawiania namiotów istnieje kilka wariantów – nazwijmy to – specjalnego przeznaczenia:
Paracord fluorescencyjny – uwielbiany przez miłośników EDC oraz wszystkich tych, którym zdarzyło się potknąć po ciemku o naciąg namiotu. Dzięki przeplataniu go ze zwykłym paracordem w bransoletkach survivalowych uzyskuje się bardzo ciekawe wizualnie efekty. Bardzo przydatny w sytuacjach taktycznych do oznaczania rzeczy, które musimy szybko odnaleźć po ciemku.
Paracord fluorescencyjny
Paracord wykonany z kevlaru – król wśród linek spadochronowych. Dzięki podwyższonej wytrzymałości przyda się wszędzie tam, gdzie zwykła linka przeciera lub przerywa się zbyt szybko. Jego wytrzymałość statyczna wynosi aż 476,3 kg. Wyjątkowo odporny na ogień, skrajne temperatury oraz wilgoć. Nieodzowny przy prepperingu. Przyda się do prowizorycznego zabezpieczania ładunku, polowych napraw pojazdów mechanicznych i innych czynności, gdzie pół tony udźwigu to pożądana rzecz.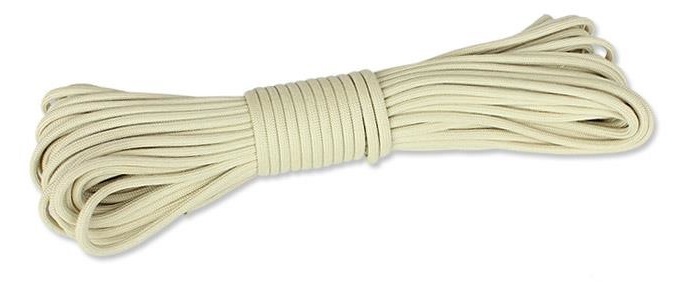 Paracord wykonany z kevlaru
Tactical Cord – o połowę cieńszy (4 rdzenie) i o połowę mniej wytrzymały od standardowego paracordu. Nie tak uniwersalny, ale mniejsza średnica i niższa cena pozwala na jego masowe wykorzystanie wszędzie tam, gdzie użycie standardowego paracordu przypomina czasem strzelanie do wróbla z armaty – zabezpieczanie lżejszych przedmiotów w kieszeniach, suszenie prania w terenie, rozstawianie bashy.
Tactical Cord
Nano Cord – bardzo mocna dratwa o udźwigu 16,3 kg. Praktycznie niezastąpiona, jeżeli trzeba zszyć porozrywany plecak, oporządzenie albo inne przedmioty z wyposażenia, gdzie taśma klejąca sobie nie poradzi. Dzięki syntetycznej konstrukcji nie gnije w warunkach długotrwałej wilgotności. Dzięki średnicy 0,75 mm naprawisz nią nawet zerwany pasek od zegarka, a także przełożysz bez trudu przez ucho zawieszenia w telefonie, PMR lub GPS.
Nano Cord
Kiedyś mówiło się, że szanujący się facet powinien mieć WD-40 i taśmę klejącą. Naszym zdaniem trzeba dodać do tego zestawu jeszcze z 15-20 m paracordu. Niby taki zwykły sznurek, ale kiedy przychodzi co do czego to nagle okazuje się, że nikt o nim nie pamiętał. Niejednokrotnie uratujecie dzięki niemu sytuację podczas wycieczek i plenerowych imprez, zyskując w oczach kolegów oraz koleżanek.
JK