EDC set - Guide
2020-01-27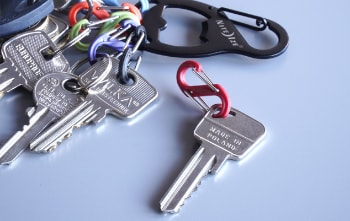 EDC term started to be a popular term few years ago and it's describing all elements of our everyday equipment. It is usually based on a set of keys, a cellphone and a wallet, but it often extends to a set of tools, which prove to be a great convenience for our everyday life. In our opinion, EDC should be created naturally, according to the needs of regular situations. However, we have decided to create a list of sample elements of which such a set could consist. Passed through the filter of your needs can help you to create your first set, or to complete your existing EDC.
EDC set example
Starting with the most popular and frequently used element - the wallet. Compact wallet have been dominating the market for several years now, however, you can still often come across massive models, equipped with many compartments. Their large capacity is often an overestimated advantage - they encourage to carry things that are not really necessary. Spacious pockets for small ones, the ability to carry 30 cards, etc. make us decide to carry far too many of them, resulting in a brick weighing 300 g.
Size of minimalist wallets are incomparably smaller than classic, leather models
The exchange of a wallet for a minimalist one will relieve us, increase the speed of access to cards, and those whose everyday clothes are not part of cargo pants will avoid overstuffed pockets. Noteworthy are Magpul wallets of the DAKA series, such as DAKA Essenntial Wallet. They are perfect for everyday situations and their appearance makes them fit into everyday clothes as well as in more formal situations. The materials used in them: the fabric embedded in a flexible polymer makes the user enjoy their functionality for many years.
Most radical form of lightweight wallet is money clip
Undeniably, one of the most universal solutions that will allow us to cope with most of our everyday situations is multitool. A set of tools, usually based on the structure of the pliers, will allow us to perform common tasks such as tightening loose screws or opening a beer bottle, as well as more complicated tasks related to repairs of simple electronics such as cutting or stripping cables. The models are available in many sizes and equipment versions, and the largest spectrum of them is held by the renowned manufacturer Leatherman. For everyday wear, we recommend medium sized models, which do not cause excessive load and are as functional as their larger counterparts. The Wingman model will serve as a convenient, quick to use tool thanks to the system of external access to functions, while Rebar will prove itself for heavier work by offering hardened, interchangeable wire cutters.
Multitools can be comfortably carried in a pocket or on belt mounted pouch
If we think that multitool will be useful only occasionally, but we need the most accessible tool on a daily basis, it is worth noting the offer of folding knives. Models created strictly for EDC applications will be characterized by a much lower weight than multitools, containing fewer functions, but for many people they will be completely sufficient. When choosing a knife for everyday use, it is worth paying attention to its weight and grip profile, in addition to its utility values. The flat handle will make the folder more discreet and will not hinder access to the pocket it is in.
The choice of the blade profile, steel and more detailed details depends on the taste, needs and abundance of the holder's wallet, however, to begin with, we offer a choice of drop point profile - the most universal - and mid-range stainless steel like AUS8 or 8Cr13MoV. Their advantages include, first of all, resistance to mistreatment and extraordinary ease of sharpening. In addition, they maintain sharpness which distinguishes them from budget steels. For example, we will show here the already classic Folding Hunter folder created by Ka-Bar in cooperation with knifemaker Bob Dozier. It combines stainless Japanese steel, an extremely flat handle profile and a durable yet comfortable back lock. In addition, we have prepared a short overview for you, which can help you choose a model.
Dozier Folding Hunter have many colorways - from vivid ones to more outdoor styled
Flashlight - essential on the one hand, on the other hand, most people have a completely sufficient light source in the form of an LED in the phone. To those who are more careful and those who desire more power we briefly present some of our miniatures. The S1R light - 900 lumens enclosed in an extremely compact housing, the Black Eye Mini - an affordable flashlight equipped with variable focus or the NEBO Rebel - an an angular flashlight with a rechargeable battery that can be used as a headlamp is a great choice both for everyday wear and as backup in the car.
Olight flashlights are characterized with high power of beam an lighweight, durable body
In addition to the obvious, fully-fledged tools, it is also worth noting the little things that may prove surprisingly useful in unexpected situations. A short stretch of the paracord will allow us to temporarily repair a broken bag handle, lash the broken part of the car or even help to get it out of the mud. Latex gloves can surprisingly often prove useful - whether under the hood or when conducting resuscitation of a stranger. A set of patches or antibacterial gel will be a great help in any situation related to increased physical effort.
Organiser introduces order in our equipment and allows faster draw when needed
However, when the number of accessories that we can comfortably carry in our pockets is limited and the backpack is not very handy, the waistpack comes to our aid. The relic of the 90's, which has been restored to favour, is perfect as a compact transporter of our equipment. Discreet, easy to access, roomy - it is a perfect solution for anyone who thinks that cargo pockets should be used rather occasionally. We particularly recommend models equipped with an organiser, which will keep order in the chaos of everyday use.
AP