MRE - Meal Ready to Eat
2019-05-17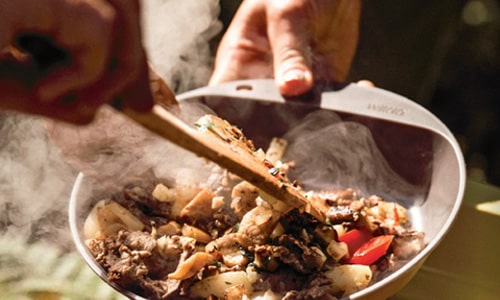 W trakcie kampanii wojskowych, oprócz toczonych bitew i odnoszonych sukcesów, drugim najważniejszym czynnikiem jest logistyka i ciągłość zaopatrzenia. Od dawna wiadomo, że pełen żołądek wpływa pozytywnie na morale; nie inaczej jest obecnie. To samo tyczy się nas, podczas wyjazdów survivalowych, z przyjaciółmi w góry lub na kilkudniowe manewry ASG. Byśmy mieli moc działać, nasz organizm potrzebuje "paliwa". Oprócz stale dostarczanej wody niezbędna jest energia, a tą pozyskamy z pełnowartościowych posiłków bogatych w składniki odżywcze i witaminy.
Kompletny, 24-godzinny zestaw posiłków w formie racji firmy ARPOL
Do wyboru do koloru
W naszym sklepie oferujemy dostęp do racji żywnościowych: wojskowych oraz turystycznych. Optymalnie zbilansowane posiłki są kluczowe, a w skrajnych przypadkach zależy od nich nasze przeżycie.
Wojskowe racje żywnościowe w skrócie nazywane MRE (Meal Ready to Eat) to posiłki przygotowane do spożycia od razu po podgrzaniu. Dobowy zestaw składa się z posiłku głównego, konserw śniadaniowych, sucharów lub pieczywa, czekolady, owoców liofilizowanych, herbaty i kawy instant, W zestawie też możemy znaleźć: napój izotoniczny, cukierki, gumy do żucia. Zapewnia dobową normę kaloryczną dla żołnierza w rejonie działań, gdzie niemożliwe jest zapewnienie kuchni polowej i pełnego wyżywienia. Często spotykane są również wersje zawierające jedno danie, najczęściej w komplecie z sucharami, o kaloryczności 400-600 kcal - około 1/4 zapotrzebowania dziennego.
Z uwagi na warunki polowe i brak dostępu do kuchni, racje wojskowe wyposażone są w chemiczne podgrzewacze. Najczęściej pakowane są w wodoodporne, termozgrzewalne folie, które ułatwiają transport oraz chronią posiłek przed ciężkimi warunkami pogodowymi.
Producenci sprzętu turystycznego dbają aby ich zestawy były jak najbardziej funkcjonalne, uniwersalne i przede wszystkim lekkie
Przy wyborze wojskowych racji żywnościowych należy zwrócić uwagę, czy zestaw posiada sztućce. Jeżeli ich nie posiada, warto zaopatrzyć się w sztućce turystyczne, lekkie i poręczne w transporcie. Wybierając wojskowe racje żywnościowe powinnyśmy dokładnie zapoznać się, co zawierają zestawy oraz zwrócić uwagę na smaki i nasze preferencje kulinarne. Wybór jaki dają nam producenci jest bardzo szeroki i każdy znajdzie odpowiedni zestaw dla siebie.
W trakcie wyjazdów turystycznych najczęściej korzystamy z liofilizowanych racji żywnościowych lub batonów energetycznych. Żywność liofilizowana to żywność, która została zakonserwowana metodą suszenia po zamrożeniu, z zastosowaniem obniżonego ciśnienia. W procesie zachodzi odwodnienie dania, które obniża swoją wilgotność o od 70% do 95%. Metoda ta powstrzymuje rozwój mikroorganizmów oraz znacznie redukuje masę posiłku.
Potrawy liofilizowane zaskakują bogactwem smaku oraz konsystencją oddającą świeżo ugotowany obiad
Dania liofilizowane są cenione w trakcie dalekich wypraw lub wysokogórskich wspinaczek, gdzie każdy gram wyposażenia ciągniemy lub niesiemy na plecach. Przygotowanie takiego posiłku jest bardzo proste. Zalewamy danie odpowiednią ilością wrzącej wody (najczęściej 250 ml do 400 ml), mieszamy, zamykamy opakowanie i… czekamy około 7 minut - danie jest gotowe do spożycia. Oprócz dań obiadowych producenci w swojej ofercie posiadają również śniadania liofilizowane.
Liofilizowane owsianki są zdecydowanie lepszą śniadaniową alternatywą dla tzw. panzerwafla
Pomiędzy posiłkami lub w sytuacji nagłego spadku energii warto w kieszeni spodni lub kieszeni plecaka miećbaton energetyczny. Może on nam tymczasowo zastąpić posiłek - jego kaloryczność to około 400 kcal. Dodatkowo batony zawierają w składzie witaminy, wapń i żelazo, które są nam niezbędne w trakcie wysiłku fizycznego.
Wysokokaloryczne batony dostępne są w szerokim spektrum smaków
Gdy podejmujemy decyzję dotyczącą wyboru odpowiednich racji żywnościowych powinniśmy zwrócić uwagę, czy zredukowana masa produktu jest dla nas czynnikiem kluczowym. W przypadku korzystania z samochodu możemy pozwolić sobie na cięższe racje klasyczne, które są bardziej ekonomiczne, a kalorycznością nie ustępują liofilizatom. Wybór rozwiązań oraz preferowanego menu mamy bardzo duży. Oferta polskich i zagranicznych producentów jest szeroka i stale wzbogacana o nowe smaki. Każdy z nas znajdzie znakomite jedzenie odpowiadające jego gustom kulinarnym i potrzebom turystycznym..
MN