Which tactical boots up to 90 €
2020-02-19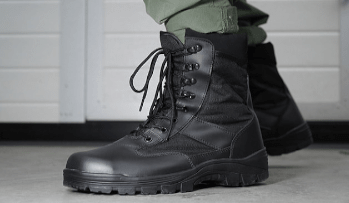 When choosing equipment and having a certain amount of money, we always wonder what to buy first and what is the most important element of our inventory. It is difficult to set a clear priority, however, if we were to create a scheme, we would position the shoes in one of the highest positions. The quality of the shoes we use will not only translate into comfort during one-off situations, but also protect us against long-term injuries. For tactical boots, comfort and safety will be a key factor.
Models chosen by us:
First, we must realize what it is and for what purposes tactical footwear was created. First of all, they are not military boots. Based on the experience of using shoes strictly military - extremely durable and relatively universal - it was found that resistance to damage at the expense of high weight and stiffness of shoes is in many cases not profitable.
Typical representative of tactical shoes - Lightweight design, relatively thin and flexible sole, ergonomic profiling reminiscent of running shoes
Does the operator of a police anti-terrorist squad or a VIP security officer need the indestructible USMC Bates that can withstand extreme conditions and weeks in the field? No - they will be more useful for shoes that are so soft and well-shaped that during the run they protect their ankles against injuries and after 10 years of work their knees will not fall apart, because instead of on soft dirt or sand they ran on concrete or asphalt.
We must therefore look at tactical footwear in the form in which it was created - a combination of sports and protective shoes. They are great as shoes for policemen or employees of security agencies. For airsoft and other dynamic activities - by all means. However, for long trekking or even trips to the mountains may be too delicate. Simply, the features for which they were created will not suit the environment.
Therefore, when buying tactical footwear, it is worth paying attention to:
breathability
good metatarsal support
ankle stabilization
cushioning and flexibility/li>
propper tread
Also useful:
oil and acid resistance
lack of metal elements
antibacterial insoles
membrane (if necessary)
Mil-Tec Security Boots
Mil-Tec products have an interesting ailment that surprises either with a radically poor design or an extremely good price-quality ratio. Fortunately, the Security Boots model belongs to the second category. Compared to other models from this price range - both the manufacturer and competitive products - the model stands out due to its good quality. No traces of glue, well made seams and good quality materials that we can find in these shoes, are unfortunately not the standard at this price level.
The quality of the Security Boots model is very good compared to their price range and other manufacturer's models
In this case, Mil-Tec shows that they can make a good and affordable shoe, in addition, with a very classic but pleasing to the eye design. A very big plus for hooks for quick lacing and removing shoes - an extremely practical feature. The use of cowhide and polyester means that the footwear wicks moisture well. Note - the model uses great quality 3M™ Thinsulate ™ insulation, however, it makes the shoes perform much better during moderate and cold temperatures.
Characteristic for tactical footwear geometric tread - provides stability on hard surfaces even when they are slippery
Zephyr Workgear ZX07
Zephyr is a brand of safety footwear derived from British Northamptonshire. The ZX07 model, like the other shoes from the manufacturer's offer, was created mainly for one purpose - to protect user's feet. However, the 07 model has been designed to combine great protective qualities developed over the 50 years of the company with features that will make them perfect as tactical boots.
Zephyr ZX07 combine a very standard look with high functionality and quality
The first thing that catches the eye - really great value for money. The method of making footwear leaves nothing to be desired, while the materials used have been selected for high strength. The use of nylon fabric significantly improves the resistance of shoes, while choosing the right weave allows you to maintain breathability similar to that of polyester fabric.
In addition: cushioning in the heel - great for people moving dynamically on hard surfaces, hooks - very easy to bind, a soft compound used in the sole - very good grip and shock absorption. Security agency employees will also appreciate the lack of metal components that can activate the detectors.
Protektor Grom
Grom is an example of a model that can be called proven. It has been on the market for years, has maintained a high position in sales for years, and its performance also makes it serve many users for years. Materials and technologies used here are at a really high level, and despite the very standard design, the shoes surprise with exceptional ergonomics.
The upper of the Grom model is directly embedded in the upper layer of the sole - this guarantees the highest resistance to delamination
Very high comfort has been obtained mainly thanks to the great cushioning sole and metatarsal support. This makes the user remain comfortable both during all-day wear and during short but intense sprints. The quick binding system is not as comfortable as the hooks, but it does the job. The sole is made of high quality polyurethane in two-layer injection molded technology. The use of a uniform material and fusing it directly with the upper translates into a much stronger junction than gluing, used in cheaper shoes. Grom shoes are also available in the Plus version equipped with a breathable, waterproof TE-POR membrane.
Bates Tactical Sport
Bates is another company with a well-established position in the military footwear market. It has gained recognition and trust by creating excellent quality contract military boots for the US Army and USMC. The experience combined with the use of the latest technologies mean that the manufacturer also creates great tactical footwear. The price of the Tactical Sport 8" model typically exceeds the ceiling of 90 EUR, however, with this link you can use the code that will reduce the price of shoes accordingly.
Bates Tactical Sport come in a version with a zip for easy donning
As for the construction - incredibly light, very comfortable, performance at a level that can be expected from such a reputable manufacturer. The extremely low weight characteristic of the Enforcer Series Ultra-Lites ™ line oscillates around 500 g for one shoe. This translates into exceptional comfort both for long-term use and for short-term, intense effort. It is also worth paying attention to the well-profiled insole and equally good foot support.
Protektor Goray
To mark the differences, we also decided to describe one model of purely military boots. Due to the fact that the Goray model was created for mountainous terrain, we must note that some of the features will be strictly specialized. The basic factor distinguishing military and tactical footwear will be the type of soles used. In tactical boots, we will often find very light, soft and deformable materials - those that work best on hardened surfaces. Military shoes, on the other hand, are most often equipped with a stiff sole with a clearly marked heel. This solution usually works better on soft or loose ground, while better protecting the foot against minor unevenness of the terrain.
Massive, Goray mountain military boots definitely stand out from light and slim tactical models
Goray has just been created for rocky terrain, so its sole profile and hardness resembles those found in specialized mountain footwear. Nevertheless, most of the army boots starting from the already mentioned USMC Bates for warm climates to Polish, MON 933 winter boots will have a thick, hard sole.
By mutual origin both types of footwear have their similarities. Military boot uppers can be stiffer and more durable by using a less comfortable but more resistant material. Tactical shoes will put on a comfortable, breathable upper. However, the main goal of both will be adequate stabilization of both the foot and ankle. Therefore, when choosing shoes for military use, we must first of all foresee in which situations and environment they will be most often used.
It is possible that despite the initial assumption, the latter type will be more adequate. Many features useful in tactical boots will be equally valuable in military footwear. Hooks and quick binding systems, antibacterial and proper profiling of the insole or standards of acid- and oil-resistant soles can be safely used as military boots. Finally - full use of the shoe's functionality, especially breathability, depends on the use of appropriate socks. Cotton usually has the worst properties - it absorbs water and dries slowly - that's why we recommend models made of synthetic blends and wool.
The lacing system based on hooks is one of the most efficient - it will be useful almost always and in every type of outdoor footwear
Model
Mil-Tec Security Boots
Protektor GROM
Zephyr Workgear ZX07
Bates 8" Tactical Sport - 2260
Link do produktu
link
link
link
link
Use
Urban, hard surfaces
Urban, hard surfaces
Urban, hard surfaces
Urban, hard and loose surfaces
Material
Grain leather, polyester
Grain leather, polyester
Grain leather, nylon
Grain leather, ballistic nylon
Weight (Singe, 42 size)
700g
600g
650g
498g
Sole hardness
Medium
Soft
Soft
Medium
Tread type
Anti-slip, urban
Anti-slip, urban
Anti-slip, urban
Mixed, urban / loose terrain
Water-resistant
Yes
Yes
Yes
Yes
Membrane
No
Optional
No
No
Reinforced toe
Yes
No
No
No
Lacing system
Hooks
Grommets
Hooks
Grommets
Metal elements
No
Yes
No
No
Side zip
No
No
No
Optional
SpecShop.pl
AP