Which camping knife to choose - folder, full tang or maybe multitool?
2022-04-21
Which camping knife to choose - folder, full tang or maybe multitool?
The spring is just around the corner, and you lack a trusty blade by your side, to help with all the camp works, preparing sausages, or preparing your camping? Fear not! In this post we are going to showcase a few models of knives that we would like to recommend for such uses - be it full tang knife, folding blade, or multitool you are looking for - we will show them all!
Well known all around knife from Sweden - trusty Companion from Morakniv
If you are looking for a cheap, robust, and very durable blade which will do all, but the hardest work in your encampment, is a camping knife for you! Companion knife from Morakniv makes an excellent choice both for veterans and newcomers to the arts of Bushcraft and survival. Because of its low weight, small size, and very good blade retention, the Companion utility knife carved its place on belts of many bushcraft, fishing, or mushroom picking enthusiasts, but also as a utility knife for use in gardens or workshops.
The laser sharpened blade of the described general use knife was manufactured from cold-rolled Swedish steel where the resistant, the texturized handle was made from rubberized TPE material, giving it anti-slip properties. Thanks to utilizing such materials in the handle, the camping knife stays in hand even if completely wet, which is very important for fishing enthusiasts.
With the companion bushcraft knife we also receive a sheath, made from bright green polymer, which blends with the details in the knife handle. The sheath comes with the clip, allowing us to mount it on the edge of pants or belt, which can be 45 mm wide.
The sheath itself holds our robust bushcraft knife very snugly and demands a bit of strength to actually remove it. Thanks to that, we can be pretty sure that our camping knife will not leave it even if we will trip, saying that, we still recommend taking care if you will end up with the knife hanging upside down.
Easily recognizable, red Swiss Army knife - Victorinox Hiker
If you are looking for reliable Swiss Army knife, which will cover all of your basic tool needs in one, compact form, look no more! We want to present you a classic, reliable Hiker model from Victorinox, a company with over 100 years of experience in producing army pocket knives for the Swiss Army.
Victorinox Hiker is a swiss pocket knife hiding 13 tools, made from stainless steel, designed to cover most of the tools one might need during a hike or bike trip put between two, red, covers with Swiss coat of arms, which are classic for Victorinox products.
The tools included in this model of Swiss Army knife are two blades of different sizes, a wood saw, 3, 6 mm and a star screwdriver, can and bottle openers, and some more specialized tools like isolation remover. There are also the quality of life improving elements like a key ring, toothpick, and a pair of tweezers.
The small weight and size of the described pocket knife allow for comfortable carrying in a pocket, pouch, or backpack and the red, easily recognizable cover will surely pump up our renown.
Durable folding knife - if the only thing you need is a robust blade
The next product, which we would like to present to you is a Mark 98 Folder knife from well known and renowned Ka-Bar company, the makers of the iconic USMC knife.
The folding blade is a wonderful everyday carry knife. The handle of the Mark 98 Folder knife was made from G10, which makes an excellent wood impression and gives it good resistance to damage and electricity. Such a folding knife will not only add to our class, but will also allow using it in all environments, which makes it a perfect addition for everyone, anytime.
Drop Point blade profile of the described folder knife from Ka-Bar company was made from high-quality stainless steel with 53-56 HRC hardness. This type of blade can be characterized by very good cutting and pushing properties. The blade also includes deep humps on the sides, thanks to which the blade is stiffer, and which can function as an additional way to open this classical folding knife.
As said before, you can open this folding knife by using the dedicated Flipper or using the aforementioned humps. The opened blade is secured in its position by the Liner Lock, thanks to which we can operate the knife without the risk of the blade closing and injuring our fingers. The Mark 98 Folder, also known as Ka-Bar 3066 also includes a reversible mounting clip, which allows for mounting its blade pointing down or upwards.
If you like to have everything you need by your hand
The Ultimate Fixed Blade knife manufactured by Gerber is an awesome product designed especially for survival and bushcraft enthusiasts, utilizing a whole array of innovations. Thanks to those, this fixed blade knife is full of useful bits and pieces. Sturdy, partially toothed blade, multi-function sheath with an integrated sharpening stone, flint, and connected to the knifes handle alarm whistle, give the knifes user all tools one might need in case of need in form of a sturdy camping knife.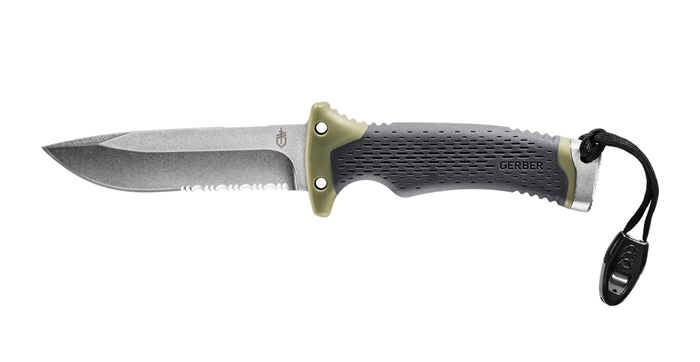 This survival knife with the fixed blade with a Drop Point blade profile made from the highest quality 7Cr stainless steel has a toothed part and a false blade on its back, which is dedicated to using with included flint. The handle of this survival knife is texturized and rubberized, to elevate its anti-slip properties and provide the user with a sure grip even in the harshest conditions, which is very important for the safety aspect.
The metal end of the handle of said fixed blade camping knife was flattened to be used as an improvised hammer. Additionally, the handle includes a mounting point in the form of a hole, to which an alarm whistle is attached. Said whistle is both useful and curious addition to this survival knife.
The sheath of Ultimate Fixed Blade knife was made using durable polymer and nylon. The Gerber knife is held in place by a push lock and a hook and loop tape. It also includes a pouch for included flint and a sharpening stone, which you can access by opening the sheath. The multitude of options makes this knife an ultimate survival knife for bushcraft and survival enthusiasts.
Modern multitool designed to be functional
Sidekick multitool produced by well known and renowned Leatherman company is a great product characterized by high quality, affordable price, and the multitude of tools packed in this compact multitool. This product will be an excellent choice for everyone that wants to have all tools available at hand, everyday carry enthusiasts thanks to its compact size and many uses.
Leatherman multitool was made from high quality carbon 420 stainless steel. That means, that everything in said product was made from this material, both covers and tools, which include pliers, three types of screwdrivers, can and bottle opener, saw, file and thats not all!
Only the blades are made from different, more carbonated, 420HC type of steel. Talking about blades, Sidekick multitool includes two of those, normal, and teethed one. The utilized type of steel is more prone to hardening, thus making the blades keep their edge better.
EDC multitool comes with a pouch, which can be mounted on the belt, and a carabiner which can also be used as a bottle opener. The multitool itself can be mounted on the belt or edge of pants thanks to a detachable clip.
We should also pay special attention to the producers' warranty, which in case of all Leatherman products gives us amazing 25 years of warranty on such an amazing multitool! Thanks to that, and very sturdy construction, you can be sure, that your Leatherman multitool will stay with you for many years in your everyday carry set.