Tarp or tent - and about advantages of the first one
2022-09-13
Since a long, long time ago in the world of bushcraft, survival, and camping there has been an ongoing debate about the most versatile and universal shelter, tarp, or tent. Both have seen many uses throughout the times of peace and war, yet we still need to find the best from those two. In this blog post, we will try to focus on the characteristics and advantages of tarps as the most versatile and universal way to construct a personal shelter. We will also say about the chosen strengths of tents.
Introduction into tarps
Tarp is made of a single, or more, joined pieces of fabric used to cover someone or something. That could be the simplest definition of tarp one could think of. Since ancient times, tarps made of waxed canvas were successfully used to protect oneself and belongings from rain or water during ship travels. Sailors tended to treat their canvas tarps with tar, to protect them from the unforgiving sea. Evolving through the ages, currently produced tarps feature many different coatings protecting them from cuts, sparks, and water, reinforced grommets, and come both in single colors as well as in most modern camouflage patterns.
Yes, modern tarps differ greatly even from the ones used by our fathers, which now can be seen mostly in gardens and building sites rather than used as a shelter. With that said, we can still see people utilizing the most common tarps from stores as successful means of building improvised shelters or hiding spots.
What material for the tarp should I choose, and does it need to be synthetic?
To quickly answer the second part of the question, no, it does not need to be synthetic if we have the means and time to properly treat and dry them. But we will get to it later…
Browsing stores, we could come to the conclusion, that the only good choice is a tarp made of synthetic materials. It has its good, heavy to work around reasons for that. Synthetic tarps are more water-resistant and easier to maintain, as they only require the user to dry them when possible. They also tend to be a lot cheaper.
Tarpaulins made of organic materials are more expensive in production, and they require proper drying and treatment with specific agents to ensure their water resistance. They tend to be more breathable and resistant to wear and tear. There is also a cool factor included, when you can lay under a canvas tarp, which gives you an unforgivable climate.
When comparing both materials, we also need to take into consideration that tarps made of synthetic materials tend to compress better and are lighter than the ones made of natural materials. The other on the other hand tends to withstand sparks, for example from campfires, cuts and tear better.
Back to the main question, should I choose a tarp or a tent?
To answer this question after getting some more knowledge about what a tarp is, we still need to answer one question before, "how much camping knowledge do I have, and will I have enough time to set up a tarp".
If you have little or no experience, and you are planning a serious trip, we would advise choosing a tent. While it will take more space and be heavier, you will have an easier time setting it up and eventual mistakes won't cost you that much of a comfort. Why? Because setting up a tent is easier for inexperienced users and offers bigger protection from elements with its all-around coverage out of the box than a poorly put-together tarp.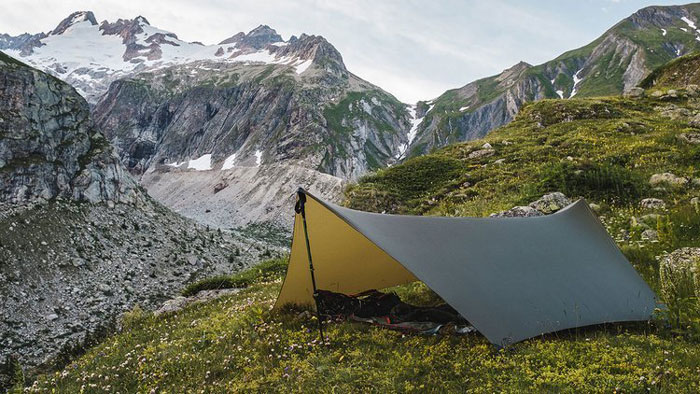 On the other hand, if you already have some camping experience and invested some time to learn ways to set up a tarp or have some spare time to learn it by trial and error, we can recommend you a tarp. Thanks to its versatility, many different ways of setting up allow you to choose the best configuration for the environment and weather, and its small size when compressed, resulting in more space in your backpack, and it can be used as a personal shelter as well as a layer of additional protection when using a tent.
Thanks to many different possibilities and configurations, tarps can not only be used as fly and improvised roofs, but also as cover from wind, or even as improvised tents! Do you prefer when wind rocks you to sleep in a hammock, or do you rather prefer to sleep close to stable ground? For tarp it doesn't matter! It can be utilized as a fly for a hammock, as well as a fly or improvised tent when you sleep on your fakirs' bed made of pine cones.
Tarp can also be utilized as a camouflage measure, which cannot really be efficiently done using a tent. Thanks to the wide access to tarps covered in many different camouflage patterns, including the most recent digital and fractal ones, you can choose the best camouflage tarp for your environment and quickly and efficiently hide your supply cache, camp, or hiding spot. Just throw a tarp over it and add some vegetation.
But as we said in the first part, we also need to tell about places and functions where the tent stays the best choice. If you are planning on camping in a harsh environment, it will be a better choice to take a specialized tent with you. No matter how proficient you are with setting up tarps, a good, reliable tent will always provide a better seal and protection from the elements.
If you are planning on camping with more people and sleeping in the same shelter, we would also advise using a tent. There are many multi-room models offering great comfort levels and the feeling of a portable home.
Pictures in this blog come from Lesovik press materials.