Tactical softshell - which type suits you the most?
2019-10-03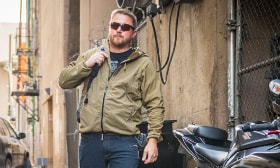 Dobór odpowiedniej warstwy wierzchniej często okazuje się kluczowy dla komfortu i bezpieczeństwa naszych wypraw, będąc pierwszą linią chroniącą nas przed czynnikami atmosferycznymi. Jak wspominaliśmy w poprzednim artykule, odzież w teren powinna tworzyć spójny i uzupełniający się układ, w którym to warstwa zewnętrzna będzie nas chroniła przed wiatrem i deszczem, środkowa docieplała a wewnętrzna odpowiadała za odprowadzanie wilgoci i wygodę. W tym blogu postaramy się uzupełnić informacje aby uzyskać pełny, ogólny obraz. Do prezentacji typów softshelli wykorzystamy trzy kurtki polskiej marki Helikon, której pełna oferta dostępna jest w sklepie Specshop.pl
Pierwszym aspektem, o którym warto powiedzieć jest wyjaśnienie czym jest softshell, jakie ma pełnić funkcje oraz nakreślić historię jego powstania. Kurtki typu softshell zostały opracowane aby uzyskać kompromis pomiędzy wygodą a wodo- i wiatroodpornością kurtek membranowych - hardshelli. Po początkowym zachłyśnięciu się rewolucyjnymi materiałami takimi jak Gore-Tex, które łączyły w sobie odporność na czynniki zewnętrzne z oddychalnością, użytkownicy zauważyli, że mimo widocznych zalet nie są one rozwiązaniem optymalnym.
Sztywność, zwiększona przez dodatkową warstwę waga oraz nie do końca zadowalająca oddychalność okazały się wadami, które były rekompensowane jedynie w przypadkach silnych opadów i wiatru. Dlatego też postanowiono stworzyć materiał wykazujący się umiarkowaną odpornością na deszcz, oddzielający użytkownika od wiatru ale przede wszystkim miękki, wygodny oraz umożliwiający skuteczne odprowadzanie wilgoci. Miał on łączyć cechy wszystkich elementów klasycznego układu - bielizna termoaktywna - warstwa docieplająca - hardshell.
Softshelle doskonale współpracują z dodatkową warstwą docieplającą
Czas zweryfikował jednak koncepcję i obecnie na rynku możemy wyróżnić trzy podstawowe typy softshelli: klasyczne modele, wykonane z oddychającej, wiatroodpornej tkaniny polimerowej z cienką, polarową podszewką, modele ultralekkie, pozbawione jakiegokolwiek ocieplenia, stanowiące warstwę chroniącą przed wiatrem oraz kurtki hybrydowe - softshelle wyposażone w membranę wiatroodporną. Szczególnie interesujący jest typ ostatni, który teoretycznie kłóci się z pierwotnymi założeniami softshella. Zastosowane w nich membrany jednak wykazują się głównie wiatroodpornością bez nadmiernego ograniczenia oddychalności, a wodoodporność została w nich osiągnięta poniekąd jako efekt uboczny.
Dzięki zastosowaniu elastycznych materiałów kurtki softshellowe doskonale sprawdzą się w dynamicznych sytuacjach
Przykładem tego typu kurtki może być Gunfighter wykonany z materiału Shark Skin z wkomponowaną membraną Windblocker 2 wykonaną z miękkiego TPU. Materiał w dotyku jest dokładnie tym czego oczekujemy i czego spodziewamy się po softshellu. Miękki, wielokierunkowo elastyczny o gładkiej, nieco śliskiej powierzchni. W odniesieniu do zastosowań taktycznych oraz intensywnego outdooru materiał tego typu będzie charakteryzował się dużą odpornością na przetarcia co pozwoli nam przedrzeć się przez gęściej zalesione tereny czy poruszać się po bardzo ciasnych korytarzach bez obawy o szybkie uszkodzenie kurtki. Ponadto z racji swojej grubości będzie również bardziej skutecznie izolował nas od deszczu i wiatru.
Membrana zastosowana w tym konkretnym modelu wykazuje się paroprzepuszczalnością na poziomie 8000 g/m2/24h co nie jest złym wynikiem, jednakże nie zapewni nam oddychalności na poziomie klasycznych softshelli. Dodając do tego jednak wodoodporność na poziomie 10000 mm H2O (dolna granica zakresu uznawanego według norm za wodoszczelność) możemy uznać, że jest to całkiem udany kompromis, zwłaszcza biorąc pod uwagę cenę kurtki. Modele tego typu często wyposażone są w lekką, polarową podszewkę, która dodatkowo izoluje od otoczenia i nie inaczej jest w omawianym modelu.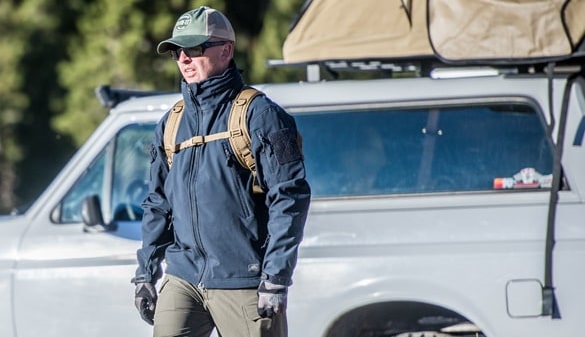 Kurtki z membraną są kompromisem pomiędzy komfortem klasycznych softshelli a wodo- i wiatroodpornością hardshelli
Po drugiej stronie stoją modele ultralekkie - tu dla przykładu Trooper. Wykorzystują one najczęściej cienkie i bardzo dobrze oddychające materiały jak Stormstretch, które ponadto charakteryzują się bardzo dobrą kompresją, dzięki czemu możemy mieć je zawsze przy sobie. W przypadku tego typu kurtek musimy pamiętać, że głównym ich celem jest ochrona użytkownika przed wiatrem. W przypadku braku wzmożonej aktywności fizycznej, bez dodatkowej warstwy docieplającej sprawdzą się one raczej w ciepłe lecz wietrzne drzwi. Jednakże ukazują one swój potencjał podczas dłuższego marszu, nieźle utrzymując wewnątrz temperaturę ciała kiedy to właśnie nagłe podmuchy wiatru najbardziej wychładzają organizm. Wykazują się również największą swobodą w komponowaniu zestawów, ponieważ najmniej krępują ruchy. Dzięki temu będą wygodne w połączeniu nawet z bardzo grubymi polarami lub dwoma warstwami cieńszego docieplenia. Odzież tego typu nie ochroni nas przed ulewą, ale umożliwi dotarcie do najbliższego schronienia bez większego przemoczenia.
Wynalazkiem, który pomaga zwiększyć wodoodporne właściwości kurtki jest powłoka DWR (Durable Water Repellent). Stosowane przez Helikon modele wyposażone są w formułę opartą na dobrze znanym hydrofobowym Teflonie, produkcie renomowanej, amerykańskiej firmy DuPont. Powłoka tego typu utrudnia kroplom wody nasiąkanie materiału, przez co utrzymywane własnym napięciem powierzchniowym spływają po kurtce. Rozwiązanie to nie wpływa negatywnie na odprowadzanie wilgoci z wnętrza odzieży jednakże jest ono podatne na ścieranie, ubrania w nie wyposażone należy prać z dbałością i regularnie przywracać stan powłoki odpowiednimi impregnatami. Wówczas mamy gwarancję skuteczności ich działania.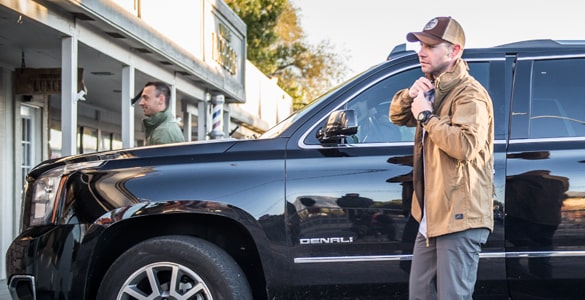 Uniwersalna natura softshelli sprawia, że świetnie sprawdzą się w terenie jak i w standardowych, miejskich zastosowaniach
Klasyczne softshelle natomiast łączą w sobie bardzo dobrą oddychalność z wystarczającą w większości sytuacji wodoodpornością. Ponieważ nie posiadają one membran są relatywnie lekkie, jednakże zazwyczaj nie mają stricte określonych parametrów wodoodporności. Możemy tutaj jednak zwrócić uwagę na cechy użyteczne przy zastosowaniach taktycznych, które oczywiście mogą występować w każdym rodzaju kurtek.
Wspominany już aspekt wywietrzników pod pachami jest cenny kiedy spodziewamy się zmiennego wysiłku fizycznego lub zmiennych warunków temperatury czyli praktycznie zawsze. Spotykamy zazwyczaj dwa rodzaje: rozpinane suwakiem otwory lub wykonane z przewiewnej siatki panele. Te pierwsze charakteryzują się uniwersalnością i są spotykane częściej, natomiast typ drugi sprawdza się raczej w warstwach wewnętrznych. Umożliwią one prowizoryczną poprawę oddychalności podczas marszu lub umożliwiają chwilowe ochłodzenie wnętrza, bez ryzyka przewiania.
Warto wspomnieć również o zamkach, które często stanowią newralgiczny punkt, jeżeli nie zostały odpowiednio zaprojektowane lub wszyte. Większość renomowanych producentów stosuje najwyższej jakości zamki YKK, które są poniekąd wyznacznikiem przywiązania uwagi producenta do detali. Poza wytrzymałością mechaniczną i odpornością na zużycie dobry zamek powinien mieć zakryte materiałem zęby. Dzięki takiemu rozwiązaniu, uzyskiwanemu często przez odwrotne wszycie zamka, w mniejszym stopniu przepuszcza on wiatr.
Stosowany w kurtkach Cougar system Quick Side Access pozwala na niezwykle dynamiczny dostęp do kabury
Ostatnim elementem poniekąd związanym z zamkami jest możliwość wygodnego korzystania z kieszeni spodni lub wyposażenia na pasie. Rozpinanie całej kurtki aby wyjąć multitool albo tym bardziej uzyskać szybki dostęp do kabury jest kompletnie niewydajne. Z pomocą przychodzą nam zamki dwukierunkowe oraz dedykowane systemy takie jak na przykład QSA. Pierwsze umożliwiają nam rozpięcie szybkie rozpięcie, przy jednoczesnym pozostawieniu dłoni w rejonach pasa, natomiast drugie umożliwia bezpośredni dostęp do kabury przy pomocy obsługiwanej jedną dłonią linki. Rozwiązanie to docenią zwłaszcza przedstawiciele służb mundurowych czy agencji ochroniarskich działający w sytuacjach gdy broń nie może być wyeksponowana, ale jednocześnie wymaga błyskawicznego dostępu.
AP