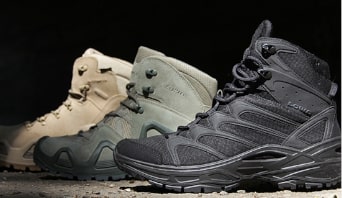 Choosing the right footwear is one of the most important aspects when completing our equipment. With a huge selection of products it is sometimes difficult to find out which properties to pay attention to and what really characterizes the technologies used hidden under the trade names. On the basis of products from the Specshop.pl shop we will try to explain the solutions used in shoes from our offer.
In one of the blogs, we have already mentioned what features to pay attention to when choosing tactical shoes. However, we thought that we would introduce you to some specific models so that you can have some point of reference. We have selected a few pairs, representing specific price shelves, so you will also be able to see more or less what to expect from models in specific amounts.
We often get the question whether it is better to buy tatical boots with a membrane or without a membrane. Most people know very well that the membrane protects the footwear from getting wet, and that it slightly increases the price. A much smaller part, however, knows about the possible consequences of her presence. Therefore, we will try to present you briefly all the pros and cons of footwear with an integrated waterproof layer.