Kostenlose Rückgabe
Kaufen und testen Sie zu Hause. Innerhalb von 30 Tagen können Sie die Ware ohne Angabe von Gründen zurücksenden.
Details anzeigen
30 Tagen um die Ware zurückzugeben.
Das Wichtigste ist Ihre Zufriedenheit mit dem Einkauf. Sie können die bei uns bestellten Produkte innerhalb von 30 Tagen ohne Angabe von Gründen zurücksenden..
ohne Stress

und ohne Angst
Dank der Integration unseres Shops mit günstigen Rückgaben von Poczta Polska können Sie ohne Stress und ohne Angst kaufen, dass die Rückgabe des gekauften Produkts problematisch wird.
Kostenlose Rückgabe von Waren
Wenn Sie sich dafür entscheiden, Gelder auf das Guthaben des Kunden zurückzuzahlen, ist der Versand an die Filiale kostenlos.
NARO - Smoke Gray anti-fog replacement lens for Crossblade™ Series eyeshields, includes a NARO Crossblade™ nosepiece.
ESS Modular Technology™ allows all lenses to be quickly and inexpensively interchanged. Built from extra-thick, 2.4mm high-impact polycarbonate. Crossblade™ Eyeshield replacement lenses are available in Clear, Smoke Gray, Hi-Def Copper and Hi-Def Yellow.
NOTE: As part of the ESS Cross-Series™ eyeshield platform, all Crossblade™ lenses are compatible and interchangeable with the ESS Crossbow®, Crosshair™ and Suppressor™ frames. Crossblade™ Standard and Crossblade™ NARO nosepieces are NOT interchangeable with the other Cross-Series products.
Please familiarize with
ESS Lens Chart
presenting the Visible Light Transmittance for all lens models of the company. It will let you choose lens tints and VLTs dependent upon your most-frequented environments.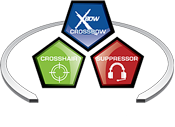 googleExport

:

true

Angebote

:

20%

,

Alle Produkte mit reduzierten Preisen

Idealo DE

:

true



Produkte aus der aktuell angezeigten Kategorie