Kostenlose Rückgabe
Kaufen und testen Sie zu Hause. Innerhalb von 30 Tagen können Sie die Ware ohne Angabe von Gründen zurücksenden.
Details anzeigen
30 Tagen um die Ware zurückzugeben.
Das Wichtigste ist Ihre Zufriedenheit mit dem Einkauf. Sie können die bei uns bestellten Produkte innerhalb von 30 Tagen ohne Angabe von Gründen zurücksenden..
ohne Stress

und ohne Angst
Dank der Integration unseres Shops mit günstigen Rückgaben von Poczta Polska können Sie ohne Stress und ohne Angst kaufen, dass die Rückgabe des gekauften Produkts problematisch wird.
Kostenlose Rückgabe von Waren
Wenn Sie sich dafür entscheiden, Gelder auf das Guthaben des Kunden zurückzuzahlen, ist der Versand an die Filiale kostenlos.
The new ESS Crossblade™ Eyeshield features advanced ClearZone™ Anti-fog coatings plus two different sized lens and nosepiece options to allow for customizable modular fit. Users can choose between a Standard lens and nosepiece or NARO lens and NARO nosepiece. With the modular system, the Crossblade™ can be set specifically to fit the end user's facial structure. Modular Fit equals performance and comfort.
The Crossblade's Tri-Tech Fit™ frame features a snug fit with zero pressure points. Advanced ClearZone™ Dual Flow Coated lenses are engineered to eliminate fog inside and prevent scratches outside. Distortion-free ESSOPTICS™ keep your vision razor sharp and the DedBolt™ Lens Lock pivot allows for rapid lens exchanges.
NOTE: As part of the ESS Cross-Series™ eyeshield platform, all Crossblade™ lenses are compatible and interchangeable with the ESS Crossbow®, Crosshair™ and Suppressor™ frames. Crossblade™ Standard and Crossblade™ NARO nosepieces are NOT interchangeable with the other Cross-Series products.
ESS Crossblade™ is compliant with U.S. Federal OSHA, ANSI Z87.1-2015, CE EN 166 and U.S. MIL-PRF-32432.
The Crossblade 2X™ Dual-Eyeshield Black Kit includes:
- Black Crossblade™ frame with Standard Clear lens and Standard Nosepiece
- Black Crossblade™ frame with Standard Smoke Gray lens and Standard Nosepiece
- Rugged zippered hard case
- Microfiber pouch
- Snap-on elastic retention strap
Please familiarize with
ESS Lens Chart
presenting the Visible Light Transmittance for all lens models of the company. It will let you choose lens tints and VLTs dependent upon your most-frequented environments.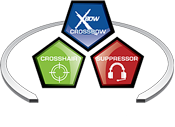 Produkte aus der aktuell angezeigten Kategorie