Kostenlose Rückgabe
Kaufen und testen Sie zu Hause. Innerhalb von 30 Tagen können Sie die Ware ohne Angabe von Gründen zurücksenden.
Details anzeigen
30 Tagen um die Ware zurückzugeben.
Das Wichtigste ist Ihre Zufriedenheit mit dem Einkauf. Sie können die bei uns bestellten Produkte innerhalb von 30 Tagen ohne Angabe von Gründen zurücksenden..
ohne Stress

und ohne Angst
Dank der Integration unseres Shops mit günstigen Rückgaben von Poczta Polska können Sie ohne Stress und ohne Angst kaufen, dass die Rückgabe des gekauften Produkts problematisch wird.
Kostenlose Rückgabe von Waren
Wenn Sie sich dafür entscheiden, Gelder auf das Guthaben des Kunden zurückzuzahlen, ist der Versand an die Filiale kostenlos.
Dieser Artikel ist in unseren Geschäften erhältlich.
Sie können dieses Produkt kaufen, ohne eine Online-Bestellung, in unseren Geschäften in Ihrer Nähe aufzugeben. Überprüfen Sie, wo das Produkt verfügbar ist.
Verfügbarkeit prüfen
The ESS Crossbow Suppressor is the first spectacle frame designed for use with ear cup hearing protection and communications devices. Featuring Z-Bend Geometry, the frame's ultra-thin temple arms help keep noise out by minimizing the effect on the padded seal of ear cups. The slim temples eliminate the hot spots and pressure points that commonly occur when normal eyewear is worn under ear cups.
The Suppressor frame is compatible with all Crossbow lenses. These 2.4mm Polycarbonate lenses feature distortion-free ESSOPTICS and ClearZone FlowCoat technology to combat fogging on the inside and scratches on the outside. The frame's DedBolt Lens Lock provides quick lens interchange and rock-solid retention under impact.
Crossbow Suppressor ONE Kits feature one fully-assembled eyeshield with ultra-thin Crossbow Suppressor frames for use with ear cups. Universal fit.
In box You get:
Ultra-thin Crossbow Suppressor frame with Smoke Gray lens
Micro-fiber pouch
Snap-on elastic retention strap
Please familiarize with
ESS Lens Chart
presenting the Visible Light Transmittance for all lens models of the company. It will let you choose lens tints and VLTs dependent upon your most-frequented environments.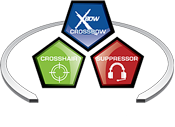 googleExport

:

true

Geschenkideen

:

Geschenkidee bis zu €75

,

Alles Geschenkideen

Bestseller

:

Bestseller

Idealo DE

:

true



Produkte aus der aktuell angezeigten Kategorie