2013-10-09
Ka-Bar BK16 Short Becker Drop Point
Ka-Bar BK16 Short Becker Drop Point to kolejny nóż zaprojektowany przez znanego knivemakera Ethana Beckera, który chcieliśmy Wam bliżej przedstawić.
Pierwsze co rzuca się w oczy po wyjęciu z pudełka to prostota wykonania. Jednym słowem to kawałek stali do którego przykręcono trzema imbusowymi śrubami dwie okładziny. Właśnie w tej prostocie tkwi całe jego piękno i użytkowość. Zamysłem projektanta było zapewne stworzenie noża o średniej wielkości, który świetnie sprawdzi się w terenie, będzie wytrzymały i łatwy w czyszczeniu.

Nóż otrzymujemy w estetycznym opakowaniu. W jego wnętrzu znajdziemy nóż, pochwę z materiału Cordura®, dodatkowe okładziny w kolorze Coyote oraz dożywotnią gwarancję.

Jak na markę Ka-Bar przystało nóż wykonano ze stali węglowej 1095 Cro-Van zahartowanej na 56-58 HRC. Pokryty jest czarną, antyodblaskową powłoką zabezpieczającą nóż przed korozją. Krawędzi tnącej nadano kąt 20 stopni z każdej strony. Głownia o konstrukcji Drop Point i pełnym płaskim szlifie zapewnia dużą wytrzymałość, nawet przy batonowaniu. Długość noża (235 mm) jak i ostrza (111 mm) jest tak dopasowana by można wygodnie wykonywać ciężkie prace obozowe, jak również precyzyjne cięcia. Spora grubość głowni (4,2 mm) wyklucza złamanie czubka albo pęknięcie głowni podczas np. podważania lub rąbania. Rękojeść jest na tyle długa aby pomieścić sporą dłoń, i wyprofilowana aby nóż dobrze leżał w mniejszej dłoni. W blanku został wykrojony jelec zapobiegający zsunięciu się ręki na ostrze, oraz nacięcia umożliwiające wygodne podparcie kciuka. Na samym końcu znajduje się otwór służący do przewleczenia linki zabezpieczającej, ale może też być wykorzystywany jako zbijak do szyb.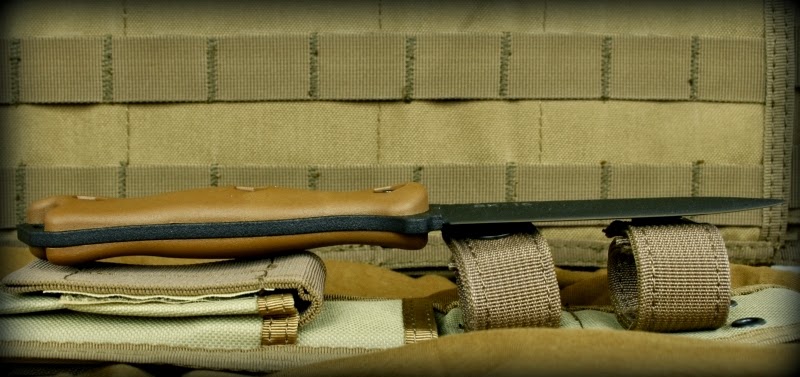 Jak pisaliśmy wcześniej rękojeści zostały wykonane z odpornego na wiele czynników materiału ZYTEL®, które przykręcono do noża za pomocą trzech śrub imbusowych zapewniając mocne połączenie oraz możliwość szybkiego demontażu. Okładziny są wyprofilowane tak, aby zapewnić maksymalny komfort chwytu. W komplecie znajdują się dodatkowe okładziny w taktycznym kolorze Coyote, świetnie komponujące się z pochwą. Opcjonalnie można dokupić okładziny wykonane z materiału Micarta.

Pochwę uszyto z oryginalnego materiału Cordura® 1000D. Wewnątrz znajduje się wkładka z tworzywa sztucznego ułatwiająca utrzymać całość w czystości. Nóż zabezpieczono przed wysunięciem dwoma zapinanymi na napy paskami, więc można bezpiecznie przenosić go w każdej pozycji, nawet do góry nogami. Na przodzie naszyto zamykaną na rzep kieszeń służącą do przechowywania ostrzałki, małego noża czy multitoola. Pochwę można zamontować do pasa lub za pomocą palsa do kamizelki taktycznej, torby lub plecaka z naszytym systemem MOLLE. Duża ilość otworów umożliwia również troczenie do wyposażenia za pomocą linek takich jak paracord.

Podsumowując Ka-Bar BK16 to świetny nóż dla żołnierza lub miłośnika survivalu, bushcraftu z militarnym zacięciem. Będzie również świetnym uzupełnieniem kolekcji. Nie straszne mu przygotowanie ogniska, pożywienia i obozu. Na pewno będzie tez wiernym kompanem, który nie zawiedzie podczas misji.
SpecShop.pl