2016-02-01
Fire Dragon - BCB
Na co dzień nie zdajemy sobie sprawy, jakim luksusem jest możliwość przygotowania praktycznie w każdej chwili ciepłego posiłku. Dla wielu z nas jest to codzienność i rzecz tak oczywista, że właściwie przestaliśmy ją doceniać. A przecież wystarczy udać się w teren, gdzie na głowę pada, po plecach wieje, a palce kostnieją, żeby szybko zatęsknić chociażby za ciepłą wodą.
Przez tysiące lat ludzie wykorzystywali ogień do podgrzewania jedzenia w terenie. Z biegiem lat techniki jego rozpalania stawały się coraz doskonalsze, a dzisiaj praktycznie opanowaliśmy je do perfekcji. Od kilkudziesięciu lat w powszechnym użyciu znajdują się bowiem rozmaite kuchenki – czy to gazowe, czy to na paliwo stałe.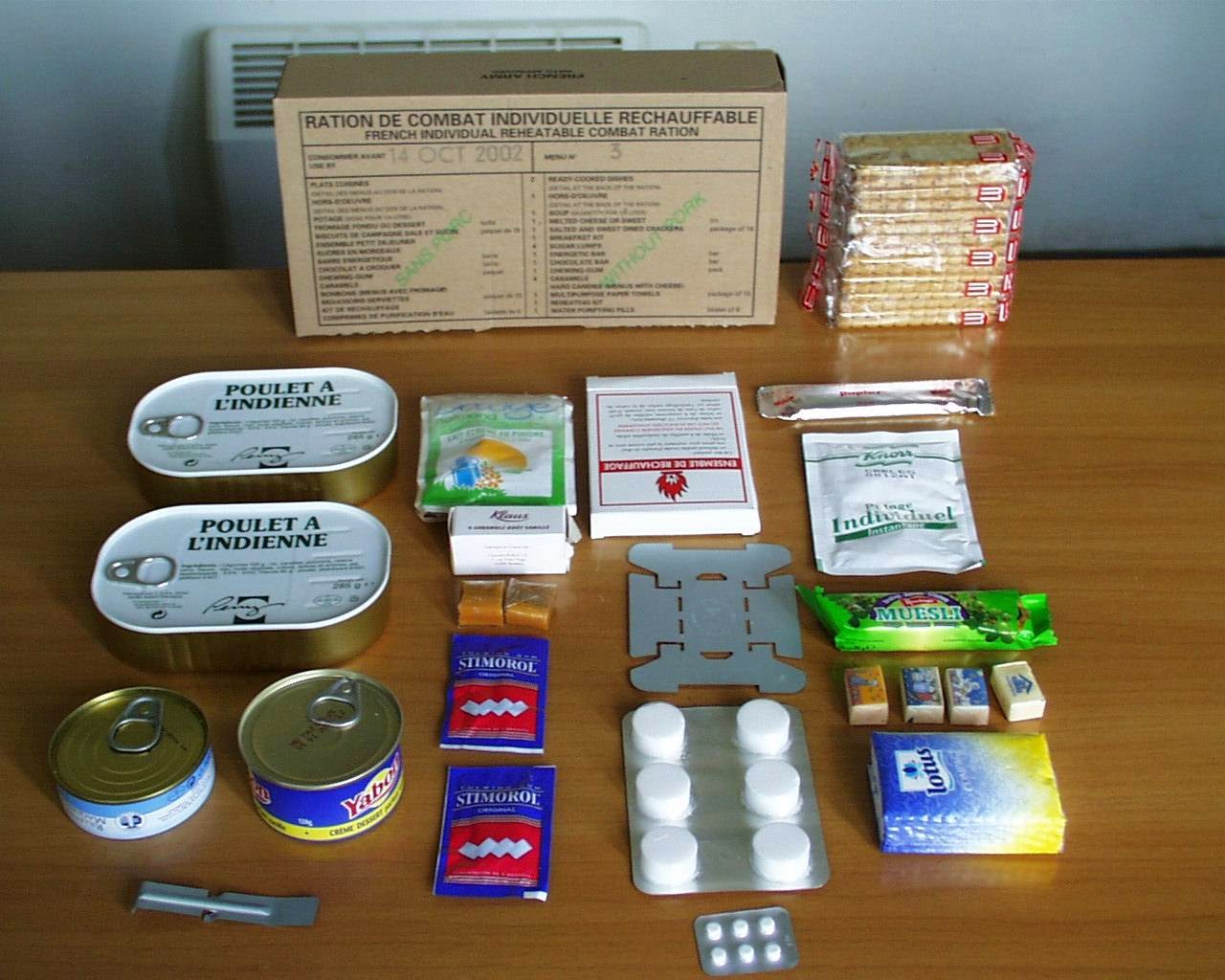 Francuska racja RCIR. Tabletki Esbit wraz z kuchenką widoczne na pierwszym planie.
Wielu z Was miało zapewne kontakt z paliwem stałym oraz prostą kuchenką typu Esbit. My też wypaliliśmy na niej niejedną taką kostkę. Dostępne są one chociażby w standardowej racji dobowej RCIR armii francuskiej, czy też w wybranych racjach żywnościowych firmy ARPOL. Paliwo to z pewnością jest zmyślne, jednak posiada wady – jest toksyczne i mało wydajne, a jego zapachem przechodzi gotowane pożywienie. Do tego brudzi naczynia lepkim, trudnym do usunięcia osadem. Jest za to łatwo dostępne i w miarę łatwe do rozpalenia, wygaszenia oraz ponownego użycia tej samej kostki. Cechuje się też wysoką odpornością mechaniczną na uszkodzenia.
Tabletki Esbit w nieco innym kształcie dostępne w wybranych racjach firmy ARPOL.
Dzisiaj opiszemy dla Was rozwiązanie oferowane przez brytyjską firmę BCB, czyli paliwo stałe Fire Dragon. Otrzymaliśmy łącznie 6 sztuk zapakowanych pojedynczo w blistry i wspólnie kwadratowe pudełko. Według producenta jest ono wydajne, nietoksyczne, czyste, ekologiczne (słowo klucz w obecnych czasach), łatwe do odpalenia, dezynfekujące, bezwonne i do tego wodoodporne. W komplecie dostaliśmy też Bushcraft Cooker wykonany na wzór i podobieństwo klasycznego produktu Esbita z trzema dodatkowymi kostkami i krzesiwem. Długo nie zwlekając wzięliśmy się za weryfikację obietnic.
Zestaw Bushcraft Cooker od BCB – całkiem przyjazna kuchenka z kostkami Fire Dragon oraz krzesiwem.
Paliwo w kostkach to stała wersja paliwa w żelu, obecnego na rynku już od jakiegoś czasu. Zostało ono stworzone na zamówienie brytyjskiego Ministerstwa Obrony, kiedy okazało się, że paliwo żelowe nie może być przewożone w transporcie lotniczym. Praktycznie identyczny produkt jest teraz oferowany na rynku cywilnym. I tak trafił on do nas.
Kostka Fire Dragon – przed
Pierwsza próba odpalenia przypadła na zimowy wypad do lasu. Temperatura otoczenia wynosiła wówczas -10 stopni Celsjusza, jednak było względnie sucho. Z racji tego, że dysponowaliśmy też paliwem Esbit, zdecydowaliśmy się na porównanie. Jednocześnie rozpoczęliśmy przygotowywanie posiłku w postaci dania głównego z racji RCIR. Same kostki Fire Dragon w porównaniu z paliwem Esbit są większe i o wiele bardziej śliskie.
Kostka Fire Dragon – w trakcie
Po rozpakowaniu pierwszej kostki (opakowane solidnie, bez noża niestety ani rusz) przyłożyliśmy do paliwa ogień i tu pierwsze zaskoczenie – kostka zajęła się momentalnie za pierwszym razem. Po około 3 minutach danie zaczęło lekko bulgotać i nadawało się do spożycia. Po 6 minutach kostka wypaliła się, a danie było równomiernie gorące, tak bardzo, że można nim było się oparzyć. Największą niespodzianką było jednak to, że potrawa nie przypaliła się w żadnym miejscu.
Kostka Fire Dragon – po. Resztki paliwa tworzą łatwą do usunięcia skorupkę.
W tym czasie częściowe podgrzanie pożywienia na kostkach Esbit zajęło niemal 10 minut. Przy czym minutę poświęciliśmy na rozpalenie kostki i w połowie gotowania dołożenie drugiej (należy jednak zauważyć, że kostki Fire Dragon są dość duże, bo ważą aż 27 g). Danie było częściowo ciepłe, częściowo zimne, a częściowo przypalone – czyli wojskowy standard.
Dno kubka po lewej po gotowaniu wody na kostkach Esbit. Kubka po prawej używano z paliwem Fire Dragon.
Jak powyżej. W tym wypadku puszki po daniu głównym z RCIR.
Z gotowaniem wody wypadło podobnie. Na przyzwoite zagotowanie 250 ml należało poświęcić 2 kostki Fire Dragon, podczas gdy Esbit niezależnie od starań ledwo ją podgrzewał, nawet nie zbliżając się do bariery wrzenia.
Kostek Fire Dragon najlepiej używać na niepalnym podłożu lub w dedykowanej kuchence.
Podczas kolejnych testów w temperaturze 3 stopni Celsjusza do podgrzania 250 ml wody wystarczyło 1,5 kostki. Zaoszczędzona połowa jest jednak i tak skazana na zmarnowanie, gdyż pod wpływem tlenu paliwo się utlenia. Jest to z pewnością największa wada tego rozwiązania i wynika z tego, że produkt oparty jest o etanol. Cóż, coś za coś.
"To pudełko można spalić."
Fire Dragon najgorzej poradził sobie z podgrzewaniem wody na silnym wietrze (temperatura odczuwalna ok. 5 stopni Celsjusza), gdzie 2 kostki to stanowczo za mało, jednak rzadko kiedy jesteśmy skazani na obozowanie w tak złych warunkach, kiedy nie ma możliwości osłonięcia się od wiatru.
"Rozerwij opakowanie od lewego rogu." O wiele prościej jednak użyć do tego noża.
Paliwo faktycznie może być wykorzystywane jako środek do dezynfekcji. Kilkukrotnie zdarzyło nam się używać go jako zamiennika mydła. Jednak bezwonne ono z pewnością nie jest. Czuć od niego zapach, jak gdyby kleju Butapren, który znika po rozpaleniu. Również gotowane na nim posiłki zachowują swój oryginalny smak. Z pewnością też jest wodoodporne. Konkretnie przemoczoną kostkę udało się odpalić od krzesiwa. Wynik zaiste imponujący. Do tego da się używać go nie tylko jako paliwa, ale także jako bardzo efektywnej podpałki do grilla lub ogniska.
W kuchence od BCB widać silną inspirację produktem marki Esbit. Z uwagi na śliską fakturę o wiele łatwiej ją jednak wyczyścić.
Paliwo to posiada jednak swoje wady – przede wszystkim jego wielkość i delikatność w porównaniu z Esbitem. Często jedna kostka to stanowczo za dużo na podgrzanie posiłku. A z uwagi na to, że podczas gotowania traci ona stały kształt, to nie da się jej po prostu ugasić i zapakować do plecaka jak wyrobu Esbit. Trzeba czekać, aż ta się wypali, albo je ugasić, a że może płonąć przez 6-8 minut, to takie marnotrawstwo po prostu boli. Chyba że płonącą już kostkę wykorzysta się także do podgrzania przygotowanej zawczasu wody. Przecinanie kostek to tylko półśrodek, gdyż etanol wykorzystywany do produkcji bardzo szybko się utlenia. BCB jest doskonale świadome tego problemu, twierdzi jednak, że produkt stworzono typowo pod wymagania brytyjskiej armii, a na rynku cywilnym sprzedaje się tak dobrze, że nie opłaca się konstruować osobnej linii technologicznej.
To zostaje z paliwa Fire Dragon po 24 godzinach od otwarcia blistra. Taki zezwłok nie nadaje się już do niczego.
Kolejną wadą jest właśnie rozlewanie się paliwa podczas gotowania. Co prawda wada ta traci na znaczeniu, jeżeli korzysta się z kuchenek Bushcraft Cooker albo Crusader, która nie pozwalają cieczy wypłynąć poza obręb, jednak jeżeli nimi nie dysponujemy, to koniecznie należy uważać na podłoże – Fire Dragon zgodnie z nazwą płonie bardzo gorącym i imponującym płomieniem. Tutaj widoczna jest zaleta produktu Esbita, przy wykorzystywaniu którego nie ryzykujemy podpalenia całego lasu, zwłaszcza że ugaszenie płonącego już paliwa jest kłopotliwe.
Podsumowując, Fire Dragon to bardzo wydajne paliwo, które z pewnością znajdzie wielu swoich orędowników. Zwłaszcza, że jest niezwykle uniwersalne, wydajne i w zasadzie niezawodne, bo odpala chyba w każdych warunkach poza całkowitą próżnią. A przy tym jest tańsze od produktu konkurencyjnego. Oczywiście ma swoje wady, ale bledną w porównaniu z jego zaletami. W porównaniu z innymi rozwiązaniami wypada naprawdę przednio, chociaż istnieją sytuacje i miejsca, kiedy jednak zdecydowalibyśmy się na produkt Esbita – takie jak upalne i suche lato, przenoszenie paliwa w kieszeni lub jako element zestawu survivalowego, gdyż wyrób Esbita z pewnością lepiej zniesie trudy przechowywania w niełatwych warunkach. Jedno rozwiązanie nie wyklucza drugiego i wzajemnie się one uzupełniają.
SpecShop.pl