2017-05-16
Fight with bloodsuckers - repellents for insects
Komary i inne insekty można śmiało umieścić na liście największych plag trapiących ludzkość od zarania dziejów na równi z podatkami. O ile z tymi ostatnimi wciąż nie wiadomo jak się uporać, o tyle z problemem komarów postęp naukowo-technologiczny poradził sobie całkiem przyzwoicie.
Umówmy się – jakkolwiek wypady w teren są fajne niezależnie od pory roku, to jednak zdecydowanie milej przebywa się poza domem, kiedy nie trzeba się martwić przeziębieniami ani odmrożeniami. Wiosenne i letnie wyjścia nie wymagają aż takiego przygotowania. Pomijając już fakt, że zaczyna się chociażby sezon żeglarski.
Trudno się więc dziwić, że wraz z każdym ciepłym dniem (i nocą) ilość miłośników bushcraftu wzrasta wykładniczo. Tak się niestety składa, że w życiu nie ma nic za darmo i komfort termiczny ma swoją wymierną cenę – komary, kleszcze, meszki i inne insekty.
Poza tym, że borykanie się z efektami ukąszeń i ugryzień można zakwalifikować do grupy przeżyć intensywnych, aczkolwiek niechcianych, to obcowanie z drapieżnymi owadami wiąże się ryzykiem złapania niezwykle wrednych chorób. Taka weźmy borelioza to przygoda na całe (już nieco krótsze) życie i dodatkowo wiąże się z możliwością groźnych powikłań – chociażby niezwykle trudnego w leczeniu zapalenia tęczówki.
Jeżeli już trochę postraszyliśmy konsekwencjami, to przejdźmy, do meritum tekstu, czyli – w tym wypadku – do remedium. W naszej ofercie znajdziecie ich kilka. Wszystko przygotowane pod konkretnego użytkownika.
LeFrosch Foresta – 30% stężonego DEET oraz 20% IR3535® w atomizerze. Żaden marketowy preparat nie może się równać z tym repelentem. Mieszanka, która wystarczy do odstraszenia komarów, meszek, much końskich, kleszczy a nawet much tse-tse. Polecamy wszystkim dorosłym wypoczywającym w lesie, nad wodą czy w tropikach. Będą z niego zadowoleni także żołnierze, strzelcy sportowi i gracze ASG. Zwłaszcza ci przebywający na terenach podmokłych. Jedna dawka wystarcza nawet na 12 godzin.
LEFROSCH – FORESTA Środek odstraszający komary
Mugga – Rodzina preparatów o trzech wartościach stężenia DEET: 9,5% (dla dzieci pow. 2 lat), 20% (dla dzieci pow. 12 lat) oraz 50% (dla dorosłych). Podobnie jak Foresta, te repelenty poradzą sobie z odstraszaniem niebezpiecznych insektów. Różne stężenia preparatów powodują, że nadają się do stosowania dla całej rodziny podczas wyjść na grzyby, żagle, czy chociażby grilla ze znajomymi.
Mugga – Preparat odstraszający owady
UWAGA: Przed użyciem koniecznie należy przeczytać informacje umieszczone na opakowaniu. DEET to żrąca substancja wyłącznie do stosowania zewnętrznego na odzież i skórę. Osłabia strukturę polimerów, z których wykonane są środki ochrony oczu. Dlatego radzimy bardzo uważać podczas nanoszenia go na twarz. Dla oczu też jest wybitnie niezdrowy, a połknięcie go grozi zatruciem. W takiej sytuacji radzimy NATYCHMIASTOWY kontakt z lekarzem.
Moskitiera – to rozwiązanie ma wielu zwolenników wśród żołnierzy i mil-simowców. Gęsto tkana, lekka siatka zakładana na głowę podczas patrolu zapewnia nie tylko ochronę głowy i szyi przed owadami, ale także rozbija optycznie kształt głowy, wydatnie poprawiając właściwości kamuflujące. Dostępne są też większe wersje do rozpięcia nad łóżkiem polowym.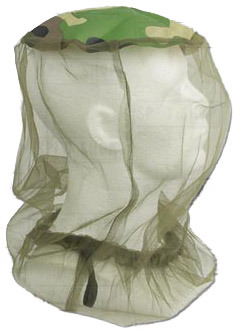 BCB – Moskitiera
Jak widać lista środków ochronnych jest krótka, ale każdy z nich cechuje wysoka skuteczność. Sugerujemy zaopatrzenie się przynajmniej w jeden z repelentów, szczególnie osobom, które wybierają się na wakacje do egzotycznych krajów, planują spędzić urlop pod żaglami, czy też regularnie wypoczywają na łonie przyrody. Słowem – wszystkim. Lepiej zainwestować kilkanaście, czy kilkadziesiąt złotych w ten sposób, niż stracić mnóstwo czasu, zdrowia i pieniędzy na kosztowne potyczki ze służbą zdrowia.
JK