Collimators: small red dot
2017-07-03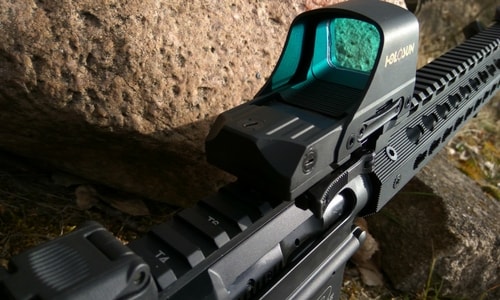 Każdy, kto trafi do środowiska strzeleckiego, prędzej czy później usłyszy o legendarnym fińskim strzelcu wyborowym – Simo Häyhä. Simo znany jest z tego, że wybuch Wojny Zimowej pomiędzy Związkiem Radzieckim a Finlandią potraktował jak otwarcie sezonu na czerwonoarmistów. Niesamowite rezultaty osiągał dzięki zastosowaniu licznych "patentów", z których bodaj najbardziej rozpoznawalnym jest zrezygnowanie z używania lunety, aby zachować jak najniższy profil sylwetki i uniknąć refleksów świetlnych na soczewce.
Historia Simo często bywa powtarzana jako koronny argument za tym, że montowanie optycznych przyrządów celowniczych na broni to strata pieniędzy. Dobry strzelec powinien poradzić sobie bez nich, a poza tym przez tyle lat ludzie używali muszki i szczerbinki i było dobrze. Cóż, szanujemy to podejście.
Holosun – Kolimator HS403B Red Dot – Montaż niski i 1/3 Co-witness
Holosun – Kolimator HS503FL Dot & Circle Multi Reticle – Killflash
Holosun – Kolimator HS406A1 Red Dot – Montaż CantileverHolosun – Kolimator HS406A1 Red Dot – Montaż Cantilever
Naszym zdaniem to rozumowanie oparte jest na dość dyskusyjnych podstawach. Po pierwsze – talent pokroju Simo nie trafia się zbyt często. Po drugie – Simo działał w dość specyficznych warunkach, a w dodatku od dziecka uczestniczył w polowaniach. Po trzecie – wszystkie armie, które stać było, aby wyposażyć żołnierzy pododdziałów bojowych w celowniki kolimatorowe – już to zrobiły. Przy czym pierwszeństwo mieli w tym żołnierze formacji specjalnych, będący bezdyskusyjną elitą w wielu kwestiach, w tym też w wyszkoleniu strzeleckim.
Stosowanie kolimatorów pozwala na skrócenie czasu celowania. Zwłaszcza przy niedostatecznym oświetleniu czy podczas złych warunków pogodowych. Dzięki temu na dystansie, na jaki wcześniej skalibrowano urządzenie, możliwe staje się celowanie "w punkt", co najprościej można przyrównać do krzyża celowniczego znanego z gier komputerowych. Krótko mówiąc – poprawia się czas reakcji i podnosi się celność strzału. Żołnierzowi może to uratować życie. Strzelcowi sportowemu – bardzo pomóc na zawodach. Tylko tyle i aż tyle.
Przed zakupem kolimatora sugerujemy zapoznać się z różnymi rozwiązaniami. Część osób preferuje kolimatory tzw. otwarte, reszta – zamknięte. Zwolennicy tych pierwszych twierdzą, że zamknięte ograniczają pole widzenia. Zwolennicy tych drugich zarzucają otwartym mniejszą odporność mechaniczną i występowanie "efektu lustra" pod pewnym kątem padania światła. Trudno jednak powiedzieć, ile w tym faktów, a ile osobistych uprzedzeń. Tym niemniej warto poświęcić trochę czasu, żeby wybrać rozwiązanie najwygodniejsze dla siebie. Na strzelnicach można spotkać obydwa rozwiązania, montowane w różnych pozycjach na rozmaitych rodzajach broni, a "brać strzelecka" chętnie podzieli się doświadczeniem i spostrzeżeniami, a nawet da się trochę "pobawić" swoimi zabawkami.
UWAGA! Na broni palnej należy montować TYLKO kolimatory dedykowane broni palnej, np. marek Holosun, Vortex Optics lub PWS. Kolimatory dedykowane replikom ASG i wiatrówkom szybko ulegną uszkodzeniu z powodu silnych wstrząsów i wibracji. Przed zakupem kolimatora upewnij się, że Twoja broń wyposażona jest w adekwatne szyny montażowe.
Holosun – Kolimator Open Reflex HS510C Multi Reticle – Solar Panel
Vortex Optics – Kolimator StrikeFire II Red/Green Dot – SF-RG-501
PWS – Kolimator otwarty wodoodporny KO-015 – 5 MOA
Celowniki kolimatorowe na pewno doceni każdy, komu choć raz przyszło konkurować na zawodach dynamicznych z bronią ich pozbawioną. Dzisiaj, czy to na strzelnicy, czy to na nowoczesnym polu bitwy są one pewnym standardem, a ich brak to w większości wypadków mniej lub bardziej świadome ograniczanie własnej wydajności. Strzelectwo to na tyle trudny sport, że nie warto rzucać sobie kolejnych kłód pod nogi. Jeżeli macie pytania dotyczące wyboru kolimatora – pytajcie. Z przyjemnością rozwiejemy wszelkie wątpliwości.
JK